MSCHF Gives Buyers a Chance to Buy A Warhol for $250 – But They'll Never Know If It's Real
Would you be willing to buy a famous piece of art at a deeply discounted rate if you were only 0.001-percent sure it was authentic? It sounds insane, but that's exactly what a bunch of buyers did during the latest stunt from Brooklyn-based art collective MSCHF.
Continue reading below
Our Featured Videos
An abbreviation of "mischief," the company bought an original 1954 Andy Warhol pen drawing entitled "Fairies" for $20,000, and expertly duplicated it 999 times using digital technology and a robotic arm. Then heat, light, and humidity were applied to synthetically add years to the paper.
MSCHF says the replicas are so convincing that only the most expert art analyst might be able to distinguish the real one, and they claim to have destroyed all evidence of which is the actual piece.
"By forging 'Fairies 'en masse, we obliterate the trail of provenance for the artwork," the MSCHF website says. "Though physically undamaged, we destroy any future confidence in the veracity of the work. By burying a needle in a needlestack, we render the original as much a forgery as any of our replications."
All 1,000 prints of Fairies, under the project name "The Museum of Forgeries," were then put on sale for just $250 each with the disclaimer that each purchase was a "possible real copy" of Warhol's work. Remarkably, every print in the series sold out within a week, earning the collective of 20 artists $250,000 – more than 12 times the price they paid for the original.
This latest "drop," as all MSCHF artworks are termed, was essentially a nose-thumbing at the art market.
"For the majority of high-net-worth individuals collecting art, it's not about the aesthetic value," MSCHF Chief Creative Officer Lukas Bentel told CNN. "It's just about the investment value. Will this appreciate in time or not?"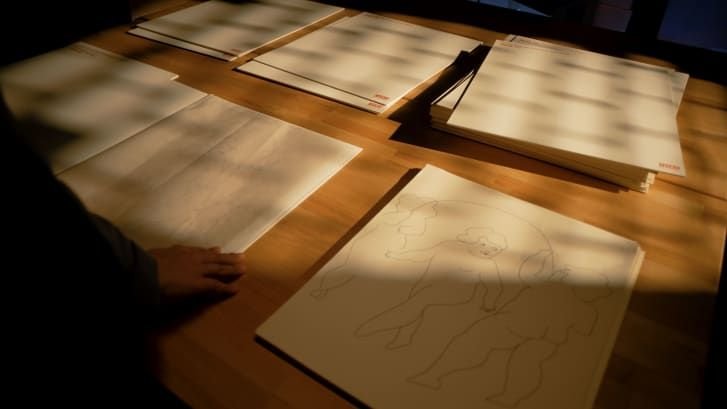 Added co-Chief Creative Officer Kevin Wiesner, "It's always very funny to do pieces that are able to simultaneously spit in the art world's face, and also do what they're trying to do – which is use art as an investment vehicle – but better."
They were also pleased with their ability to (sort of) bring celebrated art to the masses. "A Warhol piece is completely unrealistic for most people to even come close to getting," Weisner said. "In some way, we're democratizing it by letting everyone have what could be a Warhol."
He also speculates that the late artist might actually approve of this scheme, as Warhol himself often exploited mass production of his work.
"I hope he'd get a kick out of it," Wiesner said, because "he mainstreamed the idea that great artists don't produce their own works themselves, which at some point farther back in history would have been as verboten as forgery. For us, Museum of Forgeries is about using duplication as a means of destroying art."
Now that there are 1,000 possibly authentic version of "Fairies" floating around in the world, Weisner notes that "You'd have to be out of your mind to take seriously a gallery that is offering this piece as a (authentic) Warhol in the future…We hope the chain of trust is irrevocably broken here."
MSCHF is notorious for their prankster-like art. Recently they were sued by Nike for trademark infringement over their joint project with Lil Nas X, "Satan Shoes," a pair of sneakers topped with a pentagram, "666" inscriptions, and drops of real human blood mixed into the air bubble ink.
The group first grabbed the public spotlight in 2019 when it sold a laptop installed with six of the world's most dangerous viruses for over $1.3 million. The collective is currently engaged in a perpetual quest to make a new cheeky art drop on its site every two weeks.