Kanye West Just Bought a $57.3 Million Minimalist Malibu Villa by Tadao Ando
Rapper and entrepreneur Kanye West has reportedly purchased one of the only private residences in the U.S. designed by renowned Japanese architect Tadao Ando. Sold for $57.3 million, the minimalist concrete home may not look like much from the outside, occupying the full square footage of its compact lot between two more conventional-looking neighbors. But, as former owner and financier Richard Sachs told The Wall Street Journal, "This is not just a house. This is like a Picasso Cubist painting, very important and very rare."
Continue reading below
Our Featured Videos
Vaguely Brutalist in style, the three-story home features views of the Pacific Ocean from every level, and even doubled as an art gallery to exhibit Sach's contemporary art collection. Its roughly 4,000 square feet of interior space contains three bedrooms on the lower level, a kitchen and living room on the middle level, and a master bedroom on the upper level. In addition, 1500 square feet of outdoor decks allow sunbathers a vantage point from which to view dolphins, seals, and whales.
Sachs bought the land in 2003 and commissioned Ando to design the home, which was built in collaboration with local architecture firm Marmol Radziner. Made with 1,200 tons of concrete, 200 tons of steel reinforcement, and 12 pylons drilled more than 60 feet into the sand, the residence is a prime example of Ando's iconic style. The home was completed in 2013 after a decade of work, and Sachs says he's only letting it go because he spends too much time on the East Coast.
Japan's most famous architect, the self-taught Ando is known for his mastery of concrete and for rooting each of his works in a foundational ideology he calls "pure geometry." As seen in such works as his Church of Light in Osaka (1989) and The Oval at Benesse Art Museum in Naoshima (1995), this philosophy results in spaces that make daylight, air, and views of the landscape as important as the structures themselves.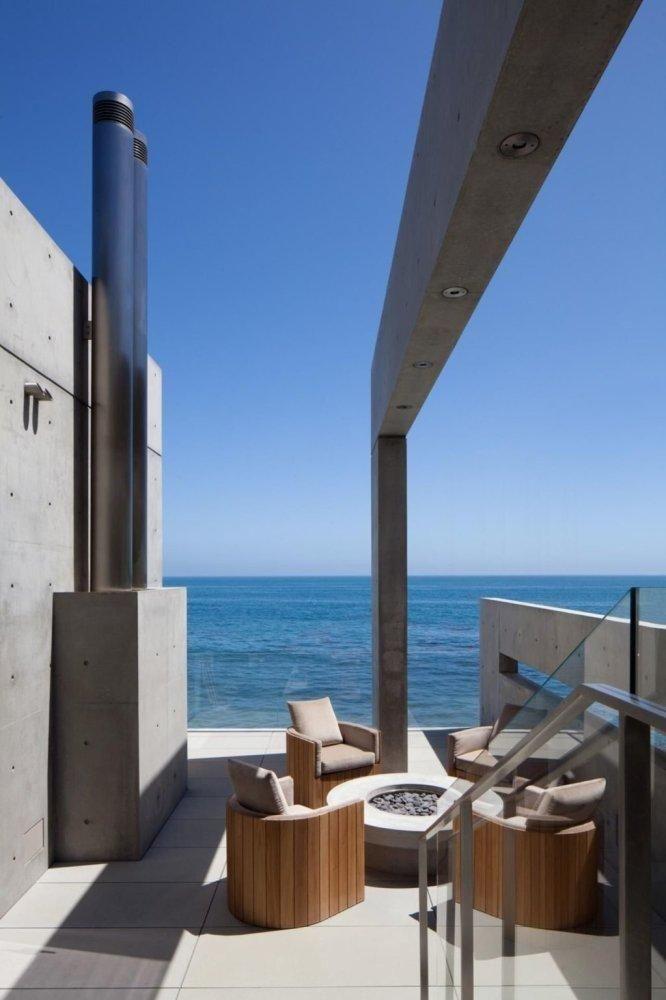 Kanye West first became enamored with Ando's designs after a 2018 visit to Naoshima, the "art island" in Japan's Seto Inland Sea that hosts Ando's Benesse House Museum and sculptures by James Turrell. In 2020, West told GQ that he wanted to build a home "where every room is a Turrell," so it's no surprise that he fell for a home with a similar vibe.
His new Malibu beach house was initially listed for $75 million and purchased in an off-market deal, so real estate images of the interiors aren't publicly available. If the museum-like Axel Vervoordt-designed Los Angeles home West spent $20 million renovating with his former wife Kim Kardashian is any indication, they're probably minimalist to the extreme, soon to become a backdrop for a handful of painstakingly curated objects (i.e. almost nothing at all).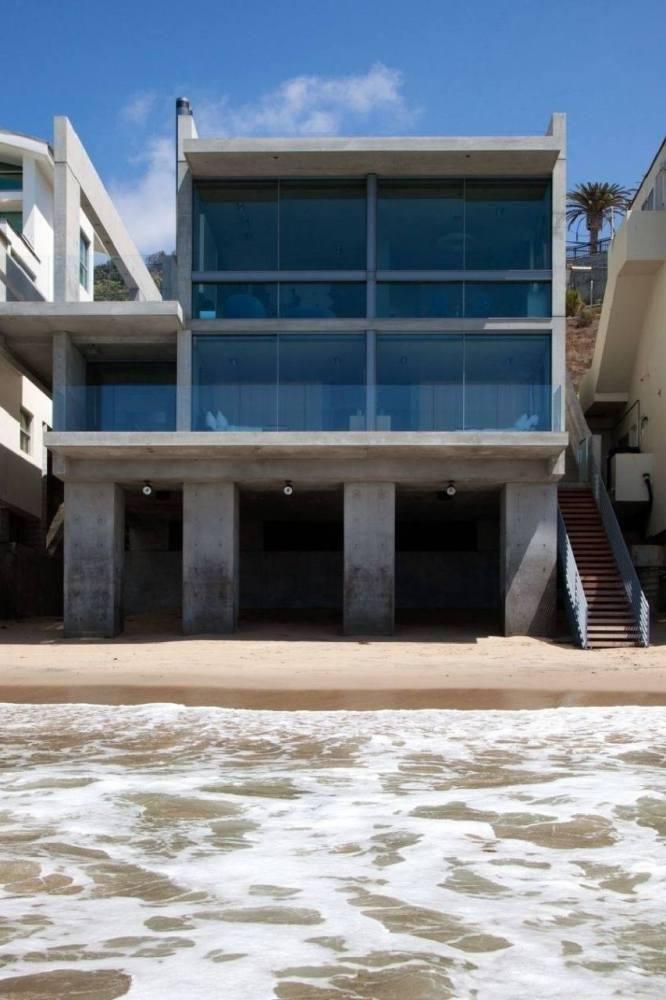 Reportedly worth $6.6 billion, Kanye West also owns a Brutalist-inspired condo in Calabasas, two minimalist condos in a New York City building, a 300-acre California plot that temporarily hosted some experimental domes, and an enormous Wyoming ranch near the picturesque town of Cody, about 50 miles from the eastern edge of Yellowstone National Park.