Ancient Roman Mosaic Recovered After Spending 50 Years as a Coffee Table
An eavesdropped conversation in a bookstore several years ago led to the recent recovery of a first-century A.D. Roman mosaic that had been missing for over 70 years.
Continue reading below
Our Featured Videos
In 2013, Italian architect Dario del Bufalo, an expert on ancient stone and marble, was in New York to give a lecture and sign copies of his book Porphyry. Included in the book was a photo of a red and green mosaic that had once been part of the dance floor on one of emperor Caligula's extravagant "party ships."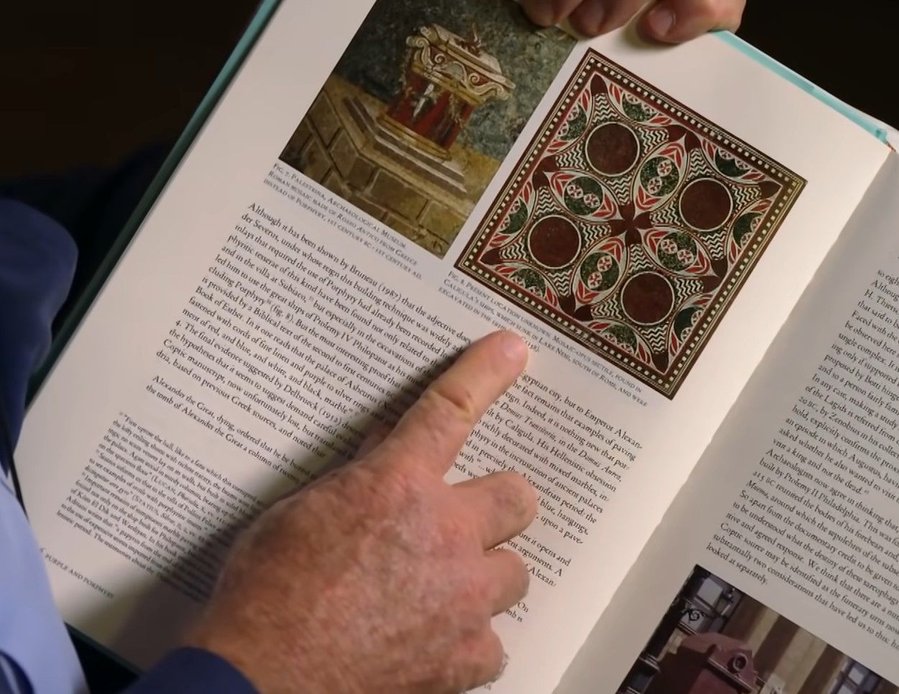 "There was a lady with a young guy with a strange hat that came to the table," Del Bufalo told CBS' 60 Minutes. "And he told her, 'What a beautiful book. Oh, Helen, look, that's your mosaic.' And she said, 'Yeah, that's my mosaic.'"
The architect chased down the young man, who led them to art dealer and gallery owner Helen Fioratti, who did in fact own the ancient tile work and had mounted it to a pedestal as a coffee table decades earlier. The artwork was subsequently confiscated by New York authorities and returned to the Italian government.
Emperor Caligula, one of the most despised Roman rulers, was known for his violence and over-the-top opulence. Among other things, he commissioned two giant pleasure barges (one was as long as an Airbus A380 plane) to sit on Lake Nemi. After his assassination in 41 A.D., the ships were sunk and remained at the bottom of the lake until the 1920s, when Italian dictator Benito Mussolini had the lake emptied. Hundreds of artifacts were recovered over the following years and put in a museum, but as the Nazis retreated from Italy in 1944, both the ships and the museum were destroyed by fire.
Because the mosaic-turned-coffee table shows no signs of fire damage, authorities suspect it was either stolen from the museum before the blaze or taken for a private collection before it could ever make it to the museum.
"These items may be beautiful, storied, and immensely valuable to collectors, but willfully disregarding the provenance of an item is effectively offering tacit approval of a harmful practice that is, fundamentally, criminal," New York County District Attorney Cyrus R. Vance, Jr. said in a statement speaking of the mosaic, as well as two other artifacts recovered and returned to Italy.
"It was an innocent purchase," Fioratti told the New York Times in 2017. "It was our favorite thing and we had it for 45 years."
She and her husband reportedly bought it from a Roman noble family in the 1960s, through a sale brokered by an Italian police official known for finding Nazi-looted art after World War II. When the millennia-old artifact was seized, the Fiorattis were not prosecuted, and although they still feel they have a legitimate claim to it, they did not fight the confiscation.
"I felt very sorry for her," Del Bufalo said of Fioratti, "but I couldn't do anything different, knowing that my museum in Nemi is missing the best part that went through the centuries, through the war, through a fire, and then through an Italian art dealer, and finally could go back to the museum. That's the only thing I felt I should have done."
At any rate, Italy is happy to have reclaimed one of its priceless pieces of history.
"The mosaic testifies how important and luxurious these imperial ships were," Nemi Mayor Alberto Bertucci said in March, when the artwork was installed at the Museum of Roman Ships. "These [boats] were like buildings: They were not supposed to sail and they confirm the greatness of this emperor who wanted to show the greatness of his rule of the Roman empire through these ships."
"This is a great day for Nemi and our entire territory!" the mayor added.