Arches, Plinths, and Lots of Marble Make This L.A. Showroom a Sanctuary
If faced with the task of reclaiming an old factory and turning it into something new, many designers would likely lean into an obvious industrial chic aesthetic. But McLaren Excell, an architecture and interior design firm based in Central London, took a different (and refreshing) approach to the job, bringing in a surprising inspiration that wouldn't normally be associated with this environment.
Continue reading below
Our Featured Videos
The brief was to take over the factory, located in Los Angeles' Culver City area, and make it a showroom in which minimalist bathroom fixtures by The Splash Lab could shine. Founded by brothers Justin and Fraser Lovell, The Splash Lab emphasizes craftsmanship, cutting-edge manufacturing processes, modularity, and rich raw materials like marble and copper in its washroom designs. Their work challenges conventional ideas of what these spaces can look like and offer, combining high functionality with streamlined looks.
Highlighting these products meant designing a flagship showroom that got to the essence of The Splash Lab's identity, granting mundane objects an air of dignity. The designers' solution? Introducing an interior scheme that looks a lot more like a church than it does a public bathroom.
"The Splash Lab wanted to create something unique that resonated with their passion for design, experience, and exploration," says McLaren Excell. "They were, however, open minded as to how this intent might be communicated as a work of architecture…We introduced a series of monumental insertions that would create an evocative user experience, whilst establishing a clear spatial hierarchy to the unit. The design needed to have enough tactility to achieve the weight and presence necessary to establish this identity but without competing with the existing building fabric."
The designers created four "monumental interventions" to establish six distinct areas, all separated by large cathedral-like archways that "suggest a theme of spirituality and ritual cleansing." Visitors first walk through the "portal" arch at the entrance to transition into the gallery and proceed through the rest of the space.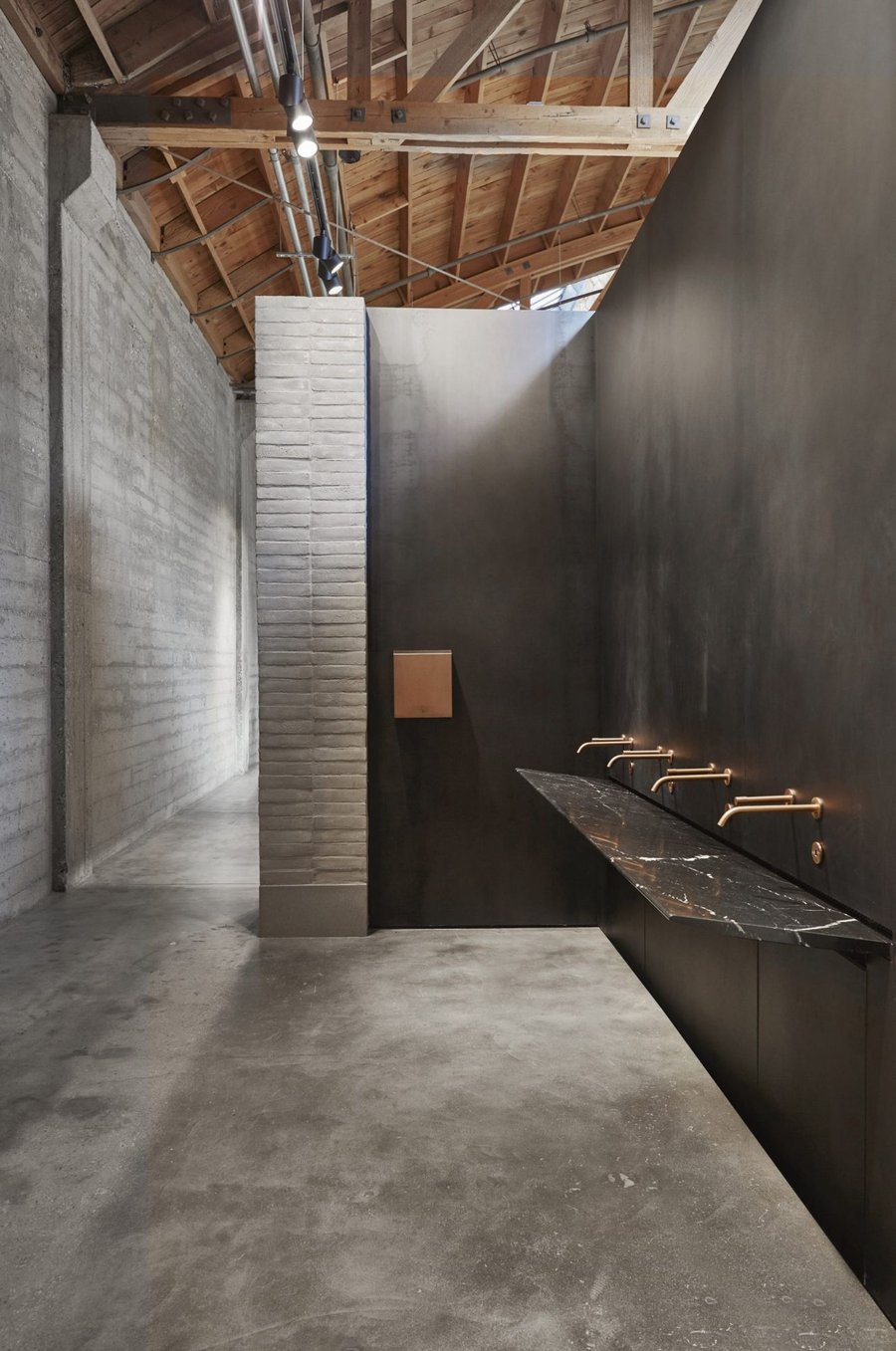 "Much like a church or cathedral, the interventions establish a simple structuring to the space. To continue the analogy, from the narthex you enter a central nave which is flanked by two side aisles. There is a transept with a sculptural steel table as the central altar, which is intended to encourage participation through interactive displays and formal seminars. An triple-arched apse provides the axial focal point and marks the end of journey, while a screen divides the public areas of showroom 'worship' from the private area of the staff 'choir' — or, in this instance, meeting rooms — helping to establish a clear threshold between public and private spaces. This simple and timeless format provides the setting for showcasing The Splash Lab."
Simple geometries, muted colors, and carefully chosen lighting frame the products without overpowering them. Concrete plinths, built-in display niches and extensive use of marble reinforce the subtle theme. If there's one thing that draws your attention away from the goods, it's that stunning ceiling, but you can only crane your neck for so long. The result presents the brand's serene faucets, basins, hand dryers, grab bars, and other products within a sanctuary, which is just what The Splash Lab intended.