Van Enthusiasts Turn the Tesla Semi-Truck Into a Camper
When Elon Musk first announced the Tesla Semi electric truck back in November 2017, it felt like a big step forward on our collective journey toward leaving the age of fossil fuels behind. Projected for release in late 2020, this truck will reportedly represent a fuel savings that could have an enormous impact if adopted by the long-range trucking industry.
Continue reading below
Our Featured Videos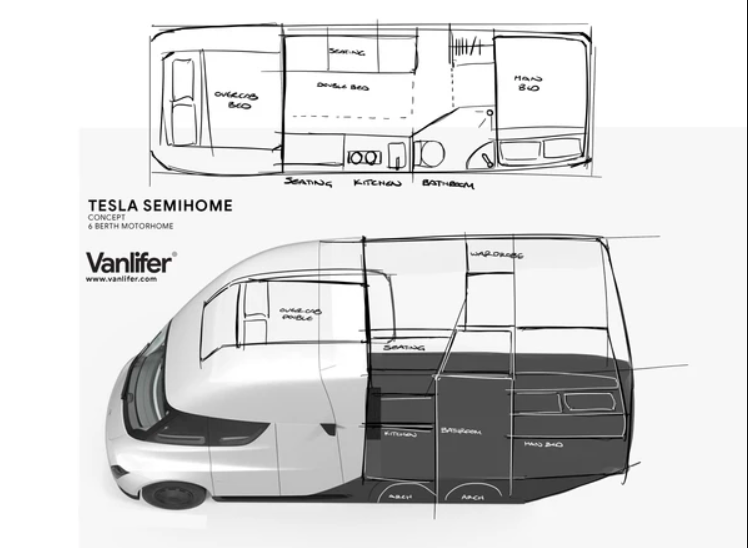 Of course, industrious #vanlifers and people who convert other vehicles (like city buses) into campers also took note. The Class 8 heavy-duty semi-trailer truck boasts an impressive range of 300 to 500 miles, and it charges in less than 30 minutes using a solar-powered "Tesla Megacharger" charging station so drivers can "fuel" up virtually anywhere. That's not just a big perk for truckers, either — it would also make road trips a lot more convenient.
They might not have their hands on an actual Tesla Semi just yet, but the folks at Vanlifer, who produce products and information for camper van owners, are already chomping at the bit to convert one. They've even produced "The Case for a Tesla Semi-Home," which is really just an illustration of how it could be adapted for use as a tiny vacation home on wheels.
"So far this is a concept, but we are working on creating an accurate 3D model which will be used for quoting to see if this is a viable project," says Vanlifer founder Jason Hablous. "Of course, we'll only know for sure once the Tesla Semi is launched whether it's something that could ever go ahead — but we're hopeful."
Hablous laid out the reasons why the Tesla Semi would be such a great base for a camper conversion in a recent blog post. Based on the mileage of a freight truck, the Tesla Semi promises a fuel savings of $200,000 over two years, and its range means you could get through long driving days without worrying about how much fuel you're burning or whether you'll be able to find gas stations in remote places.
The Tesla Semi is also capable of running on just two of its four motors, so if something goes wrong with one or even two, you won't find yourself stuck on the side of the road. Indeed, the company guarantees "a million miles" of driving before it ever breaks down. The cab is also very spacious. Vanlifer notes that at $180,000, the Semi would come in at the low end of the price scale for luxury high-end motorhomes even after conversion, and especially when you take fuel savings into account.
When the concept was first announced, experts were quick to point out that converting trucks like the Tesla Semi wouldn't be feasible until electrical grids around the world got a major upgrade, and that connecting to them to charge vehicles still uses significant amounts of fossil fuels. But if Tesla can really pull off the kind of powerful solar charger it says it's producing for the Semi, they might not need to connect to the grid at all.
In July, a seemingly driverless Tesla Semi was spotted on a highway in California, prompting speculation that the energy and automotive company might actually be on track to get this thing on the market by next year. Be sure to check back with us for updates on this exciting new technology.