This Gesture-Controlled Smart Desk is Magic
We're all familiar with the phrase "work smarter, not harder," but what if you had a workspace that actually did the same? After all, spending time at your desk should only streamline your workflow, not distract from it. With this in mind, a Hong Kong company recently created a smart desk that raises and lowers with a simple wave of the hand.
Continue reading below
Our Featured Videos
The Magic Desk was created by 37° C Smart Home designer Wu Junfeng, who readily acknowledges that his simple initial idea quickly grew into a more far-reaching design.
"Actually, my first thought was only about designing a desk whose height could be controlled by gestures," he explains. "Then the idea evolved into a comprehensive workplace solution: how could the desk help maximize your work performance? Could it also play a role in caring for your health, to deliver messages for you actively?"
The easy-to-adjust desk moves from standing to a sitting height when you hold your hand close to its built-in sensor. Placing your hand beneath the sensor raises the platform, while hovering over the top of the sensor lowers it. Varying height options from 25 to 51 inches allow you to choose the best settings for you, placing the desk surface at the perfect height whether you're standing or sitting. The distance to your monitor is also "monitored" for ideal ergonomic placement.
Although it's a pretty simple design, it factors in the needs of the modern consumer like few other sit-stand models, with built-in USB ports and a wireless charging port you can use by simply setting your phone on it. Beneath the desktop, a net neatly wrangles in cords and cables to keep your space neat and hazard free.
Having the option to stand while you work is proven to improve posture and reduce lower back pain, contributing to overall better health, but the Magic Desk smart technology goes beyond this convenience with a built-in lamp that also monitors your activity. This LED desk lamp automatically turns off after you've been away for 10 minutes, and brightens the space up again once you return by monitoring your movement as you get closer. The lamp offers three brightness modes: Full brightness for efficient reading; screen mode, which is dimmer and reduces blue light; and focus mode, which provides bright light and automatically turns off notifications from the desktop unit to reduce distractions while you concentrate. Even better, the entire system charges on the port built into the desk and can be moved around to personalize your workspace in a way that always works best for you.
A small monitor also alerts you if you need to adjust your posture as you begin to slouch in your chair or while standing. Additionally, the system will remind you to make a change if you've been in the same position for too long.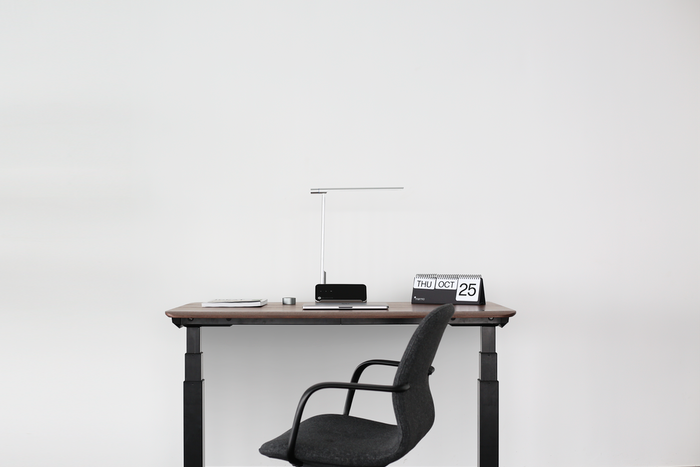 Beginning as a fully funded Kickstarter campaign, the Magic Desk is now in production and can be found in the three classic colors of black, white, and walnut. It's also available in two length sizes of 47 and 58 inches. The design was even recognized in the A' Design Award competition with a golden award in the category of Furniture, Decorative Items, and Homeware Design.