These 7 Celebrity Master Bedrooms are Jam-Packed with Interior Design Inspo
When it comes to interior design, a picture is indeed worth 1,000 words – which explains why we do things like scour through magazines and clip out images of rooms that speak to us. Of course in the age of the internet, we have Pinterest pinned to our bookmark bar and scroll Instagram regularly to dial in our favored designs. Sometimes we even look to the stars (Hollywood stars, that is) to pinpoint a vibe we love enough to replicate. With this in mind, HomeAdvisor linked arms with a team of architects and designers to recreate the floor plans of seven celebrity master bedrooms meant to inspire:
Prince Harry and Meghan Markle
Continue reading below
Our Featured Videos
Once they relocated to Santa Barbara, California, the royal couple invested $14.65 million in their not-so-humble abode known as "Chateau of Riven Rock." Their new place is perfect for hosting guests – though they might deny as much when it comes to family, if reports are to be trusted. But regardless of political and personal decisions regarding who sleeps where, the couple's home boasts six bedrooms in the main house and an additional two-bedroom guest house.
Defined by the French Provincial style, the master bedroom combines a touch of fairytale with a dose of romanticism. Dark wood features stand out against yellow walls and accent the white decor in the bathroom. An adjacent sunroom provides natural light from three sides, streaming in through copious windows.
Ariana Grande
To call this bedroom "Grande" is not only punny, but accurate. The master suite in Ariana Grande's L.A. home covers the entire upper level. There's a closet so large, it's about the size of a standard apartment. Yes, just the closet. A terrace, bed, and lounging area round out the space – all overlooking Trousdale Estates and the canyon. While relaxing between sets, Ariana can head to the en-suite bathroom for a soak in her deluxe oval bathtub, configured to enjoy expansive scenic views.
Jennifer Aniston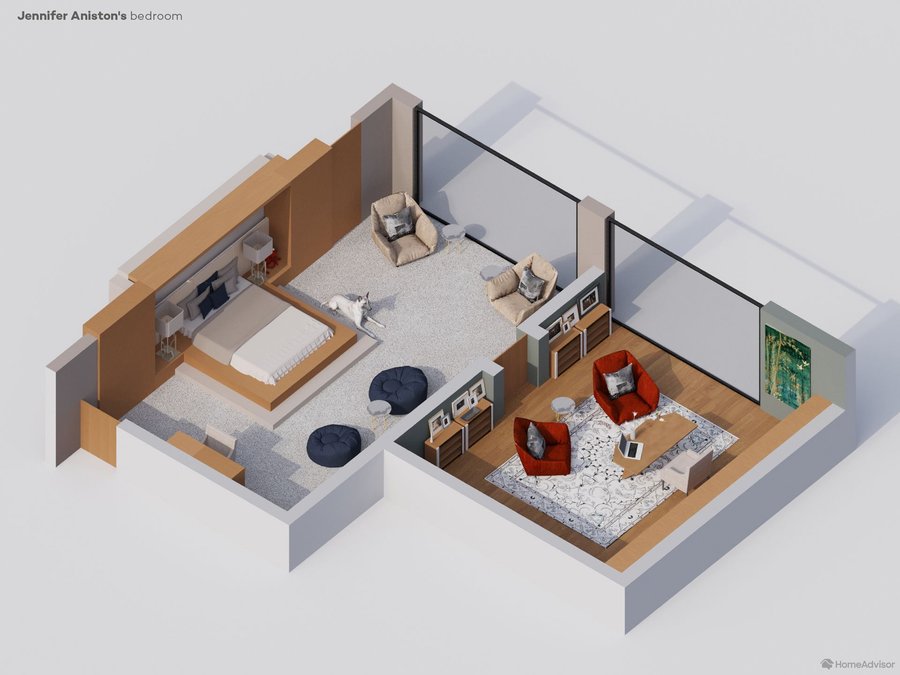 Jennifer may still be central to current pop culture, but her home decor style screams midcentury modern. "Sexy is important, but comfort is essential," she notes. Jen's interior designer Stephen Shadley agrees with this, saying, "Jen is drawn to wood, stone, and bronze, materials that have real substance and depth. No matter how beautiful or glamorous something is, it has to be warm and inviting." Jen's idea of welcoming must include seating, as she offers her visitors several options in that department, including bean bags that look perfect for both human and furry guests. The room's desk and dual sitting areas are streamlined to include art and designer pieces against a neutral backdrop of earth tones.
Justin and Hailey Bieber
This power couple sleeps in one of the seven bedrooms of their $25.8 million Beverly Hills home. Every section of the modern architectural design, from the attached bathroom on one side to the sitting and office area on the other, offers views of the Franklin Canyon Reserve.
Jennifer Lawrence
Also in L.A., Jennifer Lawrence's $8 million residence has a uniquely old Hollywood vibe. Dark wood flooring acts as a backdrop for the clean white decor of the sitting and desk areas while an accent rug softens the bed's location inside a smaller alcove. The adjacent bathroom is similarly draped in white, from the curtains to the fixtures, both of which offer bold contrast to the gold accents. Massive French doors open up for views of the landscape and pool below.
Travis Scott
Home is where the heart is, but there's nothing wrong with getting a deal on real estate. Rapper Travis Scott certainly has something to sing about with his $23.5 million home, considering the fact that the original asking price topped $42 million. The hilltop location in Los Angeles invites elements of nature throughout the master suite. Described as a cross between an art gallery and a spa, the suite, along with the rest of the house, meets Delos Well Building Certification standards, which means it provides an optimized level of healthy air, water, nourishment, light, fitness, comfort, and mindfulness.
Selena Gomez
Back in L.A., Selena's home previously belonged to Tom Petty. It's unclear whether the present design caters to his taste or hers, but since there are two master suites, maybe there's one of each. The lower-level one where Gomez rests her head features elements of a hacienda and characteristics of a farmhouse, such as the barn ceiling. There's also a large en-suite bathroom with freestanding tub, dual-sink vanity, and enclosure for the toilets. Large French doors lead to the veranda for a taste of nature any time of day.
Which design style most appeals to you?