The OGarden Smart Lets You Grow Up to 90 Organic Fruits and Vegetables Inside Your House
When you picture the archetypal garden, you probably imagine long rows of fresh vegetables or raised beds in a backyard setting. Thanks to the rise of urban gardening, however, designers are starting to come up with new ways to grow fresh produce in a limited space. One such innovator is Pierre Nibart, a French-Canadian man who created a small hydroponic indoor garden called the OGarden.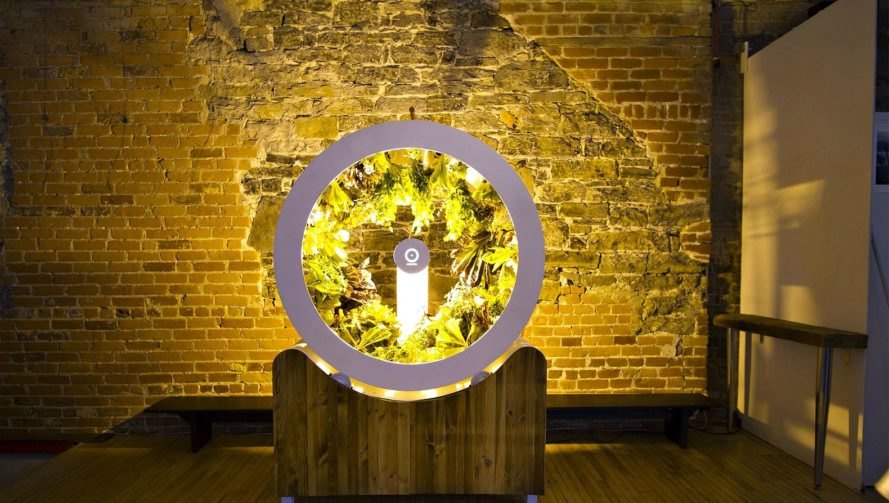 The original OGarden concept was launched as a crowdfunding campaign in August 2016, when eager supporters immediately forked over $95,000 to get the ball rolling on production. Two years later, the company tweaked the original design to create the OGarden Smart, which is similar in function to its predecessor but has the added benefit of newer technology to help make it easier to use and much more efficient.


Each circular OGarden Smart consists of both an outer planting area and an inner growing area, both of which are supported by exactly the right mixture of water and light. In addition to the convenience of automatically watering the plants for up to a ten days at a time, the system is also equipped with low-energy LED lights that consume just one-tenth the power of a typical microwave. Even so, it's capable of growing up to 90 different fruits and vegetables at the same time, offering unlimited variety and freshness in the comfort of your own home. And because the OGarden is an indoor system operating in a controlled environment, you should be able to grow your favorite produce all year long.
Many other features of the OGarden Smart offer ease and convenience over traditional gardening. The compact nature of its design is perhaps the most obvious of these, measuring just 53 inches high x 29 inches wide x 15 inches deep. Roughly the size of a rolling microwave cart, it's safe to say this indoor garden can fit just about anywhere in even the smallest apartments. Once it's set up, you'll find that it's quite useful for sparking many an interesting conversation among your dinner guests. Plus, it's 100-percent organic, and you'll almost never need to manage insects or diseases like you would in a traditional garden.


Upon initial testing, the company determined that 18 different fruit and vegetable varieties could successfully be grown in an OGarden Smart, though they'll happily provide a special "Bag of Virgin Earth" to any customer who wants to plant and experiment with their own seeds. Whatever you decide to grow in your OGarden, you'll find that planting is as easy as inserting your seeds into one of the pods on the outside of the system. When planting in a rotation, you can use these pods to maintain a constant harvest. Since 60 plants fit into the circular upper garden while another 30 grow in the lower section, the idea is to always have 30 ready to harvest, 30 that are in the process of growing, and 30 that are just sprouting. Water rises from the lower tank to feed the seed pods in the shelf above it before continuing to the uppermost level. The wheel itself moves slowly around to keep each plant moist as it passes over that water.


In addition to the water and electricity savings, it's easy to see the cost benefit of growing your own organic, non-GMO foods, especially when you can remove the risk factors of too much rain or not enough sun, either of which can ruin a perfectly good outdoor crop. No packaging, no transport, and no mass production means an even more eco-friendly indoor garden, to boot.

Continue reading below
Our Featured Videos
The
OGarden Smart's most recent crowdfunding goal
was met in a lightning-fast six minutes, and today it has raised over $1,000,000 from 1,300-plus supporter. Pre-orders are expected to start shipping in May 2019.
https://www.youtube.com/watch?v=NjB_jSpv2HQ