The 10 Most Amazing Airbnbs for Your Quarantine Vacation
Pining for a getaway in these strange times of reduced travel? You might be surprised just how many unique and awesome vacation rentals are practically right in your backyard. These private homes, castles, tree houses, Earthships, and other unusual retreats located all over the United States offer privacy, comfort, all the amenities you can ask for and, crucially, the ability to maintain social distance from people outside your bubble. If they're not close enough, at least let these listings be inspiration to search for something great near you!
The Castle Cottage — Lake George, New York
Continue reading below

Our Featured Videos
If having a whole castle to yourself (or at least, your family or pod of quarantine buddies) sounds more up your alley, The Castle Cottage is your fairytale waiting to happen. Set on a mountaintop in the Adirondacks overlooking Lake George, this gorgeous stone keep sleeps up to six people.
Alpaca Treehouse — Atlanta, Georgia
Sometimes you need a place to get away without leaving the city. In Atlanta, this treehouse set within a bamboo forest comes complete with wandering llamas. Seriously. One of the most wishlisted Airbnbs in the world (and recently featured on the Netflix reality show Love is Blind, Delta's inflight commercials, Animal Planet's Treehouse Masters, and VH1's Love & Hip Hop), this space sleeps four guests. Unsurprisingly, this spot is also super in-demand for small weddings, photo shoots, and music videos.
Silo Studio Cottage — Tyringham, Massachusetts
A romantic getaway ideal for a couple, the Silo Studio Cottage is an adorable two-story round house on the Santarella Estate in the Berkshires of Western Massachusetts. Formerly the summer studio of sculptor Henry Hudson Kitson, it features a 35-foot-high conical ceiling with a canopied bed and views of a nearby lily pond and babbling brook.
Earthship Studio — Taos, New Mexico
Staying overnight in an awesome recycled Earthship is a must-do in New Mexico. This one in Taos includes all the cool features you'd expect in an Earthship, including glass bottle walls, polished earthen floors, and a passive solar sunroom, plus modern amenities like Wi-Fi, Netflix, and a luxurious deep tub.
River House — New Orleans, Louisiana
This one bedroom, one bath guest home tucked away in the historic neighborhood of Faubourg Marigny is well away from the crowds of downtown, but it still packs in all the New Orleans charm you can handle. Located on the second floor of a mansion, it features its own private 500-square-foot balcony with original cast iron railings and city views, as well as access to a swimming pool and lush gardens.
Desert Yacht — Terlingua, Texas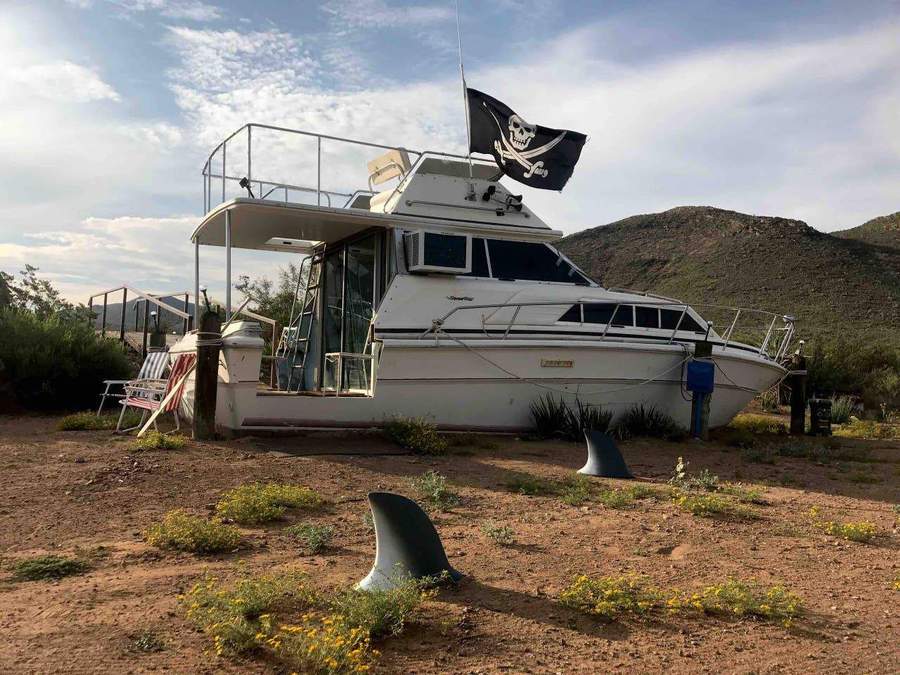 Looking for a highly unique place where you can be wild and free? This Airbnb getaway is literally a yacht in the desert near Big Bend in West Texas, and officially listed as "clothing optional." It features one bedroom, a kitchen, an upper deck for all the stargazing you can handle, and best of all, loads of privacy. The property itself is a good 20 miles outside civilization, but Wi-Fi access and an indoor shower are just a quick drive away.
Desert Sage House — Yucca Valley, California
Dreaming of a place where you can safely gather with your friends or extended family? This complex of cabins, yurts, and trailers is spread out on five acres of land in California's Yucca Valley, and set up so you can hang out together outdoors or retreat to your own private spaces. You'll have the whole property to yourselves (but no parties or weddings are allowed). It's capable of hosting up to 12 guests in five bedrooms, with eight beds total.
Chelan Hobbit Haven — Orondo, Washington
A global pandemic is enough to make anyone wish they could hide away in a hobbit hole. Lucky for you, you actually can! "Underground Hygge" is an earth house nestled into the Columbia River Gorge mountainside in Orondo, Washington featuring an iconic round front door, gorgeous views of the surrounding countryside, six acres to explore, and one bedroom ideal for one or two people.
The Silos at Prairie Vale — Green Ridge, Missouri
You've heard of tiny houses, but what about tiny silo houses? Experience one for yourself on a family-owned farm in Green Ridge, Missouri. You'll get a taste of farm life complete with Nigerian Dwarf goats, miniature donkeys, chickens, and other animals while staying in a silo apartment with its own full kitchen, bathroom, and loft.
The Ark Tiny House — Virgin, Utah
Location, location, location! Utah's Zion National Park is unlike anywhere else in the United States, and The Ark is a great way to experience it. Sure, it's a tiny house, but it's actually capable of sleeping up to six people between its bedroom and common spaces. It also boasts a loft, bathtub, office desk, TV with Netflix, Wi-Fi, a hot tub and fire pit, and a breathtaking bay window overlooking a 75-acre property with a stream.
Find more unique places to stay near you on Airbnb's website.