Sunken E-Scooters Get New Life as Recycled Furniture
Although often touted as a mode of eco-friendly transportation, electric scooters are frequently stolen and vandalized in urban areas, many of them ending up in local ponds and rivers. With their lithium batteries leaching out into waterways, these scooters become biological hazards instead of carbon-saving devices.
Continue reading below
Our Featured Videos
When a Swedish newspaper publicized a year ago that there were more than 200 electric scooters lying at the bottom of the Malmö canals, four designers banded together to solve the problem, creating a company called Andra Formen, or "Second Form" in Swedish.
"We let others' bad decisions inspire us and take our starting point in mistakes when we start a new project. How could a material, a place, or a phenomenon be made differently? Could [it] be done better?" the team writes on their website.
They started by enlisting the aid of two brave divers to fish abandoned two-wheelers out of the murky water. "Some of them had barnacles growing on them," co-founder Christian Svensson notes. The designers estimated that many of electric transporters hadn't even survived a year of usefulness before being ditched in the seaway.
After giving each scooter a good scrub, the team took them apart and laid out their inventory of components, looking for design revelations. The result is a collection of desk and floor lamps, a chair, a hydroponic planter, and a grill, all under the name "E-metabolism."
"Our mission is to turn toxic waste in the form of electric scooters from the bottom of the canal into pieces of art," adds Oskar Olsson, who designed many of the pieces himself. He adds: "We tried to stay true to the shapes of the scooters. Some even have dents and scratches, and they tell a story about the life it had before."
Olsson and Svesson, along with partners Jingbei Zheng and Peder Nilsson, used the original parts as much as possible: a dead battery for the base of the floor lamp, handlebars and decks for the chair legs and seat, hubcaps as a base for the desk lamp, and handlebars for the lamp neck and head. Connector pieces from the cast-off scooters fashion the furniture together, with a few bits of 3D-printed material here and there tying it all together.
The aesthetic of the pieces has a colorful modern feel with an air of recycled chic, keeping the original hues and branding from the salvaged Voi, Bolt, and Tier scooters. While the playfully quirky furniture would be difficult to scale up based on the limited supply of scooters from waterway graveyards, the intention behind the work is a helpful reminder of our responsibility to preserve natural resources.
"We wanted to show that you can actually do something with waste," says Svensson. "It doesn't need to go to the dump."
The group adds that "With this project we want to challenge our contemporaries to look past environmental degradation and see how today's materials can be resources tomorrow."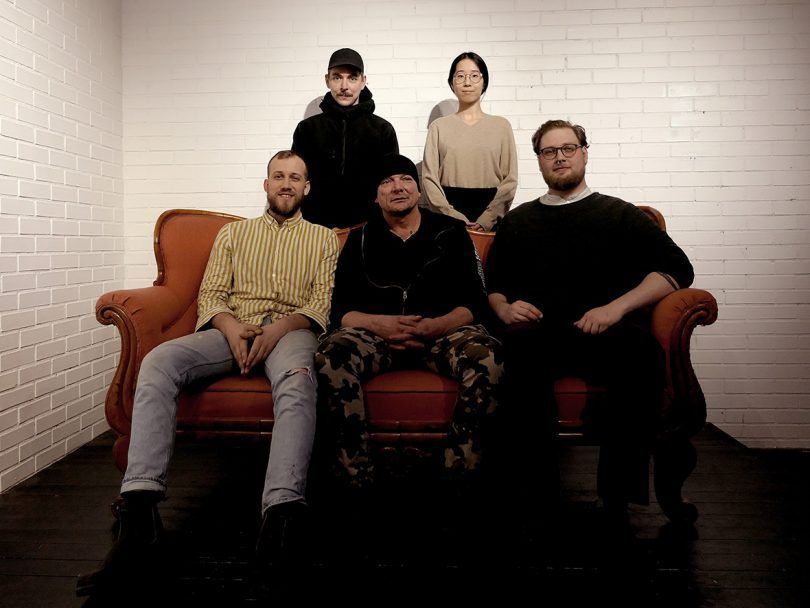 All the repurposed products in the E-metabolism line are on display on the Andre Formen website, with prices ranging from $200 to $800. Interested parties must fill out an email form for potential purchases.