How to Pack a Home and Workshop onto a Tiny Plot of Land
Making room for a home and workshop capable of storing a four-wheel-drive vehicle on a tight plot of land with an even tighter budget led to a novel solution for this project in Germany. Fabian Evers Architecture and Wezel Architektur lifted the living space to the second floor, creating a translucent light-filled garage below. It's a brilliant way to maximize space, showing that you don't have to give up all your prized possessions to build a home in a dense urban area.
Continue reading below
Our Featured Videos
The client wanted a special space to store his Unimog, a cult four-wheel drive vehicle by Mercedes Benz. House Unimog does just that with an extremely small footprint, orienting the living spaces away from the busy street to look out over the surrounding residences and farms.
During the day, the workshop is flooded with filtered natural light, the translucent panels blocking out distracting views of cars passing on the adjacent road. At night, it glows like a lantern, making the anthracite living volume seem to float. Stairs lead to a sheltered terrace on the second floor.
The compact living space features strategically placed windows and a glazed wall on the terrace side to offer views without looking directly into the closest neighboring homes. The open-plan residence is lined with oriented strand boards for a clean and uniform look that costs very little.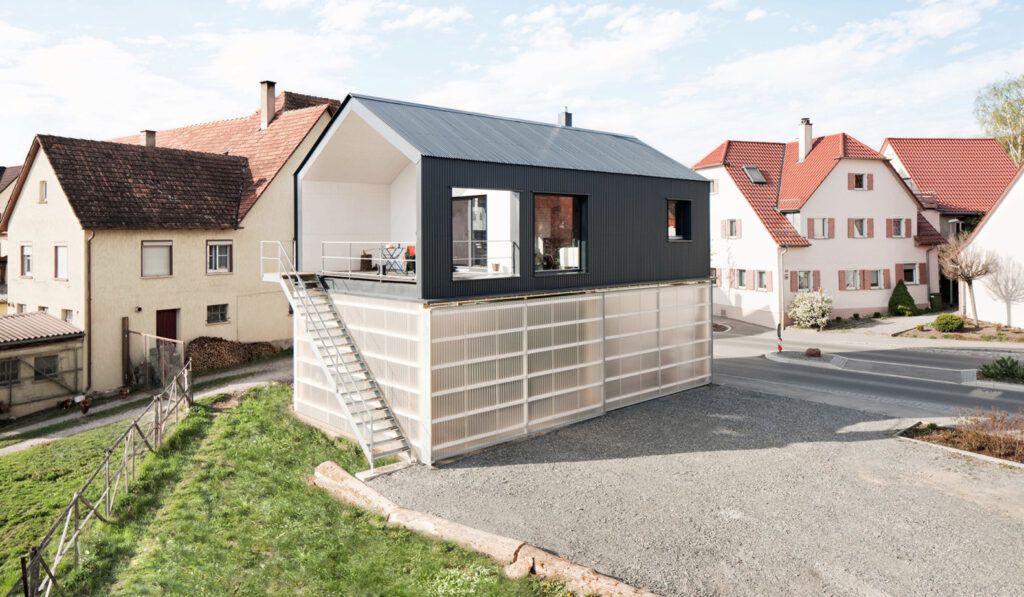 More from the architects
"The variation of the two different uses reflects itself through the facade: The lower part of the workshop is cladded with translucent polycarbonate elements. The workspace is filled with filtered natural light during the daytime, and turns at night into a light box which glows into the neighborhood. The living space presents itself with its anthracite facade as a monolithic volume. Precise set windows and a generous south oriented loggia enables beautiful views into the surrounding landscape."
"The chosen materials for the facade and inside the building underlines the pragmatic and reduced design concept: a house which is rather located in the typology of a rational farmhouse or of a workshop than a classical residential house."
Photos: Sebastian Berger – Breitscheidstr.