Neoclassical Church Converted to Luxury Home Listed for $7.5M
Sometimes building transformers have it tough – a limited set of options, and a built-in set of constrictions, that force tough decisions. This is not one of those times. With such a beautiful (not to mention gigantic) old church structure to work with, it is no wonder the resulting residence is downright drool-worthy. This Neoclassical church converted to a luxury home has gained a lot of interest lately. Here's why.
Continue reading below
Our Featured Videos
A century-old Gothic Revival piece in San Francisco, this property is for sale by commercial-developer-and-owner Siamak Akhavan at a high cost but one to be expected: 7.5 million dollars.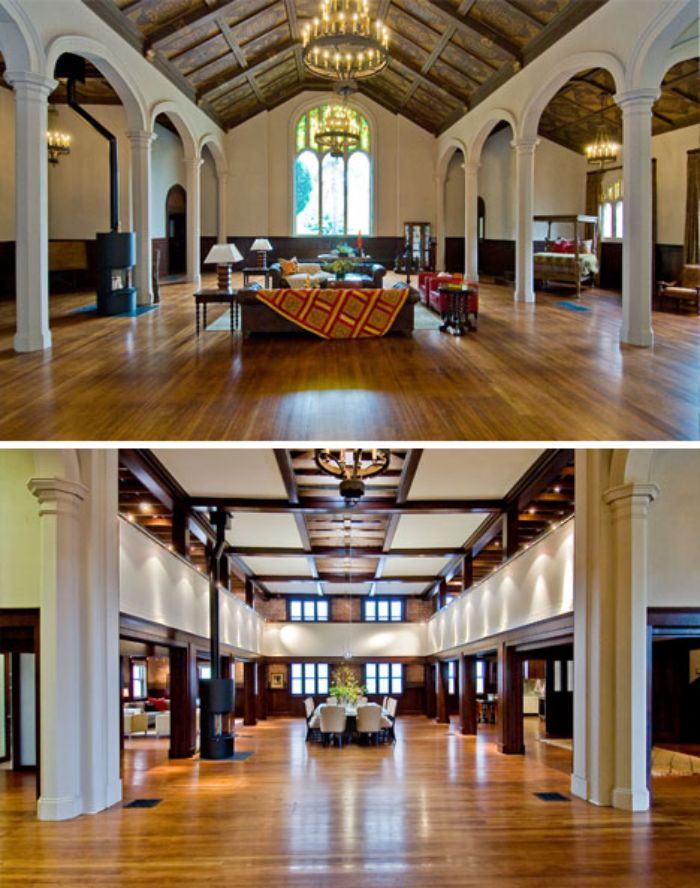 Some of that hefty expense is tied to the historic structure itself, some the site and location (a corner lot overlooking a park helps), and some the extensive retrofits and renovations required to turn it into a lovely, livable and safe contemporary home.
Since buying it five years back, its owner has overhauled everything from the exterior facades (patching leaks, cleaning and rebuilding as needed) to the interior rooms (outfitting it with modern appliances, revamped floors, new stained glass windows and seismic reinforcements). There was a bit of space leftover (not something most would see as a problem per se) so a six car garage was added as well.
At the steep asking price and given its unique nature it might not be even to sell, even since being discounted by 25% from 10 million. Still, its owner is in no rush to get rid of the residence – and really, unless you needed the money, would you be either?
Marble bathrooms, gorgeous hardwood floors, trim and decor throughout, ceiling heights most of us can merely dream of … and 17,000 square feet to spread out in. Hard to ask for much more – and maybe a bit too much for some people.
Update: Sold for $6M and Transformed Into a School
 "The space will be used for the Children's Day School's middle school, plus a large gathering/performance space which it plans to make available to community groups, Quinones said. The school currently has a location at 330 Dolores. 601 Dolores will be the school's second location. Quinones also told us that the building will undergo interior renovations to build classrooms, complete additional seismic strengthening and make the building a legit school. Children's Day School will preserve the exterior and the historic integrity of the property. The school has 'very happily worked' with Jensen Architects in the past for renovations to 333 Dolores, and hopes to continue that relationship with the renovations at 601 Dolores." [via Curbed]