Noa's Flexible Modular Building System Can Adapt to Any Use and Location
Modular architecture doesn't have to be cookie-cutter. In fact, breaking buildings down to components that are easy to transport and assemble makes it possible to infuse architecture with a lot more creativity than standard stick-built construction. It's also adaptable, so if your needs change, you can simply change the structure to keep up. With CeCuCo, the Centre for Culture and Community, architecture firm noa* envisions a flexible system that can be customized to any context, sized up or down as you like, and arranged into interesting shapes that work for the building site.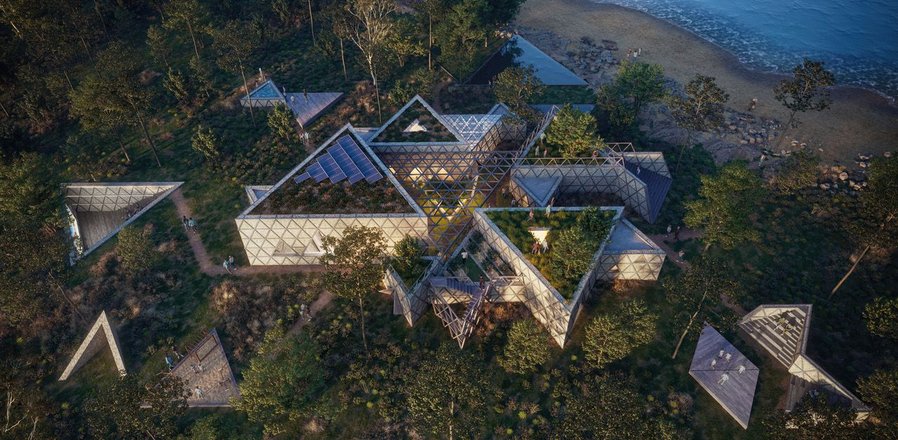 Continue reading below
Our Featured Videos
The basis of CeCuCo is an open triangular module with a wood frame measuring three meters on each side, which can be combined into all kinds of geometric shapes. This module can be filled in with glass, clay bricks, wood, or whatever other materials are available locally and best suited to the project, climate, and architectural surroundings. That means the doors and windows will generally be triangular in shape, also, opening in different directions or pushed out like a brise-soleil to allow cross-ventilation and natural cooling, which lowers energy consumption.
The cultural center is an example of what can be done with this modular system. The architecture firm wanted to demonstrate how individual rooms can be designed for multiple open-ended functions to make the overall complex as inclusive as possible. "How do you design a space that works in the same way for children who meet to play, adults to watch an exhibition, teenagers to listen to a concert?" *noa says. "What are the characteristics of a meeting space that is open all year round, that is not for consumption, and that represents the public counterbalance to the private domestic dimension?"
The answer is six different types of floor plans ranging from eight to 115 square meters (about 85 to 1240 square feet) that can be mixed and matched for all possible activities. As examples, the architects cite a small module as an artist's atelier, a newspaper stall, a storeroom, and a staircase, while the extra small module can be a ticket office. The medium module could house bathrooms, a library, and open-air bleachers. The largest size is designed with theater and cinema in mind, but again, that's flexible.
The design also includes green roofs, pergolas, photovoltaic power systems, rainwater collecting systems, ponds, wooded areas, and other ways to modulate the local climate. Here, they're shown with flat roofs, but one can imagine how new faceted planes could be created by connecting the triangular modules at different angles into three-dimensional shapes, which would be better suited to environments that get a lot of rain.
"This cultural center could be located on a beach on a volcanic island, in the Scandinavian forests, on an abandoned lot in Detroit, or on the roofs of socialist housing in Berlin," *noa says. "It is an architecture able to mold itself to the morphological and climatic requirements of the context while maintaining intact the concept of sociality and interaction between the building and those who live in it."