Nendo's New Folding Slide Phone is the Size of a Credit Card
Smartphones are getting bigger and bigger these days, and not everyone is happy about it. While larger sizes give us more screen area to accomplish a wider variety of tasks on the go, they also make phones quite difficult to hold in one hand. A new concept by smart device company OPPO and design studio Nendo finds a compromise with a design that transforms on demand, allowing users to choose from three different screen sizes.
Continue reading below
Our Featured Videos
Unveiled on December 11th at the China International Industrial Design Expo, the "Slide-phone" features three foldable screens attached by hinges folding over vertically in the same direction. Technically, there's no real sliding action involved, but rather an "unfurling," as Engadget put it. The first segment offers a clock and notifications, the second opens the camera for selfies or video calls, and the third reveals the full seven-inch widescreen display you need to perform most tasks, play games, or watch movies.
A built-in stylus provides a finer level of precision on the touchscreen than your fingers allow. Another unusual feature is the suede leather-covered hinges, a material you don't see on phones…well, ever, really.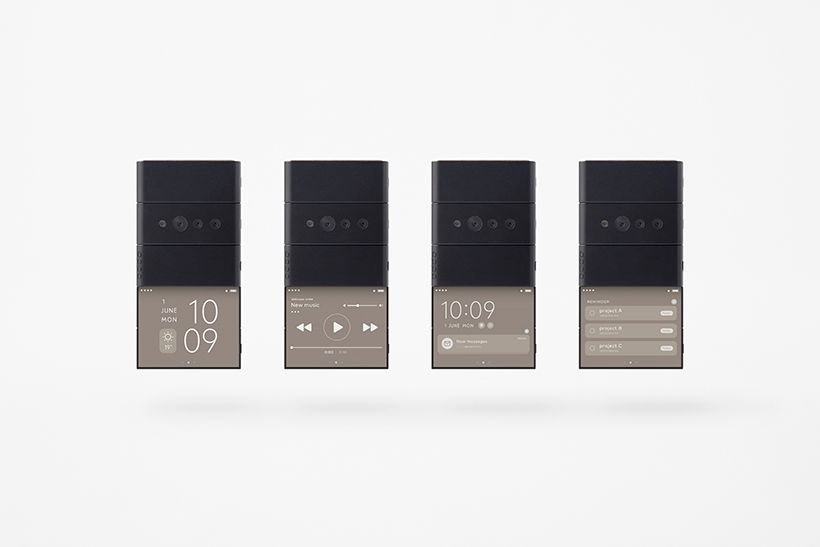 "In addition to playing videos with an operable side panel, the user may also enjoy the phone as a controller in game mode with panels on either side, in multitask mode with numerous apps displayed in a row, and panoramic photography mode in full screen," says Nendo. "The controls on the side of the phone are shaped like ellipses cut in half, functioning as two to four buttons, becoming small, semicircular buttons or combining into one large button as the folds slide up and down."
"Further, the stylus ordinarily inserted in the phone may be taken out for use and the phone folded in half to give the user the feeling of writing in a notepad. The notion resulted in an interface allowing the user to open and close the upper half of the screen to, as it were, flip the page. The hinges are covered with suede leather to prevent the impression that, for having three hinges, the phone is an inorganic, rigid contrivance."
The "music-link" feature allows the Slide-phone to interact with a constellation of other devices like a smartwatch, an AI speaker, a portable charger, and a wireless charger, all designed with a similar sleekness. As OPPO explains, "when the TWS earphones and portable charging case are placed on the AI speaker, users can enjoy a seamless music experience transitioning from headphones to speaker. This symbiotic design between devices, and the emphasis on portability and convenience, reflects OPPO's integration of technology and human-centricity in its design philosophy."
Folding smartphones aren't a brand new concept, of course. Samsung's book-style folding Galaxy Z Fold and Fold2 are widely available now for about $1,379 and $2,000 USD, respectively, and Huawei offers the similar Mate Xs with an edge-to-edge outer display for about $3,900 USD. Samsung's Galaxy Z Flip and Motorola's Razr 2020 are clamshell-style folding phones that become impressively compact when closed. But none of these designs are quite as flexible in use as the Slide-phone, nor do they fold down as impressively small (about the size of a credit card).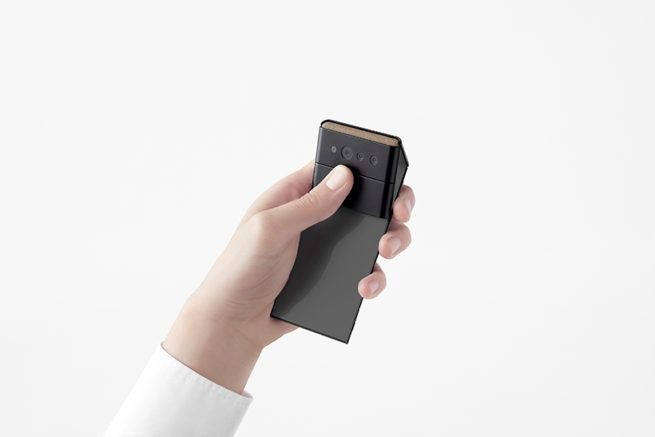 For now, the Slide-phone is just a concept, and it's hard to say whether it'll ever actually go up for sale. But it could be a peek at where smartphone design is headed in the future. Are you intrigued?