Portable Mini Washing Machine
This pedal-powered cylinder has just one wash cycle – the one your power in order to shrink your appliance (and not your clothes). It looks like anything by a manual laundry machine, more like a hamper perhaps or most like, well, a trash can for your clothes. However, this odd little design packs a lot of innovative technological ideas and functional concepts into a very small-space unit that requires no plumbing or electrical port.
Continue reading below
Our Featured Videos
Aside from this mini-and-portable invention saving space, why would anyone want to use their own energy to manually run a modern appliance? For starters, students in dorms and adults in apartments, condos or other communal living spaces often have concerns about privacy, safety and health when it comes to more public-access washing machines, dryers and laundry areas. Many are willing to make sacrifices to have their own in-home washers.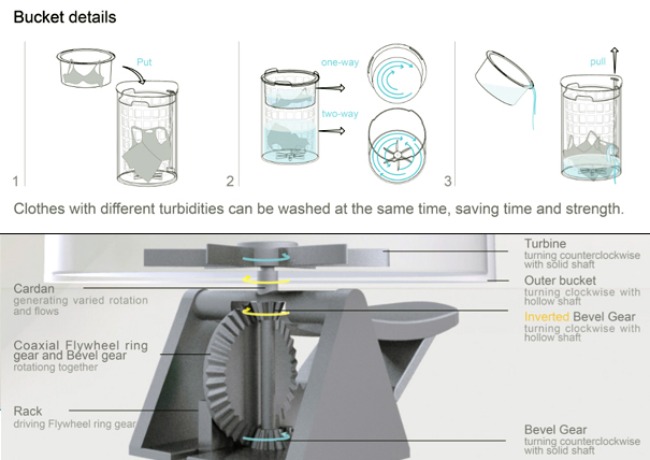 So why not just wash your clothes in a sink? Way better than hand washing, this compact and self-contained washer lets you keep your hands clean and dry while your load of laundry cycles through the system. Easy top loading and a slim circular shape make it easy to tuck in a spare corner of a bathroom or other space, and since it does not have to be plugged into the pipes it is all the more simple to move and store as needed. Still a student design (for now) by Shang-Che Wu of the NTUST Design Dept, it is hard to imagine that this would do anything but well in urban markets!
About the NTUST Design Dept:
"Since 2006, our laboratory has been continuously participating in the forward-looking concept design project of the National Science Council, focusing on the welfare of the elderly, human-computer interface, sleep welfare, and inter-generational communication."
"Furthermore, we hope to transcend the differences of different generations through the design of life-oriented communication interfaces, and provide families with a more intimate and more natural way of interaction, connecting and promoting each other's emotions."