Lighthouse Office Pod Looks Like an Abstracted Backyard Boulder
What do boats, dumpsters, and car sun roofs all have in common? Not much, really — except for the fact that all three influenced the design and functionality of a highly unusual add-on office pod by Los Angeles design firm Knowhow Shop.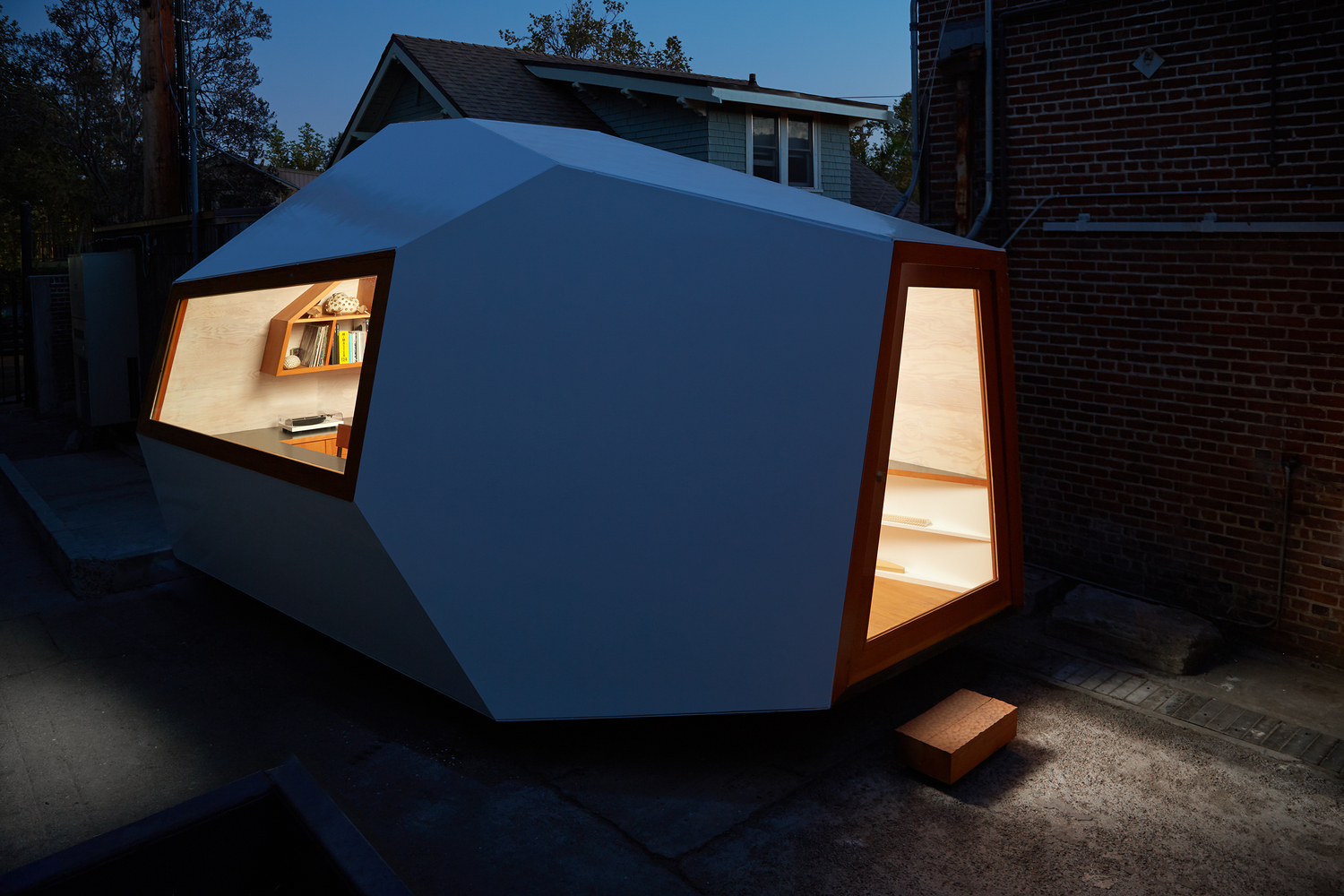 Continue reading below
Our Featured Videos
Detached backyard home offices are an intriguing proposition for property owners, providing just enough separation from domestic life for optimal concentration while simultaneously allowing for easy access to home-cooked meals and eliminating the hassle of commutes. They also present great opportunities for architectural experimentation, whether that means creating artistic shapes in and of themselves, augmenting a historic home with a modern addition, or covering a simple structure with a lush, serene net of living ivy.
For architects Kagan Taylor and Justin Rice, designing their own detached office was a labor of love that served three purposes at once. Today, their pod sits in a paved lot adjacent to the firm's main facilities in Highland Park.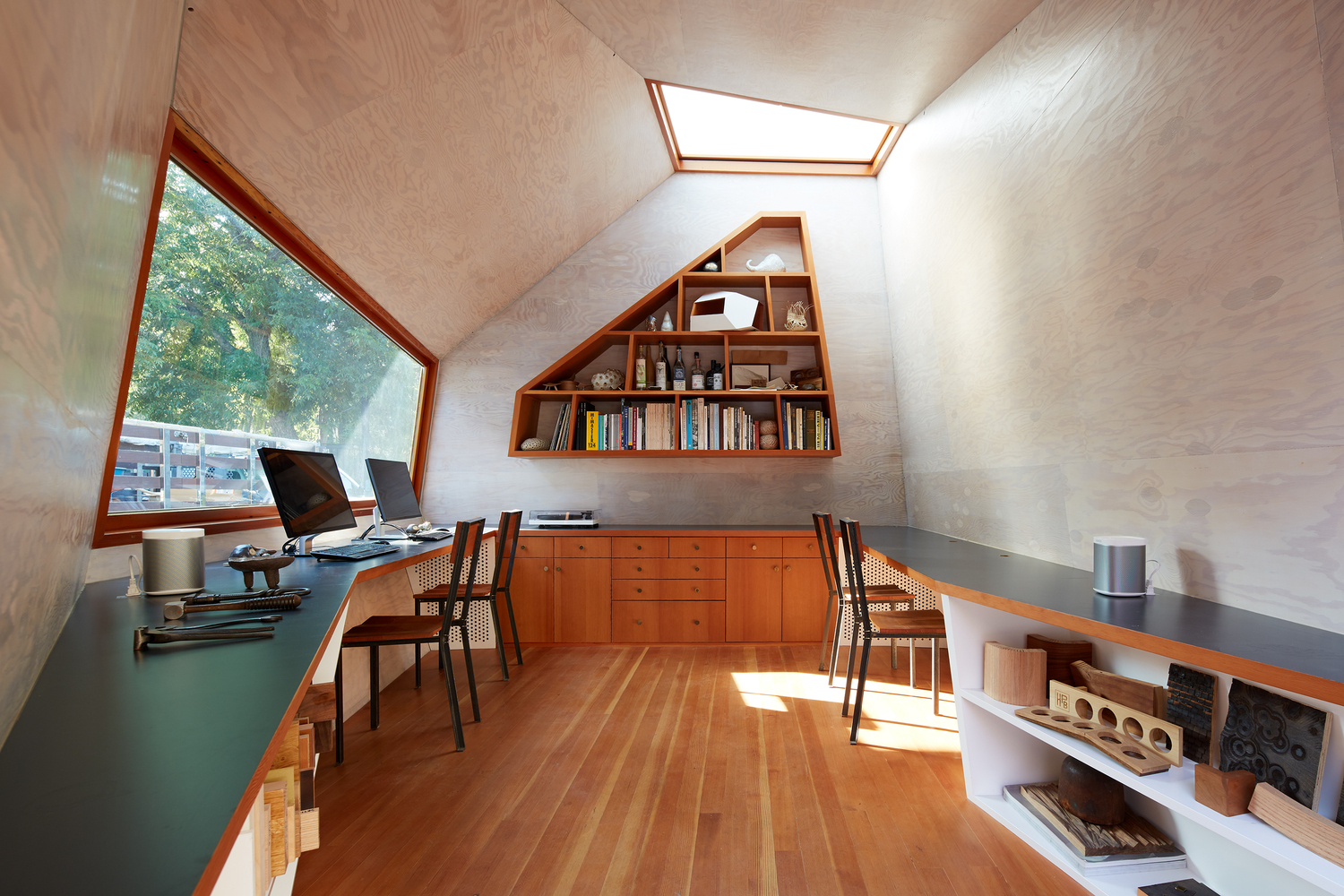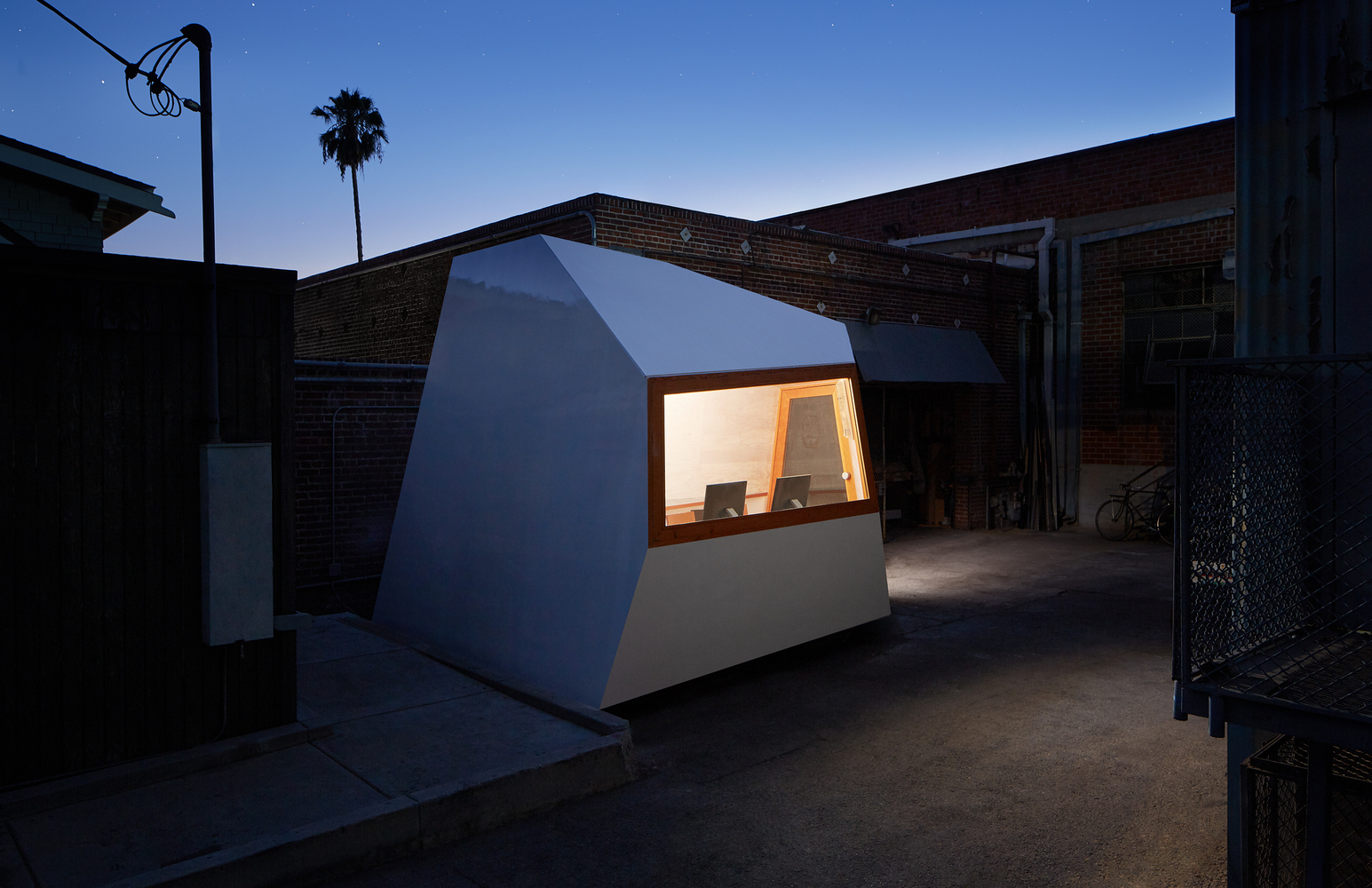 "This is not a project that we would have been able to hand off to a contractor to execute, so we bypassed the normal methods of an architectural production and relied on the most experimental potential of our design/build model," the architects explain. "Lighthouse is an office for our business, a showcase of our craft, and an example of the huge potential within rethinking the way we design and build."
Taylor and Rice didn't just aim to approach the project from a new perspective — they wanted to "wipe the slate clean" altogether, transcending the boundaries of architecture using techniques and ideas from boat building, car manufacturing, and furniture making. The result is "Lighthouse," named so not for its resemblance to shoreline structures of the same name, but for its weight (or lack thereof).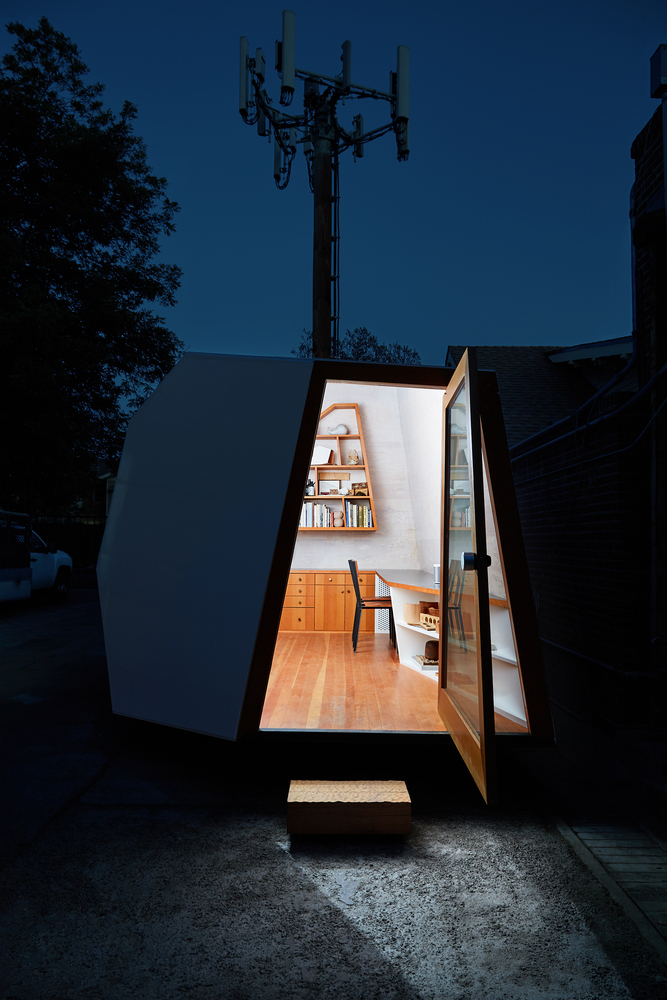 Working with a small budget and doing all the work themselves, the architects wanted to test their own limits and perceptions of what architecture should look like, including the idea that a building should have four walls and consist of only right angles. Lightweight shop-fabricated and mitered structural insulated panels (SIP) make up the pod's irregular geometric surfaces for a result that looks a bit like an abstracted boulder. Lighthouse's door, windows, and skylight were custom-made to fit the openings in the frame.
It may only offer the design duo an additional 150 square feet, but it's space well-used, and it feels a lot larger inside than it looks from the outside. High ceilings and lots of natural light help with that illusion. Since it's so light, the pod doesn't even need a traditional foundation. Taylor and Rice placed it on a platform equipped with casters from a rolling dumpster so they can easily slide it around — an especially handy option when they've got structures to build in other places.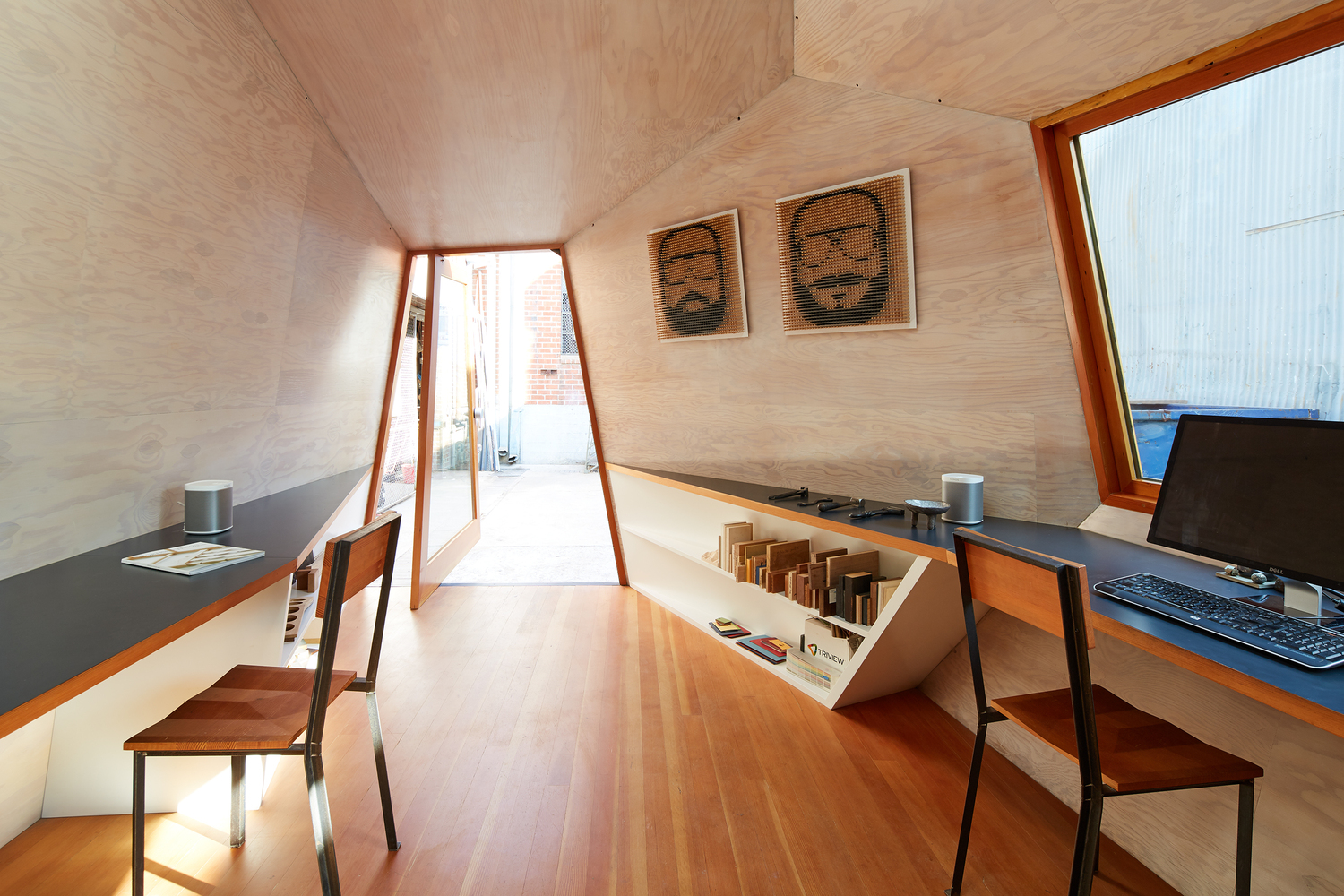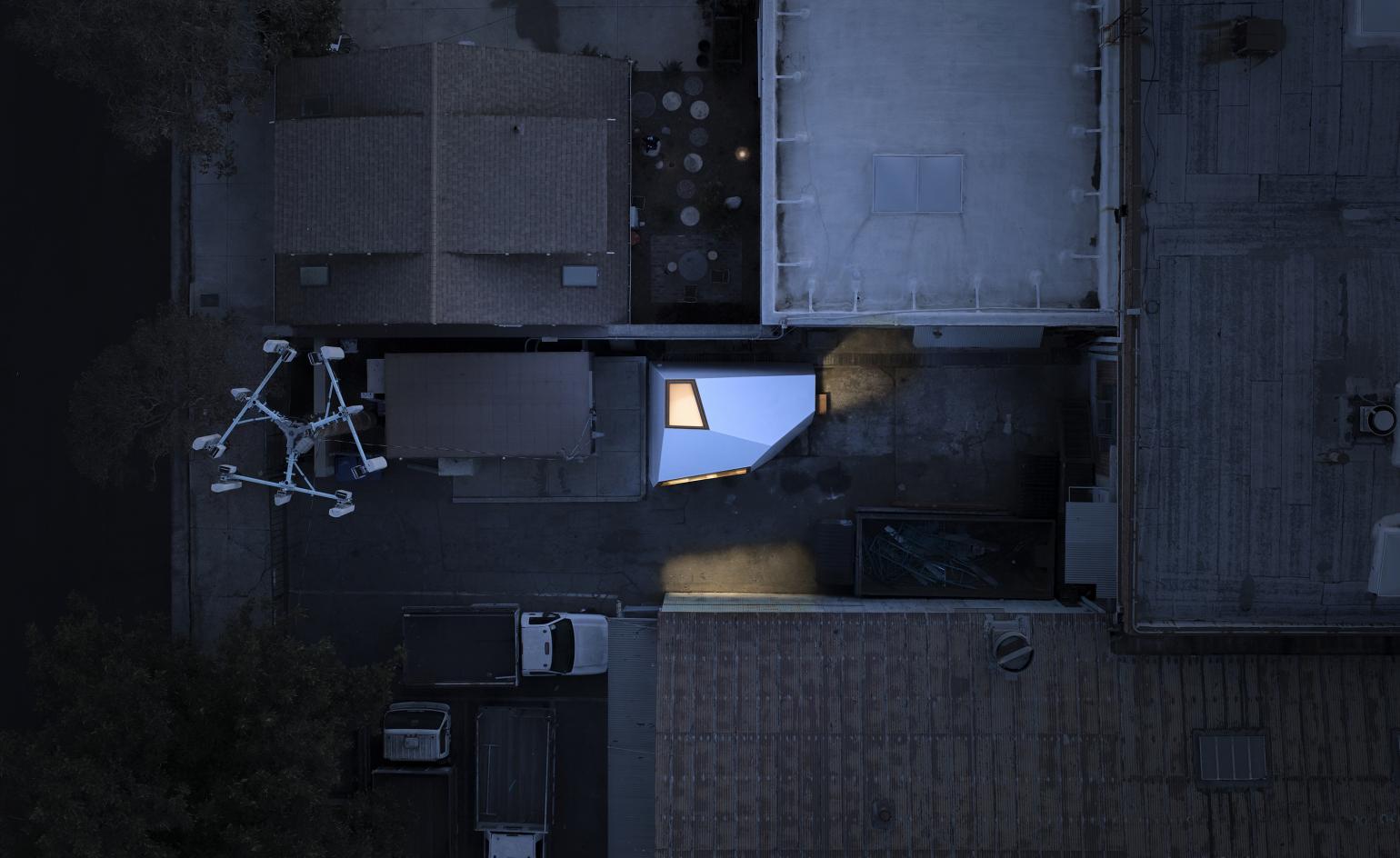 It may be small, but experimental structures like Lighthouse can pave the way for fresh approaches to larger-scale buildings in the future, helping us literally think outside the box.
"We hope that future Lighthouses will become beacons for those searching for smaller sustainable buildings that embrace contemporary architectural design," they say.