Japanese Retailer MUJI Offers a Prefab House Kit for Seniors
Not so long ago, senior citizens lived out their final days in multi-generational family homes where younger relatives could care for them. In some parts of the world, that's still the most common scenario. But in places like the United States, seniors with changing needs often face a hard choice: continue trying to live in homes that no longer suit their abilities, or move into retirement homes, which can have a lot of restrictive rules.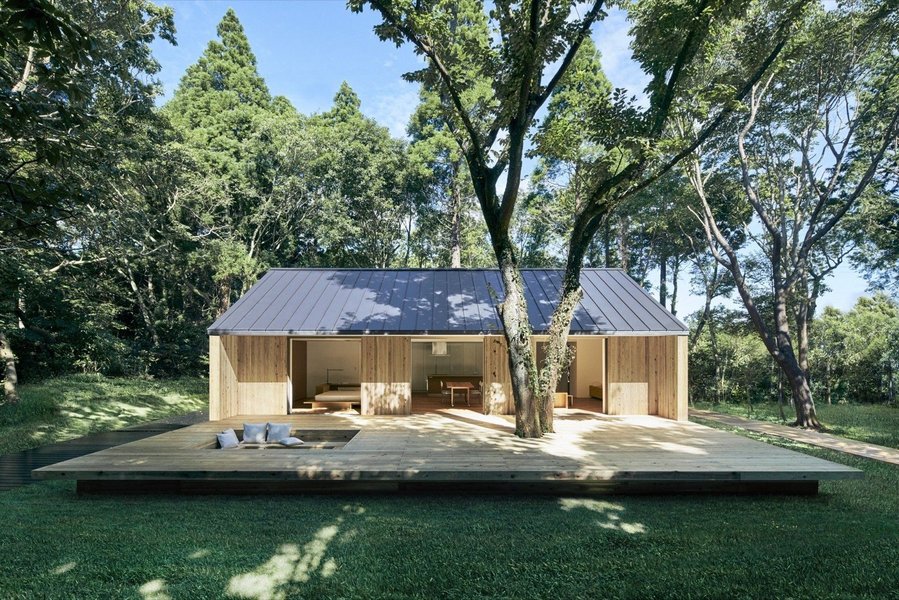 Continue reading below
Our Featured Videos
What if housing was simply designed to accommodate a broader range of human bodies and abilities? The "universal design" movement advocates an "architecture for all" approach with features like doorways, aisles, and counters that are easily usable by people seated in wheelchairs. In this way, young, able-bodied people can still use the spaces as they normally would, while elderly and disabled people don't have to struggle to do simple things like reach a cup in a cabinet, turn on the sink, or get into the shower.
A new prefabricated house kit by Japanese retailer MUJI offers just that. The single-story "Yō no le house," or "plain house," takes inspiration from the "hiraya" style of living, which eliminates most interior walls. The company envisions "connection" as the central theme of the design — with one's family, with community, and with nature. Three large glass doors open directly onto a spacious wooden deck with a sunken fire pit, so the inside never feels lonely or cut off from the world outside.
It may be designed with seniors in mind, but "Yō no le house" would work for virtually anyone, including wheelchair users. The transitions between indoors and out are smooth enough to roll over, and kitchen counters and tables have plenty of space beneath them to sit comfortably. Many of the company's furniture items are pictured inside as a perfect complement to the design, including a rolling dining table and a platform bed that's incredibly easy to get in and out of.
While some people might like the open layout as it is, owners do have the choice to customize the interiors. You can add walls to create separate rooms, and the windows are placed evenly to make sure there's plenty of natural light in each area.
High ceilings painted white give the 800-square-foot house a spacious feel, warmed up by plenty of wooden surfaces. Cube shelving in the bedroom area eliminates the need for closets. If users need all the shelves to be lower, or want to make any other changes, they can also fine-tune all of the built-in elements to perfectly match their unique needs.
Like all of MUJI's prefabs, this house is designed to be long-lasting. The durable metal roof and cedar siding will look beautiful for decades to come, with little need for maintenance. It's easy to imagine this home serving a single person or couple for many years, even as they age.
This prefab house design for seniors is currently only available for sale in Japan, with prices starting at $150,000. MUJI has even installed a model unit in a forested area in Isumi, about two hours from Tokyo, for anyone who'd like to see one in person.