How Celebrities are Decorating Their Homes for Halloween 2021
Life-size decapitated heads, horrifying Demogorgons, and intricately carved jack-o-lanterns are among the amazing Halloween decorations celebrities are turning out this year. If you need a little inspiration for your own creepy display, these Instagram posts by the Kardashians, Heidi Klum, Snooki, and others are sure to spur some appropriately blood-curdling ideas.
Spiders, Skeletons, and More by the Kardashians
Continue reading below
Our Featured Videos
Whether you love them or wish you heard less about them, you have to admit the Kardashian-Jenner family crushes Halloween decor every year. Kourtney, proclaiming herself "Queen of Halloween," shared a series of photos of her Halloween 2021 dining room decor, which is clearly skeleton-themed. Metallic skulls, specimen jars, and twinkling orange lights are mixed in with dried flowers and white candles. The same enormous 12-foot-tall plastic skeletons that have appeared in Kourtney's yard in previous years also showed up to flank a garden gate this time around.
Kylie Jenner hosted a Nightmare on Elm Street launch party with her family for her new Kylie Cosmetics collection, featuring a street sign that reads "Elm Street," stacks of old TVs playing the old horror classic, bloody candles, dripping moss, and eerie red lights. Kourtney's eldest son Mason dressed up as Freddie Krueger for the event. Photos and videos from the dinner appeared in mom Kris Jenner's Instagram stories (via Life & Style Magazine).
Kylie also shared bits and pieces of her home Halloween decor, including the same two witches she shared last year, a seasonal candle, and some cute cupcakes.
Last year, Kim Kardashian posted a characteristically minimalist display for Halloween: nothing but a pile of small white pumpkins against a white backdrop.
Dax Shepard's Seriously Creepy Decapitated Head
"Feel so #blessed to have a rubber replica of my head come Halloween," wrote Dax Shepard on Instagram. Why does he have this replica? Unclear, but it's definitely effective as a shockingly realistic (and creepy) addition to a group of pumpkins on his stoop. Reactions were decidedly mixed, with many commenters loving the outrageous decor, and others not so into it. "Can't stand this," commented Kirby Howell Baptiste, who co-starred with Shepard's wife Kristen Bell on The Good Place.
Martha Stewart's Work of Jack-o-Lantern Art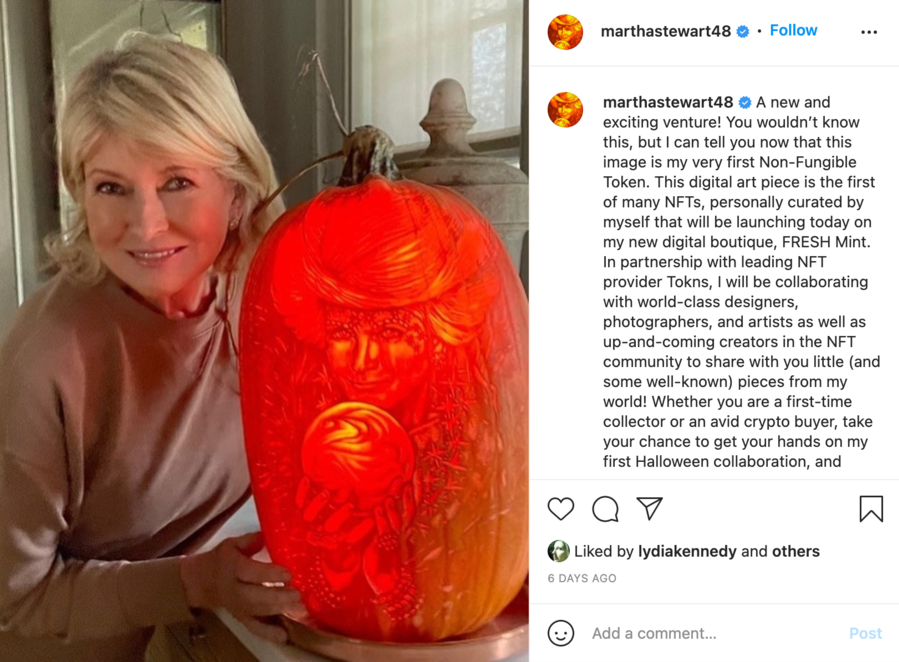 Crafting goddess Martha Stewart shared a photo of a majestic jack-o-lantern carved with what appears to be her own likeness as a fortune teller. In the caption, Stewart shared that the image is her very first non-fungible token, the first of many she'll be personally curating and launching on her new digital boutique "FRESH Mint." The pumpkin is awesome, but her fans were clearly confused about what NFTs actually are (here's a quick primer, if you're also scratching your head).
Kyle Richards Featuring Michael Myers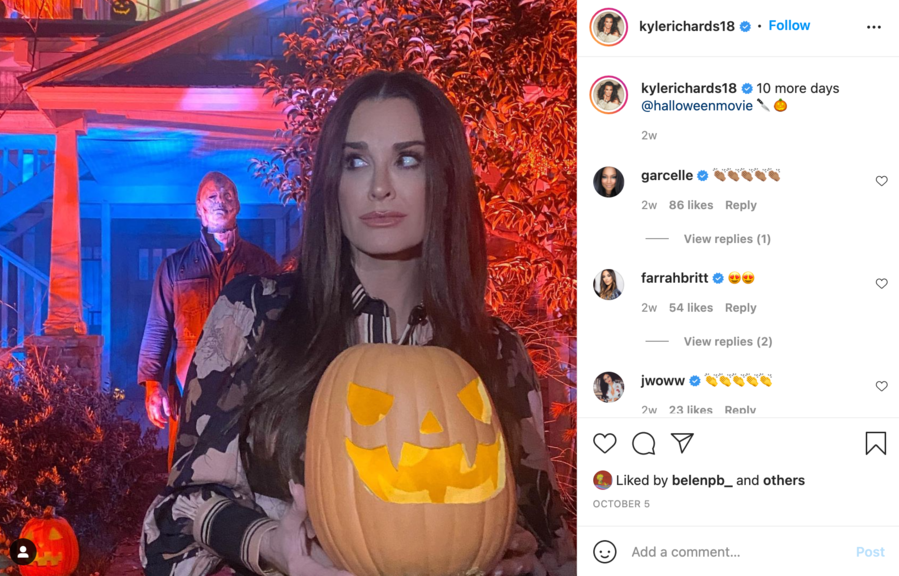 Real Housewives of Beverly Hills star Kyle Richards, who also starred in the original Halloween movie as a child, gave her front porch a creepy makeover to promote the latest film in the franchise, Halloween Kills. Moody red and blue lights and jack-o-lanterns set the scene, but it's the life-size model of Michael Myers that really puts this front porch decor over the edge.
Heidi Klum Never Lets Us Down
Everyone knows Heidi Klum is the real queen of Halloween — at least when it comes to her costumes, which seem to get more elaborate every year. Along with flashbacks of previous years' costume shenanigans, Klum shared this peek at her 2021 decor, featuring two tombstones for herself and husband Tom Kaulitz.
Snooki Shows Off JWoww's Terrifying Demogorgon
"Universal Studios or @jwoww's house?" Snooki wrote on Instagram. Yeah, that life-size Demogorgon is actually hanging out at the home of Jenni Farley, better known as Snooki's Jersey Shore costar JWoww, and it's one of the coolest decorations we've ever seen.