GoLo Solar-Powered Bike Camper Makes Cycling Trips a Lot Comfier
Bicycle touring is an intimate and invigorating way to travel, but it typically requires packing very light. Since you're carrying your gear either on your back or in a bike trailer, you'll probably be sleeping on a very thin camping mattress or in a hammock, depending on the terrain. But what comforts would you bring along if you could carry a much larger load? With the GoLo GoCamp, you basically get the best of both worlds, toting along a tiny RV with the ease of solar-powered electric pedal assist technology.
Continue reading below
Our Featured Videos
Built by Dutch company FlevoBike, the GoLo GoCamp is a tiny camper built on a recumbent e-bike platform. It offers similar amenities you'd enjoy while car camping but maintains the cycling experience. It's based on the FlevoBike GoLo, a four-wheel cargo bike capable of carrying a surprisingly heavy load, but it adds a bunch of extra functionality and features for recreational trips. Even cooler is the fact that the camper is a removable module sitting on top of the GoLo cargo bike, so you can always take it off if you want to use the bike for more practical everyday travel.
The camper module is ultra-compact, at least compared to most RVs, but it pops up and extends a foldable canopy to offer additional length when the user is laying down. In bedroom mode, it's also big enough to seat two at an interior fold-down table. The 33.5 by 86.6-inch mattress is comfy for a single occupant, and in its extended form, the camper features mosquito mesh and a window for ventilation. The side wall pops up to turn into another canopy offering shelter and shade.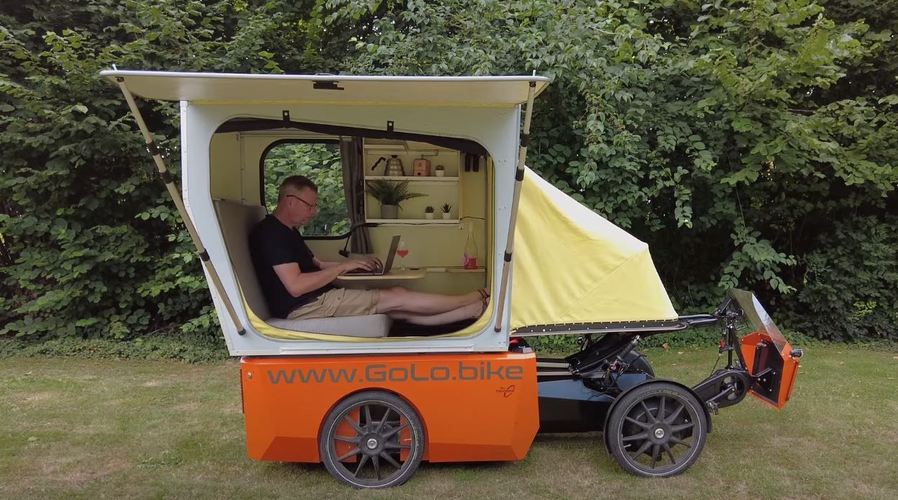 An integrated 60W fridge, storage under the sleeping area, and wall shelves give you space to store your food, toiletries, and other items, and there's a drawer hidden in the base for a spare wheel and bike tools. You'll also find USB, 12V, and 220V outlets inside. Boosted by 400W solar panels mounted to the outside of the camper, the 250W motor and 1,000Wh battery provide maximum e-assist for 31 miles (50km) per charge. That may not sound like much, but most people usually only use assist when going up hills or when they're feeling extra tired. Plus, on a sunny day, you'll be juicing up the battery as you ride.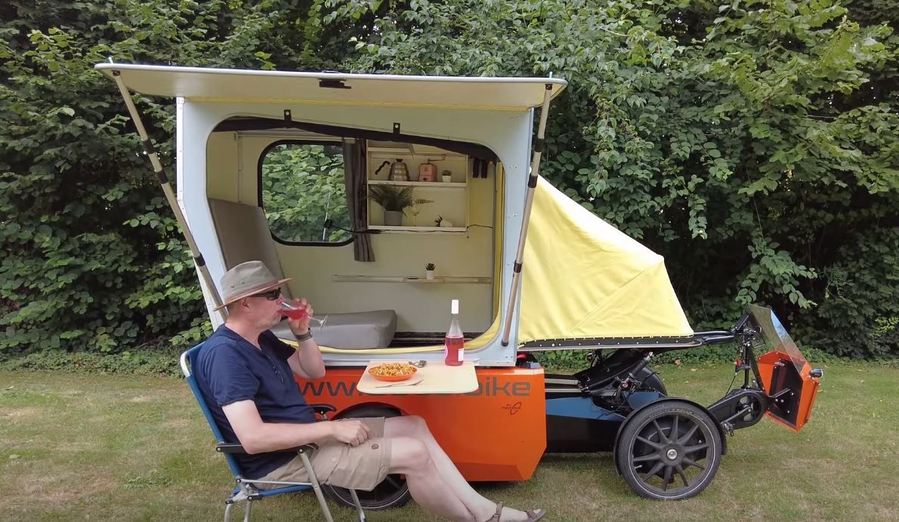 The camper's narrow profile may be a snug fit for sleeping, but it's a pro rather than a con when you're on the road. It sticks to the width of a typical cycling path for safety. When you want to remove the camper shell to use the bike on its own, it's fairly easy to do, simply clicking in and out of the bike's base. Designed with delivery and service fleets in mind, the GoLo e-bike itself is comfortable and easy to ride, even when pulling a load this large, thanks to its recumbent design.
The GoLo GoCamp bike camper is still brand new, and the company has only produced one prototype to show off what it can do. But that prototype has already traveled 500 kilometers (more than 300 miles) across the Netherlands, so it's looking pretty promising. We know what you're thinking: how can you get one? Contact the company on their website or Facebook for more information.