Fan-Designed LEGO Version of the Tesla Cybertruck Features Moving Parts
There's no other vehicle quite like Tesla's Cybertruck, Elon Musk's wild vision for an all-electric "cyberpunk pickup truck." The blocky metallic trapezoid-shaped vehicle certainly moves beyond the boring aesthetics cars seem to have been stuck in for decades now, moving towards an oddly retro-futuristic vision inspired by the films Blade Runner and The Spy Who Loved Me.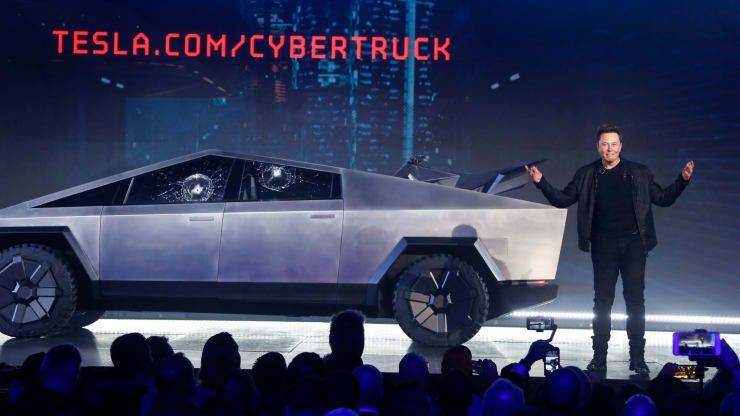 Continue reading below
Our Featured Videos
"Cybertruck is built with an exterior shell made for ultimate durability and passenger protection," Tesla says of the truck. "Starting with a nearly impenetrable exoskeleton, every component is designed for superior strength and endurance, from Ultra-Hard 30X Cold-Rolled stainless-steel structural skin to Tesla armor glass."
Car enthusiasts watching the livestream of the truck's debut were already buzzing about the truck's bizarre looks when a demonstration of its "bulletproof" glass went awry, smashing into pieces almost instantly. Seconds later, the Cybertruck was all over the internet, with some lauding its innovations and others deriding its wedge-shaped stainless steel unibody design.
Even toy company LEGO jumped into the fray, tweeting a picture of its own "Cybertruck" made from a single plastic brick on Twitter. The caption read: "The evolution of the truck is here. Guaranteed shatterproof." Clearly a good-humored jab at Tesla, the tweet inspired fans of the toy blocks to get creative with their own interpretations of the Cybertruck design.
Turns out that one of them is so cool, LEGO might actually make it into an official kit. Shared on the official LEGO Ideas crowdsourcing website, where fans compete to have their own product ideas made into real building sets, the LEGO Tesla Cybertruck by user BrickinNick is a faithful representation of the real thing, and it even has moving parts like a fully articulating tailgate and "frunk" (front trunk).
"While its design may not be for everyone, many different elements and functions of the Cybertruck lend themselves well to an electrifying LEGO build," says the creator. "At this time, only the frunk (front trunk) and tailgate function. Opening passenger doors, a full interior, fold or slide-out ramp, opening charging ports, steering, suspension, the Tesla ATV, and more could all be integrated (and are being worked on for future project updates) making for an incredibly fun building experience. LEGO motorization could even turn this into a truly all-electric vehicle in brick form!"
The design has already garnered more than 6,000 votes from the Lego Ideas community, so it has a real shot at becoming the real thing as long as Tesla grants LEGO permission to use the truck's name and likeness.
The on-stage demo of the real Cybertruck may have famously gone wrong, but that doesn't mean people aren't excited about it and eager to get their hands on one of their own. Production is set to begin in 2021, and the starting price is $39,900. The truck is Tesla's sixth vehicle design since its founding in 2003 and by far its most experimental. It will come in both a single-motor, rear-wheel-drive version that gets 250 miles per charge and a dual-motor all-wheel-drive version with 300 miles of range. If all goes well, a tri-motor version is expected to follow in 2022.