Coffee Is The New Black: Meet The Sexiest Espresso Set Ever

It's not really enough for a coffee maker to just be an ugly drip machine producing mediocre watery brews anymore. At least, not for those of us who uphold the consumption of this energizing manna from heaven as perhaps our most important morning ritual. So what happens when you're a coffee connoisseur and also a design nerd who desires aesthetically pleasing, matching items adorning every surface in your home? Well, a matte black set of impeccably designed coffee making tools, for one. Have you ever seen an espresso set sexier than this?


The 'Collar' set by Italian studio Something Design for Danish brand Stelton marries Scandinavian minimalism with Italy's reverence for the ritual of making coffee. One glance at this series of four black, brass and wood objects is enough to tell you that the designers take coffee seriously. The simplicity of these tools encourages users to relish each pleasurable act that goes into producing a cup of java, from manually grinding the fragrant roasted beans to spooning in the sugar at the end.


It's a beautiful union of Scandinavian design principles and modern aesthetics of the sort that would fit into the most avant-garde of interior designs. The warm tactile veined oak of the handles, the sheen of the Teflon coated steel and the juxtaposition of angles and curves all come together to create a coffee set so beautiful you'll be happy to get up a tad earlier to use it rather than dropping into the corner cafe. In addition to the stovetop espresso machine and the grinder, there's a milk jug and a sugar bowl, and the pieces will be available individually when they debut on Stelton.com in September for $45-$85 each.


The espresso maker is a modern take on the moka pot, also known as a macchinetta, a stovetop contraption that brews coffee by passing boiling water pressurized by steam through the grounds. While the original moka pot is flashy and reflective, with a faceted vessel that flares at the top, the Collar is restrained in its finish and silhouette, but maintains the essential triple-chambered setup of the original. The lust-worthy Collar is practical and functional but also exceptionally beautiful, and it's easy to imagine this set in use with the most exquisite varieties of coffee on the market.
Something Design Studio is a collaboration between Daniel Debase and Federico Sandri, which "evolves along a continuous dialogue encouraged by spatial, cultural and behavioral observations," the designers themselves explain. "Multiple experiments with different materials and a deep understanding of production methods form the basis for a much broader thinking where objects are never considered purely on their own but always as part of a bigger picture."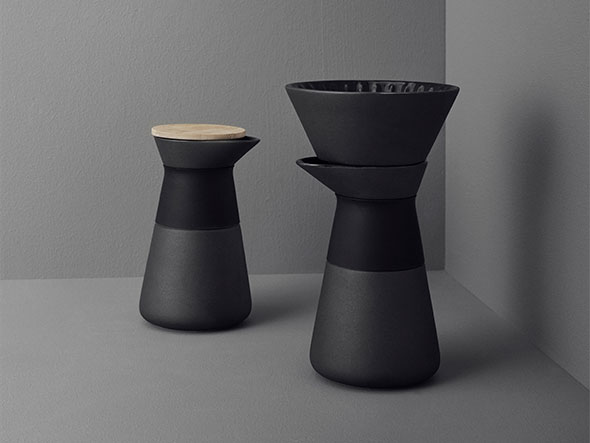 Continue reading below

Our Featured Videos


Collar isn't the only sexy coffee set offered by Stelton, which is known for its selection of beautifully minimalist home goods. The shop also offers the Theo Coffee Maker by Francis Cayouette (pictured above), made of matte black stoneware and bamboo. This pour-over-style coffee maker appeals to all "slow brew" filter coffee fans and comes with a silicone collar to protect your fingers.