Classes Officially Start at Georgia Tech's Ultra-Green Kendeda Building
Taking inspiration from the Bullitt Center in Seattle, donor and founder of the Kendeda Fund Diana Blank brought the idea for a living building to the Georgia Tech campus. The resulting Kendeda Building opened for classes in January 2020, providing a both a great center for learning and a template for innovative sustainable design.
Continue reading below
Our Featured Videos
The construction and design centered around making the entire building healthy for people, beautiful, functional, and energy efficient. Any one of its green systems stands as an example of this focus — not least of which being the fact that the Kendeda Building is net positive for energy, water, and construction waste, meaning that it gives back more in these areas than it takes.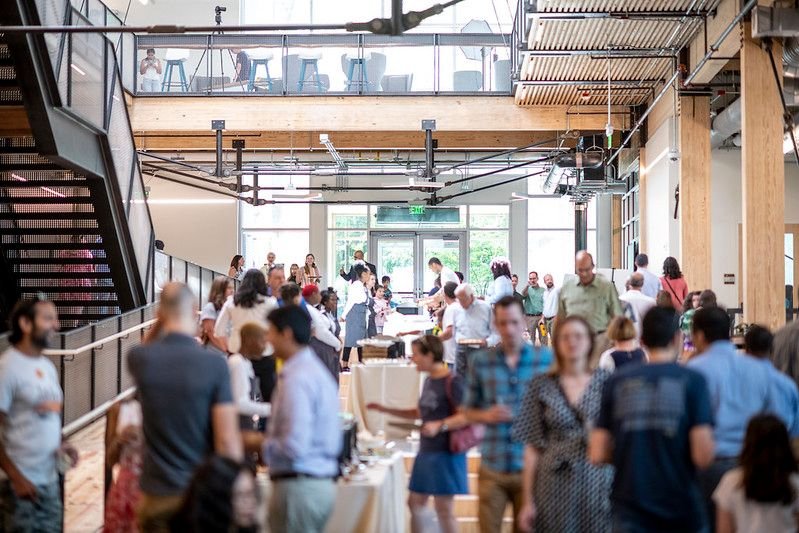 The Living Building Challenge provided a framework of requirements to meet certification standards. As explained on its official website, the challenge "is a green building certification program and sustainable design framework that visualizes the ideal for the built environment. It uses the metaphor of a flower because the ideal built environment should function as cleanly and efficiently as a flower." This standard is gauged on several criteria, including material makeup and energy use, along with evaluation from a third-party auditor.
Like most eco-centric designs, the Kendeda Building makes ample use of solar panels to power all the systems contained within its 47,000-square-foot footprint. Interestingly enough, these solar panels also function as water collection devices. The primary heating and cooling systems then push that water through the floors to maintain a comfortable surface temperature. For additional temperature control, 62 ceiling fans inside the building help students and faculty keep the humid Georgia climate at bay.
In addition to sustainability, the Kendeda Building's design also promotes accessibility with a centrally-located ramp for wheelchair users. Embracing diversity was an important aspect in both its planning and construction phases, with the goal of creating a space that not only teaches students about sustainability, but also educates them on other topics like math and science. Partnering with a local non-profit called Georgia Works, six people from the local community seen as high risk for chronic homelessness were also trained in construction while helping to build the building's ceiling.
Aesthetically, the building is decidedly modern, making heavy use of wood and metal features to create a clean, minimalistic aesthetic for its two 64-person classrooms, two 24-person class labs, two 16-person class labs, 16-person conference room, makerspace, 176-person auditorium, rooftop apiary and pollinator garden, office space for affiliated programs, and coffee cart.
According to the Georgia Tech website, the project cost "approximately $397 per square foot based on total programmed space. Cost of conditioned space is expected to be $503 per square feet." With a total cost of $30 million received from the private Kendeda Fund, the Kendeda Building stands as an example of what sustainable design should look like in 2020, and it also offers endless potential for the future. This achievement will only be reaffirmed when the building becomes the first Living Building Challenge-certified facility of its size and function in the Southeast United States, which it expects to earn following one complete year of functional occupancy.