Artechouse NYC Teams Up With Pantone for Unique Multisensory Experience
Continue reading below
Our Featured Videos
Art shows are commonplace in big cites, especially in cultural hubs like New York. But when it's being held in a venue like the historic Chelsea District's Artechouse NYC and bathed in Pantone's 2020 Color of the Year, 19-4052 Classic Blue, it's an event. Officially titled Submerge, this show plunges visitors into a full body experience that merges contemporary art, imagination, and cutting-edge technology.
Artechouse NYC
Unveiled in September 2019, Artechouse NYC is the city's original permanent museum of digital art. It occupies the historic Nabisco Biscuit Company building, a red brick building built in the 1890s that holds a coveted place on the National Register of Historic Places. In 1912, it became most famous for the origin of Oreo cookies, the best selling cookie brand in the United States.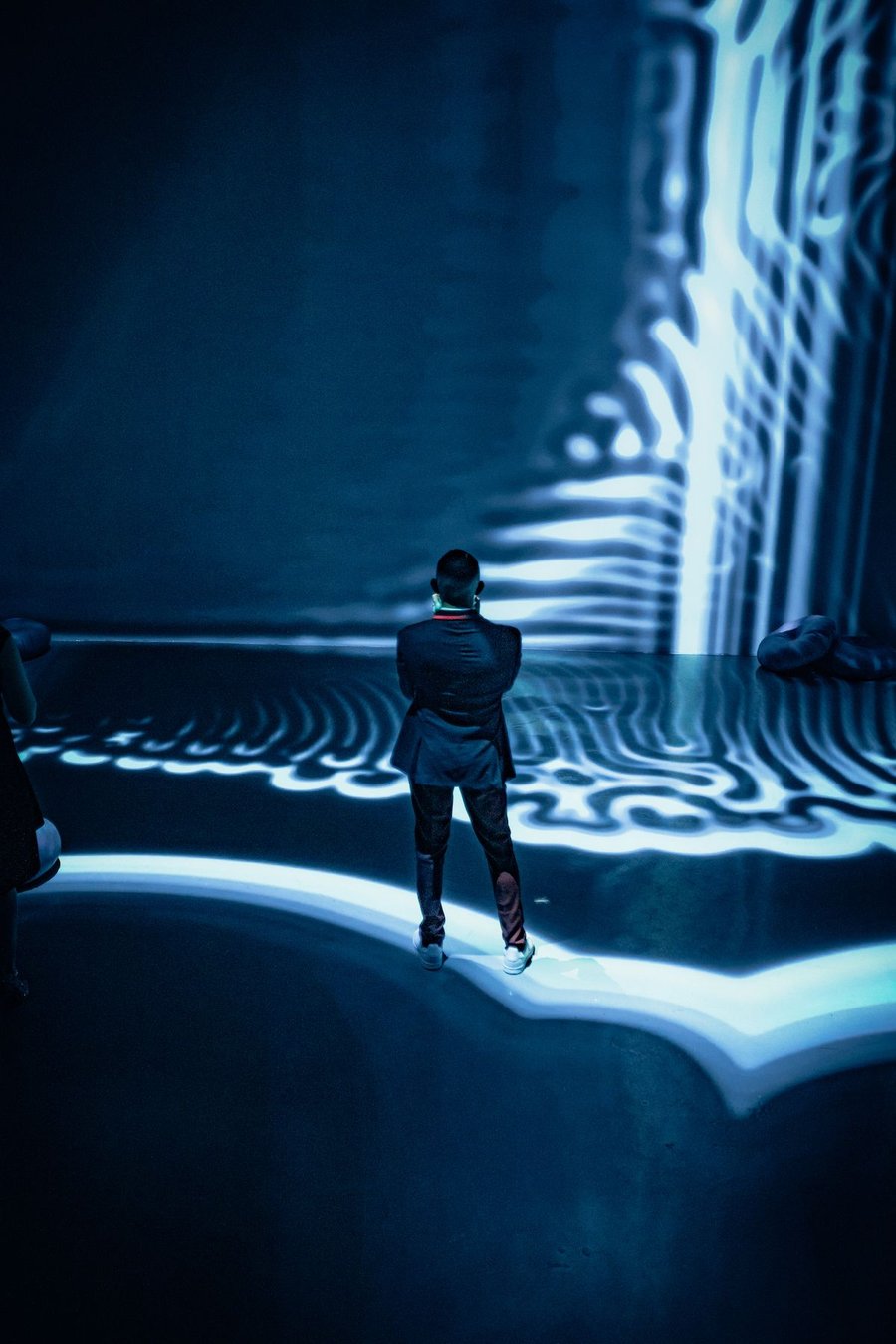 The remodel focused on the building's basement, a 6000-square-foot boiler room that was transformed into the iconic Artechouse NYC. The rest of the building, owned by Google's parent company Alphabet, Inc., accommodates several Google NYC offices, a TV production studio, and a food corridor lined with shops and restaurants that's been popular with tourists and locals alike since its inception in 1997.
The Pantone Pairing
New York Fashion week, which ran from February 3rd to 12th, 2020, coincided perfectly with Artechouse NYC's Submerge exhibit. For the past 20 years, Pantone's once-a-year color pick foresees the color inclination that will be dominant on runways as designers launch their new fashion assortments. 19-4052 Classic Blue is the 2020 choice, itself the deep, brilliant blue shade of oceans and skies. Naturally, this hue also prevails throughout the Submerge exhibit.
Sandro, Artechouse founder and Chief Creative Officer, explains that "at Artechouse we try to connect audiences to art in an entirely new way, stimulating minds, emotions, and imagination through multiple touchpoints. Just as musicians use notes to evoke feelings, we as artists use color to affect the psyche and elicit powerful emotions. Our collaboration with Pantone offered us an opportunity to utilize our state-of-the-art technology and design tools to push the possibilities and truly submerge people into color, creating an unprecedented multisensory exploration where one would not only visually take in the color but feel it all around them. We are thrilled to bring this exciting installation to a larger audience."
The Submerge Experience
Visitors enter the vast museum through a low profile entrance on the bottom level at 439 W. 15th Street. Only 75 people are admitted in at a time. While guests wait, a staff member advises them to view a short video that clarifies what the experience will entail.
Vibrant blue cocktails are being made at a bar on a balcony to further celebrate the Submerge theme. Digital art is projected on the walls and floor here, and on the building's two lower stories, on an endless 30-minute loop. There's no time limit on how long visitors can stay. Some stare, others sit on pillows, and a small portion even lay on the floor as the walls seem to undulate around them.
If the experience overwhelms people, there's a bright red "exit" sign at the opposite end of the room that makes for an easy way out through a little gift shop that leads directly into Chelsea Market. Most patrons find the experience peaceful and relaxing, with the atmosphere inspiring lots of photos and selfies.
This is the third Artechouse in America devoted to exhibiting the works of groundbreaking digital artists. Founded in Washington, D.C. in June 2017, the company also has an exhibition space in Miami.