Arosa: a Luxury Hovercraft that Glides from Land to Sea
What might look like wheels at first glance are actually fan ducts that allow this luxury amphibious hovercraft to float seven inches off water or solid ground. Developed by VonMercier, the Arosa is billed as "the most maneuverable personal hovercraft in the world," allowing its owners to seamlessly transition between land and sea.
Continue reading below
Our Featured Videos
Looking like a cross between a supercar and a sleek and sporty boat, the Arosa features a carbon fiber body with an open cockpit, side decks, and two seats. Three independent electric motors, a gas engine, and a battery keep the vehicle aloft, and it can move forward, backward, or side to side. The aggressive motors provide a total power of 88 kilowatts.
The word "hovercraft" implies that the vehicle will be visibly floating above the surface of the earth or water, but that's not really the case. It's traveling on a cushion of air suspended inside a flexible reinforced fabric skirt, which helps compensate for changes in terrain and provides clearance for obstacles. This part isn't visible when deflated, but when it's in motion, the Arosa sort of looks like somebody drove a sports car onto a raft. But it seems like the experience of driving it would feel similar to that of a flying car, albeit less than a foot off the ground.
If you're imagining zooming down the streets in this thing, not so fast. No, really — the Arosa tops out at just 60 miles per hour, so you won't be getting supercar performance on the road. But that speed still makes it the fastest amphibious vehicle yet, and it gets 120 miles of range when used at a steady 40 mph. So while pilots might not be engaging in races with other expensive vehicles anytime soon, few others outside bulky tourist duck boats can take a detour out onto a lake without missing a beat. Along with the two fighter jet-style seats, the side decks allow more passengers to ride along on the water, and the lower hull and top decks are designed to make it easy to get in and out at docks.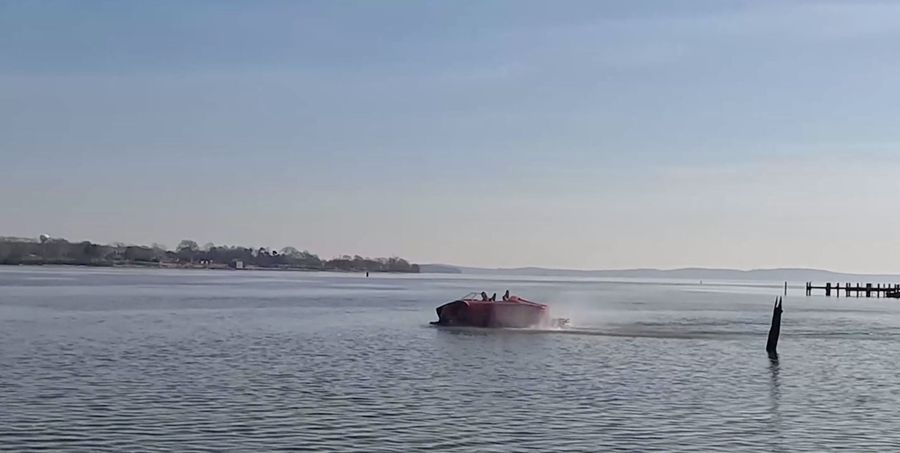 Since it's technically classified as a boat, the Arosa isn't street legal, at least not for now. As more vehicles like this appear on the market, that's likely to change. The manufacturer imagines this hovercraft more as a toy for superyacht owners who want to jet out onto land for brief periods, anyway. But it's not hard to imagine how an advancement like this could lead to new hovercrafts that are more and more visually impressive (and ones that hopefully lift a little higher off the ground, too). Time will tell whether these things are ever accessible to the average person.
VonMercier will make its first 50 models available in summer 2022 starting at $100,000, a price that goes up if you want customizations like paint color, bespoke wood, special fabrics, or extra infotainment technology. So far, the Arosa has attracted nearly 200 customers. If you'd like to join them, you can pre-order now at the company's website.