A Reflecting Pool Glows at the Heart of This Urban Spanish Home
Over the last few years, there's been a growing trend toward "introverted houses." All over the world, clients are commissioning architects to design residences that turn an inscrutable face to passersby on the street but blossom once you step inside. Their facades might have scant windows or none at all, looking a bit boring and utilitarian at best, or cold and fortress-like at worst.
Continue reading below
Our Featured Videos
To some, this might seem like a troubling development. What does it say about modern society, that so many of us would choose to close ourselves off to our communities to enjoy our own private oases, with seemingly little care for how unfriendly they might appear from the outside? Psychologists and sociologists might have answers to those questions, and it'll definitely be interesting to see whether this trend continues to develop in the coming years. But the truth is that many of these "introverted houses" are actually responding to environmental conditions, whether it be harsh climates or densely populated cities where privacy is hard to come by.
And while some seem to have little regard for how they fit into their neighborhoods, others retain a sense of cohesion with the local architectural vernacular, striking a better balance between privacy and interaction.
In Toledo, Spain, architecture firm OOIIO pulled off the latter with "Casa GAS." This single-family detached residence was designed for a young couple who wanted a comfortable, bright, and unique home that was fully personalized to their needs, from the architecture all the way down to the smallest details. OOIIO oversaw not just the building design but also the interiors, including the final materials, furniture, and lighting.
With its clean lines and almost exclusive use of white, the home projects a sunny disposition that's well matched to its Mediterranean climate, and, just as importantly, its material palette echoes those of other houses in the neighborhood. Completely walled off from the street, including all outdoor areas, the home is unquestionably inward-facing, but it doesn't look like a hulking, antisocial bunker, either.
The architects describe the ceramic seen on the roof and within hexagonal tiles on the facade as "the protagonist" of the design, taking inspiration from the traditional patios of La Mancha. The array of hexagonal tiles on the facade is meant to mimic the way dappled light might fall upon it.
And it's really light that makes the home special in every regard. The courtyards draw natural daylight deep into its subterranean levels, and the single coolest feature, appearing like a secret oasis in the desert, is a shimmering reflecting pool that's partially open to the sky and partially enclosed.
The firm explains that they decided "to organize the program of the housing project that the clients needed in the most efficient and simple way possible, always around natural light. To do this, the orientation of the plot was studied and the house program was distributed by strategically placing four patios, which are four light wells, four natural ventilation distributors, alternate and distributed throughout the site."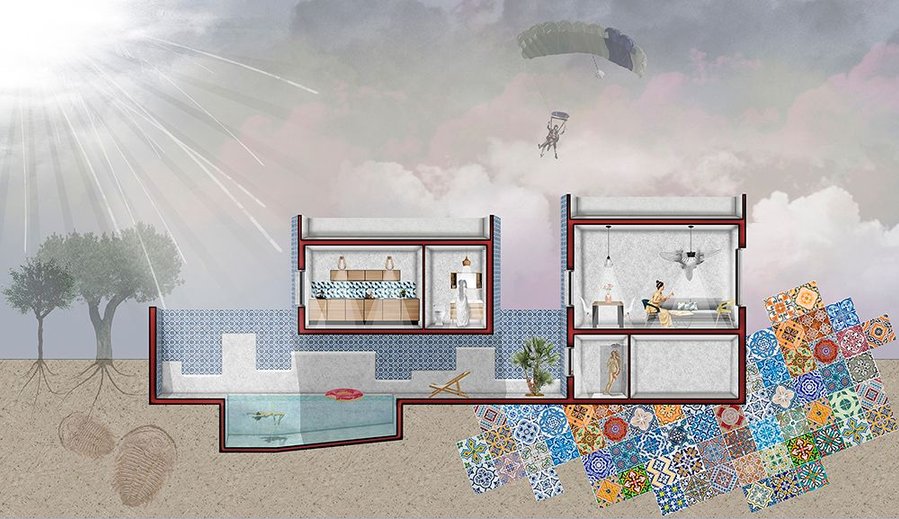 "Between these patios grow volumes that reach different heights depending on the function they host. Thus, the highest will be the one that corresponds to the most "noble" living-dining room area and the lowest to the garage. But the facades of the patios could not be shown like the rest of the house, they are the raison d'être of the project, the heart of its architecture, that is why we express its importance also in the materials that cover them, playing with some hexagonal ceramic pieces that highlight them and complete the composition of the entire house."