Yayoi Kusama Covers New York's Botanical Garden in Pumpkins and Polka Dots
Still creating excitement and introspection at age 92, contemporary artist Yayoi Kusama just opened a showcase of her latest pumpkin-inspired work at the New York Botanical Garden.
Continue reading below
Our Featured Videos
"Kusama: Cosmic Nature" is a combination of her past and recent art in an attempt to conceptualize her relationship with nature. Larger-than-life flowers loom over visitors, ancient oak trees get mummified in polka-dotted fabric, and enormous pumpkins dance and spread into eternity.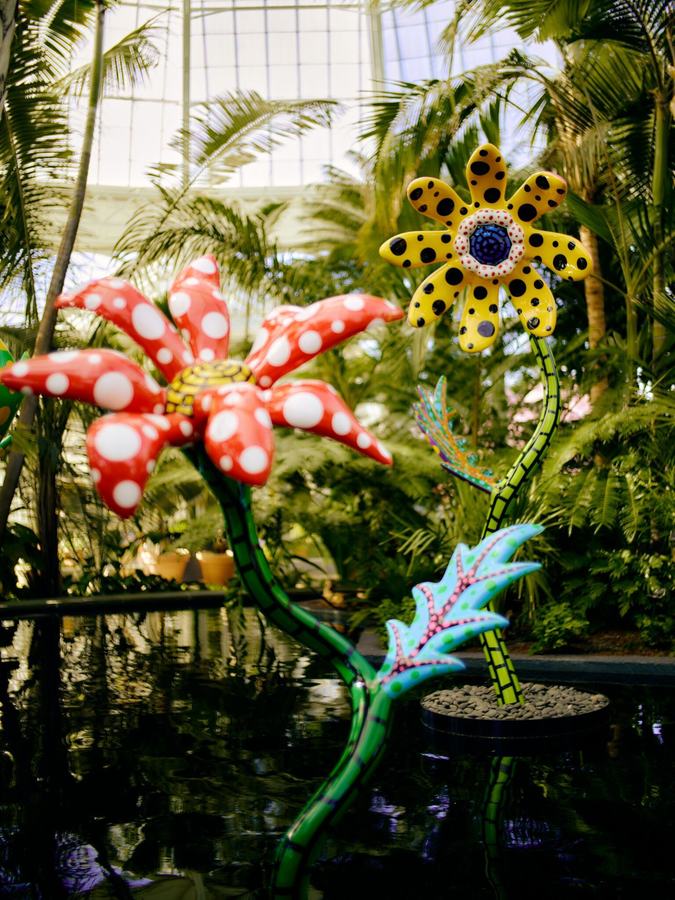 "It's not just about the earthly botanical nature but also this expansion of nature being something that expands infinitely into the cosmos," said NYBG guest curator Mika Yoshitake in an interview with Architectural Digest.
She added that "nature is much more of a visceral inspiration for her. There's this constant mode of change — cycles of decay, death, or rebirth — that are constant themes that you can see throughout her work."
As a young girl in Matsumoto, Japan, Kusama spent many hours in her grandparents' commercial nursery, drawing the plant life that surrounded her (one of her teenage sketch books is also on display as part of the exhibit). Later on, she began to see optical patterns in the flowers and gourds around her.
"Her grandfather took her through fields of various flowers, like zinnias and peonies, as well as pumpkin patches," explained Yoshitake. "She remembers pulling the stem out of one of the pumpkins and the insides oozing out. She has these very visceral memories of the plant vegetation and the pumpkins."
Of the popular gourd, Kusama herself told Forbes, "It seems that pumpkins do not inspire much respect. But I was enchanted by their charming and winsome form."
About the new installation, curator Toshitake says "What was really thrilling for this exhibition was working with the artist in thinking about large-scale installations that were absolutely unique to the botanical garden and not something we could do in a museum."
One of the most show-stopping pieces is a 16-foot bright yellow and black "Dancing Pumpkin." "I Want to Fly to the Universe" is also a standout, a giant aluminum sun with asymmetrical red and blue beams hovering over the Reflecting Pond. And the artist's 1966 "Narcissus Garden" gets resurrected in the artificial wetland of the Native Plant Garden. Originally debuted (without an invitation) at the Venice Biennale, Kusama's 1,400 reflective steel balls ask visitors to engage in self-reflection as the orbs echo the light around them while flowing and weaving through the water.
"Pumpkins Screaming About Love Beyond Infinity" is a five-square-foot glass cube filled with LED-lit acrylic gourds. They light up one at a time until the box panels change into two-way mirrors, reflecting an endless array of orange. A free-standing mirrored "Infinity Room" will also be opening in the summer.
The "Flower Obsession" is an "obliteration greenhouse" where patrons are encouraged to transform the space by adding coral-colored dot stickers to the strategically-placed furniture and household items.
"Our earth is only one polka dot among a million stars in the cosmos," Kusama says. "Polka dots are a way to infinity. When we obliterate nature and our bodies with polka dots, we become part of the unity of our environment. I become part of the eternal and we obliterate ourselves with love."
As an artist, Kusama is known for her spotted pop art, but she has given herself plenty of creative exploratory space over the years, venturing into painting, performance, film, fashion, poetry, and fiction.
"Kusama: Cosmic Nature" will run through October 31st, with timed-entry tickets available now through June 30th on the New York Botanical Garden website.