Houses Made of Shipping Containers and Recycled Pallets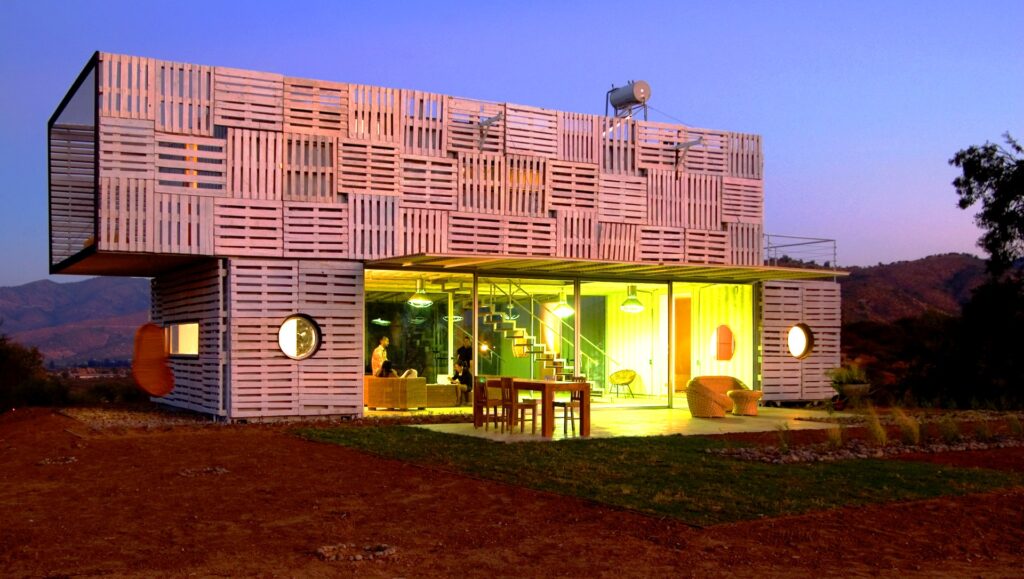 So many architects have begun converting cargo shipping containers into houses, apartments, offices and more – so how could you pack any more sustainability into an entirely recycled building? By adding wooden pallet walls to the exterior, of course!
Continue reading below
Our Featured Videos
Container homes are more than just eco-friendly – they are cheap, quick and easy to build and transport. Likewise, recycled wood pallets are a ready source of reused material but they also provide essential shade while letting natural ventilation via the existing overlaps in their stepped wooden slats.
Since both shipping containers and their smaller recycled-pallet counterparts and standardized, they work well for modular construction – predictability in size, shape and structural capacity makes these materials to built with.
With pallets on the outside to filter light and air and containers on the inside to provide a weather-tight space for permanent occupation, these designs by Infiniski may look somewhat strange but they are fully-functional, relatively inexpensive and extremely green accommodations.
"The Manifesto house represents the Infiniski concept and its potential: bioclimatic design, recycled, reused materials, non polluting constructive systems, integration of renewable energy. The project relies on a bioclimatic architecture adapting the form and positioning of the house to its energetic needs. The project is based on a prefabricated and modular design allowing a cheaper and faster constructive method. This modular system also allows thinking the coherence of the house with possible future modifications or enlargements in order to adapt easily to the evolving needs of the client."
About Infiniski
"Infiniski is a multinational family business that since 2008 designs and builds homes, hotels, lodges, schools, kindergartens, among others, in Chile. We try to give personalized attention to each client and their family, according to their needs, the climatic zone and the landscape that will house their Infiniski house. At Infiniski we design and build to measure for each client: singles by decision, large families, small families, retirees in love, hermits, among others. And what do you need?"