Upgrade Your Home with Amazon's Best Black Friday Deals
Black Friday is right around the corner, and that means deals galore from all your favorite retailers. This year, many stores have been bringing the bargains early to accommodate shoppers ahead of the rush. Even Amazon has supplemented its usual Black Friday discounts with a bunch of early-bird specials. Of course, Black Friday itself remains the best day to score the biggest deals, and we've managed to corral the best of the best in one handy list.
Home improvement goods are always top when it comes to Black Friday. As many of the year's most popular and trendy items go on sale, that appliance or home good you've been eyeing all year suddenly seems worth the splurge. Below are some of the online mega-retailer's best home improvement deals for this year's two-day event, taking place on November 25th and 26th:
Wireless Doorbell Camera
Continue reading below
Our Featured Videos
For those who have been thinking of installing one of these home security superstars but have been waiting for the right moment, the time is now. This Geekee Wireless Video Doorbell Camera comes with all the goods, including night vision, motion detection, and wireless capabilities. Best of all, it's over $20 off on Black Friday.
Now: $89.99
Black Friday: $68.50
Cable Management Set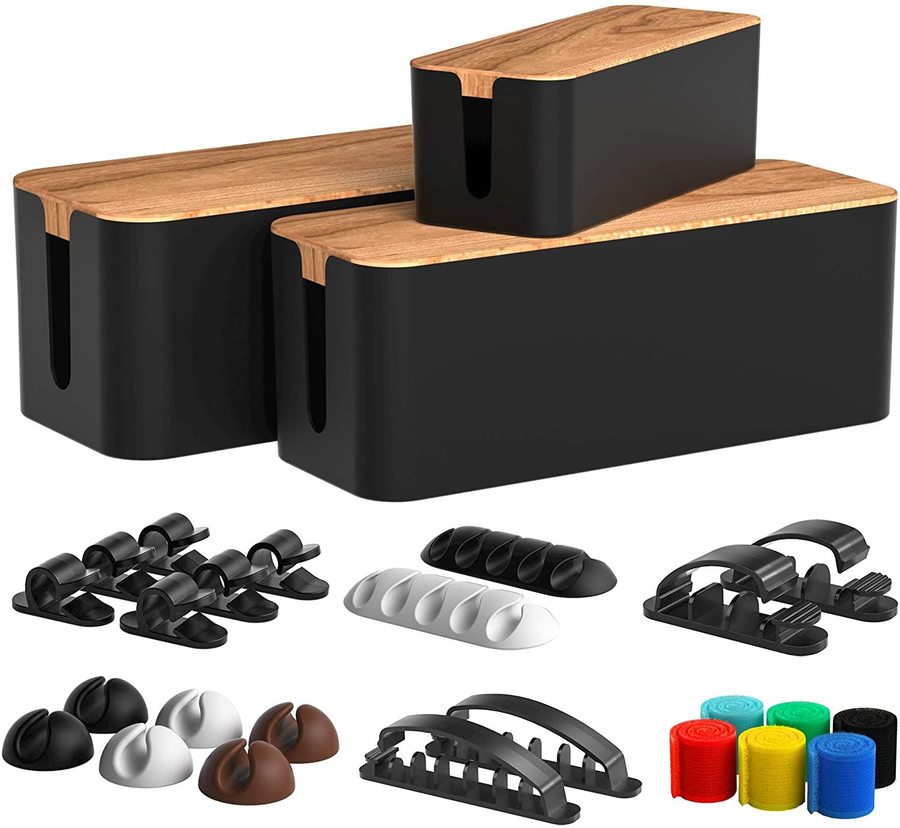 Looking to get organized and finally tame those unruly cords? Tidying up your tech is a great way to refresh your home, and an easy way to extend the life of your much-used gear. With the help of this Cable Management Set complete with clips and organizers, you'll be tidied up in a flash.
Now: $36.49
Black Friday: $28.04
Air Purifier
Air purifiers are an essential item for any home, especially for those who are sensitive to allergens. This Airthereal Air Purifier is perfect for larger spaces, boasting a HEPA filter, smart controls, and a super-quiet sleep mode for the ultimate air purifying package.
Now: $129.99
Black Friday: $84.99
Bamboo Sheet Set
Sheets can be expensive even at the best of times, but if you've been looking for a bedroom refresh, Black Friday is the time to upgrade. This Hotel Direct Bamboo Sheet Set is super soft, comfy, and the ultimate in quality. Perfect for both those hot summer nights and cool winter evenings.
Now: $89.99 (King)
Black Friday: $54.99
Cold Brew/Iced Tea Maker
Cold Brew is all the rage right now, and with this Ovalware Cold Brew Maker, you can whip some up at home whenever you feel like it: fresh, flavorful, and a lot cheaper than that expensive cup from the local coffeeshop. Even better, this beauty can make tea, too (hot and cold), making it a real one-stop shop for your favorite beverages.
Now: $34.99
Black Friday: $23.99
iHome Robotic Vacuum
Now's the time to jump on the robo-vacuum bandwagon, and this i-Home AutoVac 2-1 Vacuum is the perfect place to start. Complete with self-charging, super suction, mopping, and wireless pairing capabilities via the iHome Clean App, this robo-vac is also $100 off for Black Friday.
Now: $249.99
Black Friday: $149.99
Sous Vide Cooker
Speaking of trendy, sous vide cookers are a must-have in the kitchen arena right now. An alternative to slow cookers and even instant pots, sous vide cooks your food in a kind of hot water bath, and this Greater Goods Kitchen Sous Vide is complete with all the bells and whistles, allowing you to control your temperatures to a tee and get dinner on the table in a snap.
Now: $94.88
Black Friday: $81.29
Air Fryer
Air fryers have been some of the hottest kitchen items around for the last couple years, and they only seem to be getting better with additional features and capabilities. Take the OMMO Air Fryer Oven for example. A Rotisserie/Dehydrator/Air Fryer (and more) all in one, this beauty can bake, roast, and grill pretty much anything you throw at it – and it looks great on the kitchen countertop.
Now: $169.99
Black Friday: $124.98
Smart Pet Camera/Treat Dispenser
Black Friday wouldn't be complete without a treat for your canine (or feline!) best friend, and this Wopet Smart Pet Camera/Dog Treat Dispenser is the prefect way to show them you care. With a full HD camera to livestream and monitor your pet, this dispenser also pairs with your phone so you can talk to your buddy and give them delicious treats no matter where you are. Genius!
Now: $129.99
Black Friday: $103.99
Toothpaste Holder/Dispenser
This holiday season, give your bathroom the upgrade it deserves. With this sleek VNYIFAN Toothpaste Dispenser and Holder, you can get organized and look hi-tech at the same time. Multi-functional, stylish, and efficient, this wall-mounted beauty is also a great way to cut down on waste, saving you some serious cash in the process.
Now: $26.99
Black Friday: $12.74
Other Hot Deals to Look For
Don't forget to be on the lookout for these five bonus deals this Black Friday!
The VIMGO Mini Projector takes movie night to the next level, and on Black Friday, its $178.95 price tag dips to $142.87.
The WLIVE 9-Drawer Fabric Dresser makes storage look oh-so-good, and its going to be just $76.49 on Amazon this Black Friday, down from $114.99. Talk about a great deal!
Everyone needs a Pendrajec Foldable Wireless Charger in their lives, and on Black Friday, it can be yours for only $29.99.
Lapurete's Alexa Smart Bulbs use voice and app control to turn your lights on and off remotely and even set a timer and schedule — talk about smart! For Black Friday 2021, their price dips from $25.99 to $20.39.
Who doesn't want the trendy and efficient COOKLEE Stand Mixer on their countertop? It also comes with a bevy of useful attachments, and, best of all, it's down from $215.99 to $144.49 this Black Friday.
While Amazon started early this year with a host of pre-Black Friday deals, their official two-day Black Friday event on Thursday, November 25th and Friday, November 26th is definitely the best time to score some really unbeatable bargains. And if home improvement is on your list this year, now's the perfect time to pick up those upgrades you've been eyeing. Get ready to fill your cart this week with some of the most amazing sales of the season!
When you purchase through links on our site, we may earn commissions at no cost to you.