Ultra-Futuristic "Akon City" Planned for Desolate African Coast
It's human nature to wonder what the future will bring, both in our personal lives and in terms of technological advancements. For singer/rapper Akon, the future involves a near-fantasy development that would see dusty western Africa converted into an ultra-innovative city that includes parking for flying cars.
Continue reading below
Our Featured Videos
Best known for his 2006 hit song, "Smack That," Aliaune Damala Badara Akon Thiam spent part of his childhood in Senegal before moving to the United States. His philanthropic hands have previously been connected to a solar power project called Akon Lighting Africa, Akoin, a crypto-currency, and a youth center in Mbodiene.
In recent years, he's been focused on developing a portion of the African countryside into a thriving metropolis — a far cry from the current horse and buggy-dominated landscape. The plan calls for tall, serpentine buildings jutting into the skyline that would provide housing for people of all socio-economic levels, as well as business, service, and entertainment spaces, and of course, an iconic Akon tower as a central focal point. In addition, Dubai-based architect Hussein Bakri has revealed plans for two Akon City resorts, several hotels, a hospital, and a technology park.
Converting the scrub brush farmland into a futuristic utopia is currently estimated to cost $6 billion, but organizers in the area have expressed doubts the project will proceed at all.
"We welcome this project with open arms and pray that everything Akon told us will be realized," says Magueye Ndao, mayor of Ngueniene, the municipality containing Mbodiene and the other villages where Akon City will be built. Xavier Ricou, an architect and former director at APIX, Senegal's agency for promoting investment and major projects, shared similar thoughts, explaining: "if history is any guide, they will most likely be let down." He adds that "During the 15 years or so that I worked at APIX, I saw proposals from people who wanted to make cities all over," revealing that millions of dollars had already been spent in the planning of cities that were never actually built.
Although some environmental and social impact studies have been done, locals are apprehensive about what Akon City would mean for the marriage between African and Western cultures, leaving many to feel totally detached from the process. They've expressed concern over the impact of such a development on the economy of local businesses in the area, and on job opportunities for nearby villagers.
Pape Massamba Thiaw, a municipal councillor and president of the youth commission for Ngueniene, says that "since the project is not 100-percent led by the commune of Ngueniene, there are bound to be fears and worries about it."
The development is set to be built on unusable farmland plagued by clay and saltwater issues. However, the land that was turned over to the state for future tourism development reportedly changed hands without some of the owners ever being compensated, so even the use of these areas is still in dispute.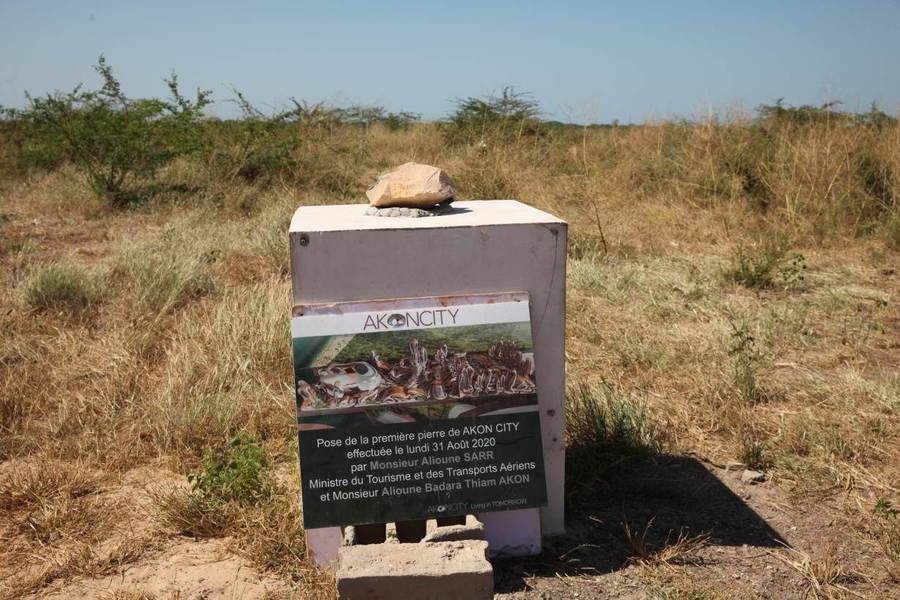 Currently, the extent of completion stops at a single rock placed on site as part of a project acknowledgement ceremony in August 2020. But the concept looms, with architect Bakri envisioning the technology forecasted a quarter century from now pulsing through the now vast and barren field.