Dual Shipping Containers Make This Rustic DIY Home Fascinating
"One if by land, two if by sea" goes the poem of Paul Revere – but not in reference to a pair of sea-shipping containers radically converted into a single on-land dwelling. A local train yard and a few hundred dollars can buy you a few five-thousand-pound insulated metal boxes. And at that price, who would not be tempted to plan their new DIY home around shipping container-sized units?
Continue reading below
Our Featured Videos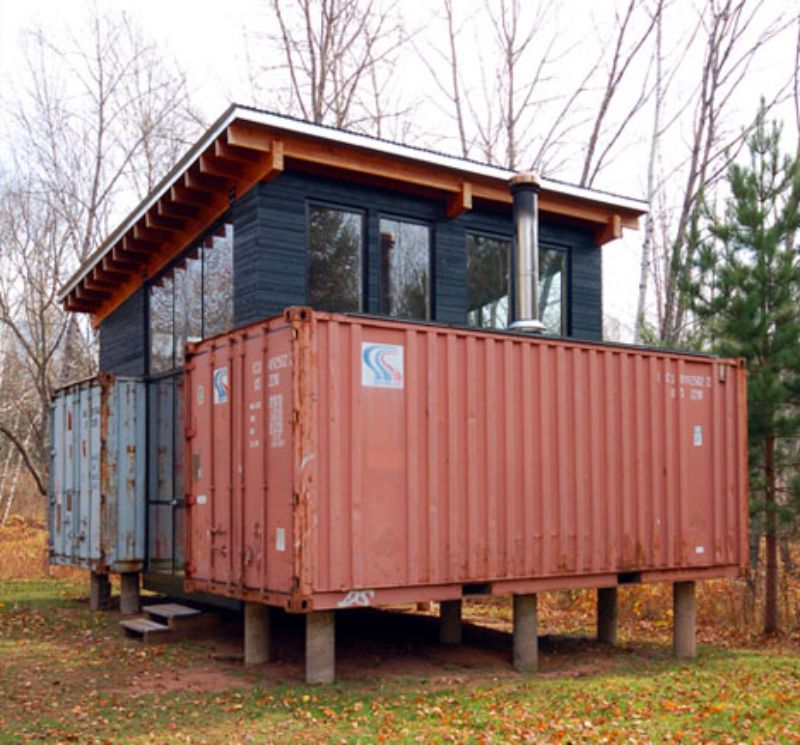 Paul Stankey (and family) not only bought his structural materials on the cheap, but also used simple do-it-yourself processes to construct his cargo container house step by simple step – starting with pipes to leverage the containers off of the trailer attached to his truck.
After pouring simple concrete foundations, he and his partners used railroad ties, vehicular force and rounded pipes to roll the containers up and into place before welding them to the piers below.
On top of the metal shipping boxes, a wood-framed wall-and-roof system was constructed to extend the height and provide sloped rainwater drainage (leading to an on-site gray-water system). Plywood, prefab doors and windows, and the infill exterior sections were enclosed with relative ease.
The final result looks like a strange but compelling hybrid of contemporary design, classic building parts and cargo containers raised on pillars that cannot help but remind any designer or design historian of the great Modernist works of Le Corbusier.
Shipping container homes aren't perfect. There are a lot of reasons to use caution when choosing to repurpose these objects, especially since you often don't know what they've been transporting. If building a shipping container home is something that interests you, be sure to do your research, keep in mind factors like insulation and condensation and ensure that the final result will actually be livable. When done right, they can be awesomely creative DIY homes; when misused, they can be toxic, uncomfortably narrow, damp and rusty.