The Raw Beauty of Solid Rock Gives This Salon a Unique Look
Beauty salons can be hectic environments full of echoing chatter, noisy hair dryers, and potent fumes. The owners of "Angel" in Kosovo's capital city of Prishtina wanted to give their clients a different experience — one more akin to a restful spa — while also incorporating sustainability into the design.
Continue reading below
Our Featured Videos
Design firm Molos Group made that happen with a beautiful blend of materials that contrast and complement each other, with some of them coming from slightly unexpected sources. Rustic wood, textural hunks of solid rock, and living greenery are set against polished metallic surfaces in copper, gunmetal, and brass, along with gleaming glass and transparent acrylic.
The use of rock is really what sets these interiors apart. At every turn, it's used to either literally or figuratively counterbalance other elements in the space, like the cantilevered log reception desk, the clear seats in the waiting area, the base of each staircase, and each stylist's station. It's even been carved out to serve as basins for pedicures.
Its raw materiality anchors the main room, playing off the mirrors ringed with graphic strips of LED lights. Overhead, a massive skylight is softened by fans made of translucent white textiles. Full-size trees and plenty of dripping ivy lend the salon a sense of vitality.
"We wanted to create a visually-unified interior that follows up this beauty salon's identity, starting from the meaning of the name 'Angel' itself and its logo representation; elements of wings and feathers can be found in almost every corner, each with a different beautiful twist and unique design, which as a result came together perfectly to create a unique and elegant interior for this beauty salon in the center of Prishtina," explains Molos Group.
"This space greets you with a four-meter elegant door, welcoming you with a console reception built from 200-year-old barn wood, which is supported by a huge unprocessed natural stone. Golden handmade feathers are dropped from the high entrance ceiling, creating beautiful reflections and shadows. The main waiting area is quite minimalistic, all in soft blush pink, with a natural stone base for the crystal-clear seats."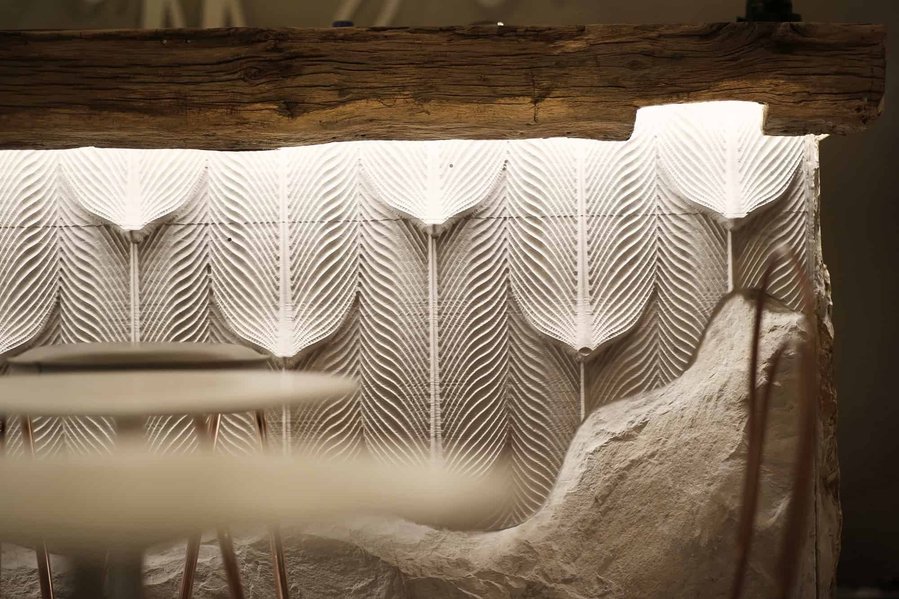 The designers add that "upon entering, you discover soft pastel colors [and] elegant arched doorways that lead you inside a dominance of gold rose heaven. The main stairways hall with a full blush pink color is contrasted by a unique rail, all in white, that divides this space with unique patterns and different art. The glass wall behind the pedicure area is built by approximately 4,000 empty nail bottles that follow a curved form of the custom-designed seats, with handmade stone sinks."
Using so many reclaimed glass nail polish bottles as decorative elements could have felt gimmicky, but with their necks and caps removed, they actually look more like tiny glass bricks. The "angelic" details, including the wing-like shapes of the mirrors and the feathery relief carved into the walls, further reinforce the salon's branding.
The more you look, the more such details you'll find, like sculptural elements mimicking dragonfly wings and a room divider made from hundreds of hairstylists' shears. Together, these things make each trip to the Angel salon an unforgettable experience.