Swimming With Robotic Dolphins: The Future of Marine Parks?
What could be cooler than swimming with a dolphin? Perhaps swimming with a dolphin's cruelty-free animatronic doppelgänger? American engineering company Edge Innovations is hoping that for most water park-goers, the answer is yes.
Continue reading below
Our Featured Videos
Edge, which has previously produced epic robotic creatures for Hollywood movies like Free Willy, Anaconda, and Deep Blue Sea, already has a 550-pound, eight-foot-long porpoise prototype in the works, made from medical-grade silicone "skin" that looks so real it has already fooled test audiences.
Although underwater mammals have been the centerpiece of aquariums and water parks for decades now, the attractions have waned in popularity in recent years because of popular outcry regarding their treatment.
"The marine park industry has had falling revenues for over a decade due to ethical concerns and the cost of live animals, yet the public hunger to learn about and experience these animals is still as strong as ever," Roger Holzberg, Edge's creative director of animatronics says in an interview with The Guardian. "We believe that it's time to reimagine this industry, and that this approach can be more humane and more profitable at the same time."
The Edge website explains that "real-time animatronics are hyper-real creatures capable of delivering any experience you can imagine. From dolphins sharing their dreams with your children, to great white sharks inviting you to be a part of their feeding frenzy, to sea dragons breathing fire in a nighttime fountain show. Safe, up close, personal engagement with the creatures of our oceans is finally possible."
Addressing worries that computer-built animals might not deliver the same experience as the originals, Li Wang, a business developer for Edge, says: "For people [like] me, I liken authentic to natural. But if we think about the younger generation, they spend far more time than us playing electronic games online. We actually need to ask ourselves what is real and what is fake."
In fact, an animatronic dolphin can offer several advantages over a real one. For starters, because the robots are controlled by humans and artificial intelligence, they can be programed to make specific gestures in response to children. They're also built for close contact that could easily hurt living wildlife. And because the robo-dolphins don't need salt water or room to stretch their fins, they can also be conveniently housed in small tanks in shopping centers, or even in pools chlorinated to keep human germs at bay.
"We realized that using animatronics instead of using live animals enabled us to create characters that truly were lovable, that could really deliver on the idea that we won't hurt what we fall in love with," Holzberg says.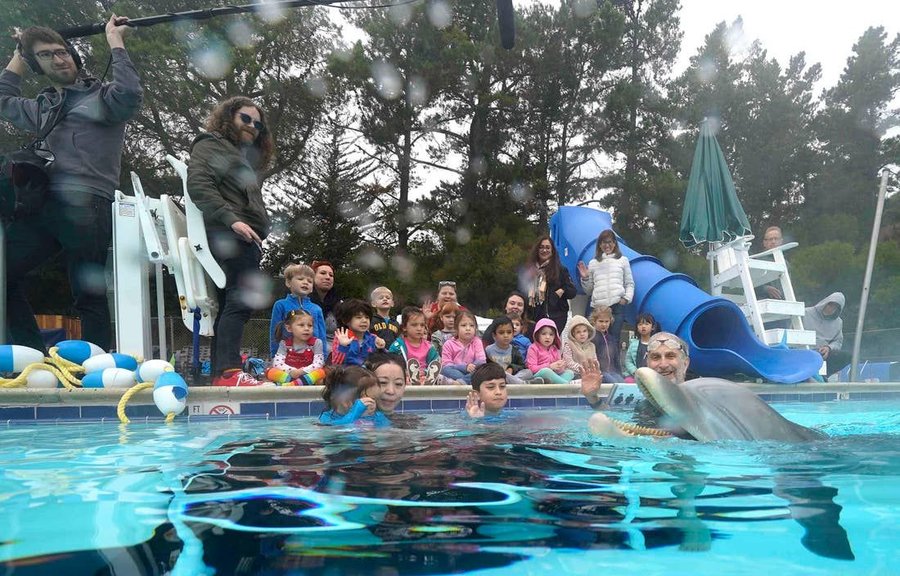 Developer Wang says the bigger challenge is convincing entertainment venues that the $26.3 million price tag for each replica is worth the switch. "We have to persuade them that it is a profitable business, even more profitable than live animals," he says. Wang also points out that dolphin droids will save money by cutting back on the cost of carefully monitored water temperature, food, and veterinarians.
"In terms of a 10-year business operating period and a two million annual visitor capacity, the overall investment and maintenance costs for a decent animatronics entertainment portfolio only accounts for about one quarter or no more than one-third of what a traditional aquarium spends," he adds.
And of course, there's the compassion aspect. Porpoises average a life span of only 20 years in captivity, although they can live between 30 and 50 in their natural habitats. Plus, instating electronically-animated creatures in marine exhibits would eliminate the need to abduct dolphins from their homes and families.
Animal-rights group PETA has already signed on to Edge's mission, having recently showcased the company's prototype at one of its events. "In 2020, cutting-edge technology allows us to experience nature without harming it," says PETA's UK director Elisa Allen.
Chinese firm Red Star Macalline Group has funded Edge's first phase of development, with a pledge to replace live dolphins at its theme parks with robotic versions. There are more than 60 marine parks in China, which combined attract hundreds of millions of visitors each year. If mechanized sea life could get off the ground there, it could very well lay the groundwork for a near-future aquarium revolution.