SleepMuffs: Sound-Blocking Neck Pillow Lets You Nap in Noisy Environments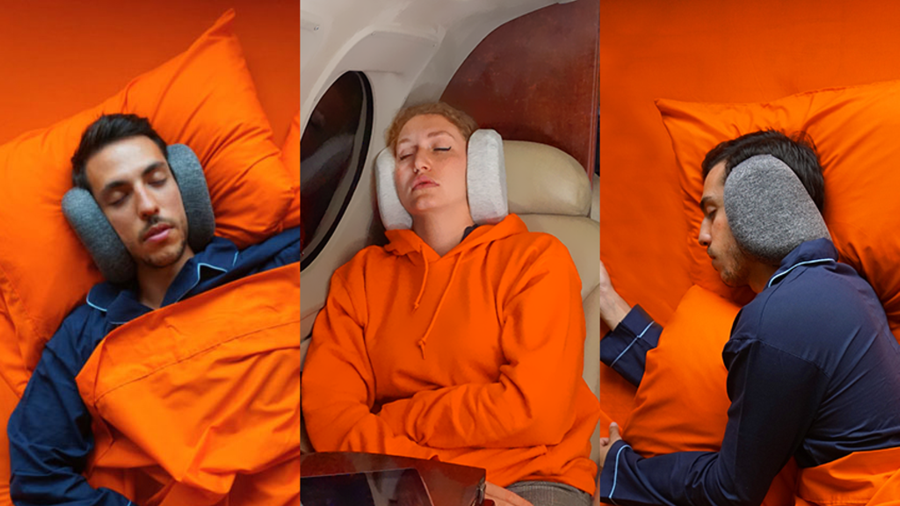 Continue reading below
Our Featured Videos
If sensitivity to noise makes it hard for you to sleep, you've probably tried all kinds of things: ear plugs, noise-canceling ear buds, and even huge heavy-duty headphones that make it impossible to sleep on your side. None of these options are particularly comfortable to wear all night long, and it's unclear how healthy it really is to have electronic devices playing near your brain 24/7.
Enter "SleepMuffs," a sound-blocking neck pillow that solves most of these problems with absolutely zero electronic parts. Made in Australia, these cushiony ear muffs are more complex than they look on the surface. They don't just cover your ears and cradle your neck. They also feature multiple sound-blocking layers to cut off as much distracting noise as possible.
On the inside, next to your skin, the muffs feature a silk-like thermo-regulating bamboo fabric cover that helps you stay cool and comfortable all night long. On the outside, a smooth, soft but more durable stain-resistant fabric made of recycled single-use bottles stands up to friction against your pillow and other surfaces. In between are a high-quality sound wave absorbing homogenous foam, an acoustic shell made of recycled ABS to ensure a proper seal with your ear, another layer of sound reducing lightweight acoustic foam, and a final ear seal.
A high-quality pair of active noise-canceling headphones, like those sold by Bose and Sony, blocks out about 35 decibels using microphones inside and outside the ear cups to monitor external sounds and instantly produce an opposite signal to cancel them out. It works remarkably well, but it doesn't come cheap, and it's much better suited for daytime wear than sleep.
The SleepMuffs product is rated almost as high at 33 decibels, and all without any electronic parts, charging cables, or bulky plastic. Earplugs, in comparison, typically block about 23 decibels. If you like to wear earbuds to listen to music, ambient noise, or meditation tracks while falling asleep, you can still do that with the SleepMuffs on, and they're compatible with eye masks, too.
Blocking out sound isn't all the SleepMuffs can do. The ergonomic design relieves neck tension by cradling your neck to keep your head from falling from side to side when you sleep on your back, and the muffs offer extra cushion if you're a side sleeper, filling the gap between the pillow and your head to let your neck sit at a comfortable height.
The ear muffs made with travel in mind, so they pack up small in an included water-resistant travel pouch, making them ultra-convenient to take on planes, trains, buses, and road trips. The covers come in two colors: light gray or dark gray, with black inside. They're removable and machine-washable.
The SleepMuffs are currently crowdfunding on Kickstarter, and backers can get a set as a reward for a pledge of AU $119 or more (about $88 USD). Estimated delivery is in June 2021, when hopefully a lot of us will be coronavirus-vaccinated and back on the road. When the Kickstarter campaign is over, they'll be available to the public at a retail price of AU $149 (about $110 USD).