Sammontana's Sustainable Solar Beach Umbrellas Unfurl Like Giant Origami Flowers
The power of the sun isn't usually associated with freezing cold air. But as photovoltaic technology continues to advance, new possibilities are opening up – like these kinetic, energy-producing beach umbrellas.
Continue reading below
Our Featured Videos
Italian gelato and frozen dessert brand Sammontana commissioned international design firm Carlo Ratti Associati and architect Italo Rota to create an artistic beach umbrella that does a lot more than just provide a bit of shade. Taking inspiration from aerospace technologies and the ancient art of origami, the Sammontana Beach Umbrella dramatically unfurls its "petals" to reveal solar arrays used to power small refrigerators and air conditioners.
The designers worked with Chuck Hoberman, a professor at Harvard University who specializes in transformable structures, to create the foldable photovoltaic array. They work similarly to the solar panel systems on NASA's spacecrafts. Each umbrella stands 8.2 feet high with a diameter of 10.5 feet. When closed up, its "petals" stand upright in a column, taking up very little space. When you want to use it, all you have to do is pull on a rope and the petals will glide upward to offer shelter.
The photovoltaic arrays power individual mini refrigerators so users can keep their drinks cool even on the hottest days, as well as small cold water misters for relief from the heat. You can even plug in your phone to top off your battery. When grouped together, the Sammontana beach umbrellas produce enough electricity to power larger, power-hungry items like commercial refrigerators at beach resorts. Sammontana is making these beach umbrellas available to the public for free at BAM-Biblioteca degli Alberi Milano Park this summer, and if the trials go well, they hope to bring them to many of Italy's beaches in the future.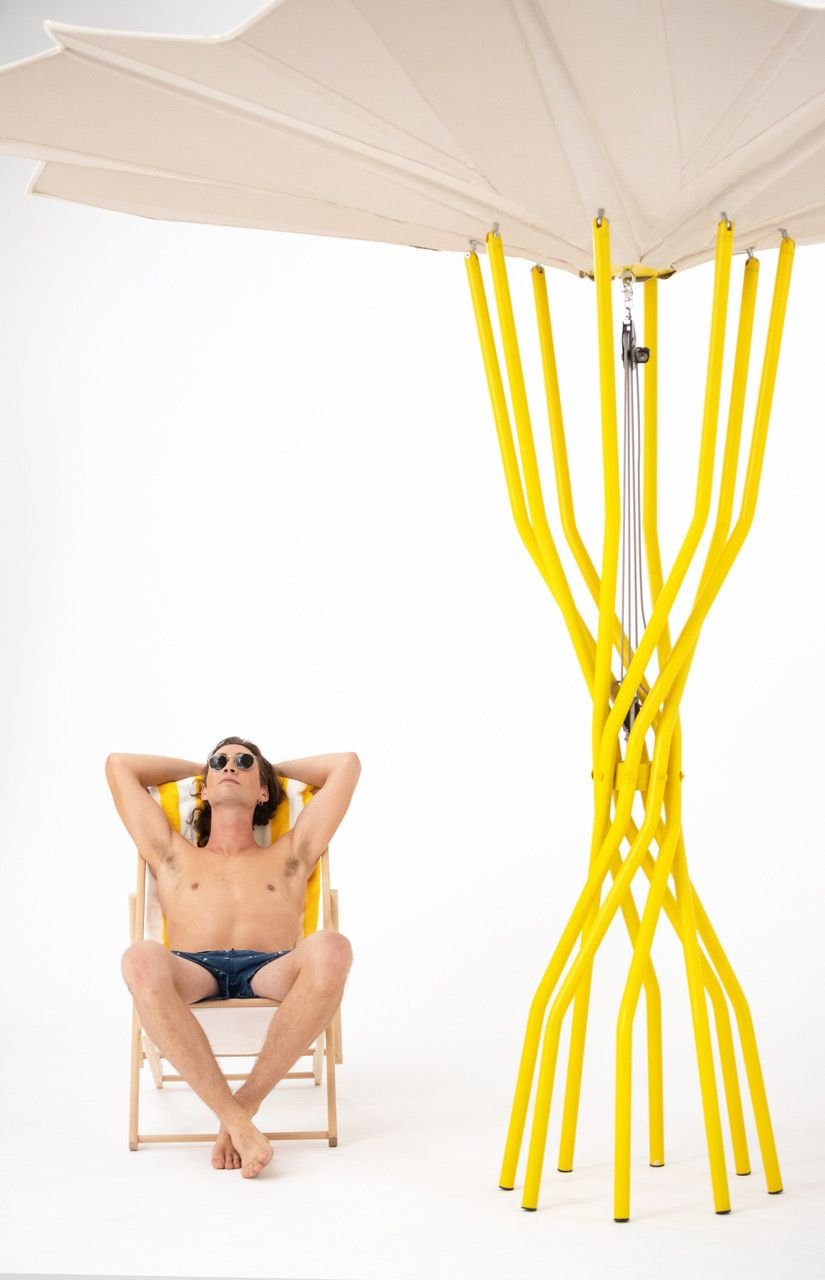 "Can we use the power of the abundant summer sunshine to make our holiday experience more sustainable?" says Carlo Ratti, founder of CRA and a professor at the Massachusetts Institute of Technology. "The design concept of this project starts from using the sun to produce electricity to cool the space under the umbrella – and then scale it up to provide power to any beach resort. We are delighted that Sammontana invited us to develop this project, as both our organizations share a strong commitment to environmental values and human well-being."
"The project builds on Sammontana's objective to lower the environmental impact potentially applicable to Italian beaches – which are the iconic backdrops where Sammontana is served, marking the most pleasant and joyful moments of summer," says Sibilla Bagnoli, Head of Communication and Image at Sammontana Italia. "For many years, our company has been focusing on such special environments, experimenting with new ways to welcome the public, manage services, and innovate while protecting the environment."
The design of the umbrella is cool enough in its own right, especially since it's basically a kinetic sculpture with a practical purpose. But the fact that these sun shelters are offered up to he public for free is what makes them such a noteworthy design. Imagine what it would be like if we had these all over public spaces around the world, from beaches to inner city parks. Free solar energy for everyone!