Modern Rammed Earth Home in New Mexico
Continue reading below

Our Featured Videos
Regional modernism is nothing new, but when executed well it can create a timelessness surrounding house and home – an ageless aesthetic that mixes contextual layouts and sustainable local materials in combination with clean modernist lines, elemental architectural forms and cutting-edge eco-friendly building technologies.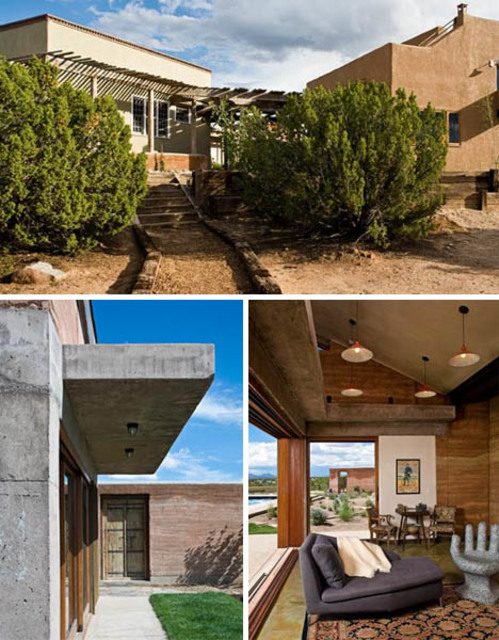 This rural modern rammed earth home in the heart of the New Mexico desert draws on vernacular building traditions, employing flat-packed mud brick and simple wooden post-and-beam construction, but also uses concrete as a counterpoint to these conventional materials. The stated goal of architect Signer Harris was to have an "antique home of traditional architecture" but without resorting to kitschy decor of faux-nostalgic ornamentation.
A traditional courtyard was created and surrounded by a kitchen, living room and bedrooms that mediate between the outside world and peaceful interior garden space. The use of varying construction methods and materials gives the sense of something constructed over time while solar technologies and other eco-friendly strategies make living in the house a fully modernized utility-independent experience.
"We created a traditional courtyard plan where each component – living room/kitchen, bedrooms, and master bedroom – is connected only by exterior portals (vernacular term for "covered porches"). The courtyard elements should frame views of the ranch lands and mountains. We tried to vary the design of each component in an evolving architectural style – from the traditional living/dining/kitchen building at the core of the home, to what appear to be more recently constructed bedroom and master suite buildings around the courtyard."
"The design variations suggest a narrative and an evolution of the home, providing a sense of history and the character that comes with age. We took advantage of sustainable materials, such as autoclaved aerated concrete blocks, that inherently support natural responses to environmental conditions. In adition to that we incorporated a full array of photovoltaic panels, solar heating panels, batteries, and other technologies to allow for modern living in this energy independent home."