Paris' Arc de Triomphe Gets All Wrapped Up in Art
The Arc de Triomphe, one of Paris' most notable monuments, has been shrouded in fabric. Not for renovations, but for art.
Continue reading below
Our Featured Videos
As a posthumous project of the legendary artists Christo and Jeanne-Claude, the "L'Arc de Triomphe, Wrapped" installation required 270,000 square feet of silvery-blue polypropylene fabric, almost 10,000 feet of red rope, and three months of labor from a team of 1,200 workers.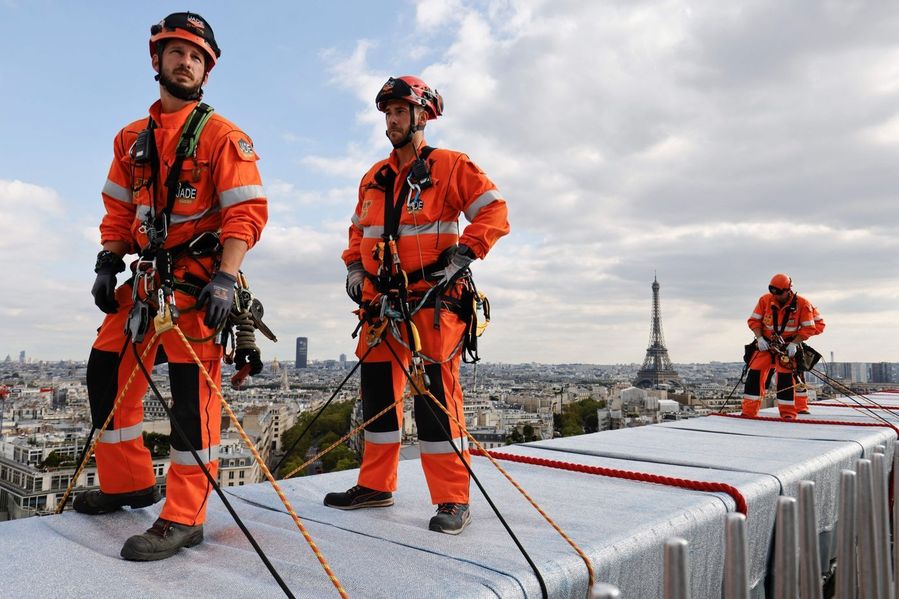 Resembling a ridiculously large package delivered to the Champs-Élysées, the Arc's new look has been polarizing among Parisians, garnering both fascination and praise as well as sharp criticism, with some on social media calling it the "shame of France." Those divergent reactions are a sign that the famous artists' creations have not lost their raison d'être: to provide a spectacular aesthetic impact while introducing new ways of seeing the familiar.
"All our projects deal with reality. You are exposed to real things: real sun, wind, rain, fear, joy," Christo once said. "That is why these projects are bigger than our own imaginations."
Bulgarian native Christo Vladimirov Javacheff and Morrocan-born Jeanne-Claude Denat de Guillebon met in Paris in 1958, sparking a decades-long collaboration of love and art. The married pair were known for encasing dozens of prominent public spaces and nature in cloth. In the 1970s, they strung up a huge curtain in a Colorado canyon. In 1985, Paris' Pont Neuf bridge was transformed into a shining parcel of gold. In 1995, they also covered the German Reichstag building for 14 days in aluminum material. And just a few years before Jeanne-Claude's death in 2009, the couple set up hundreds of bright orange fabric "gates" in New York's Central Park.
Each of the duo's larger-than-life art installations required years of planning, especially in regard to acquiring permissions from government and local entities. The plan to bind up the Arc was conceived all the way back in the 1960s, but the red tape involved with such a recognizable structure was too daunting. Their vision only became a reality after Christo's death last year.
"This is the achievement of a 60-year-old dream, a crazy dream come true," said French President Emmanuel Macron, speaking at the installation's official opening on September 16th. Clearly, the project is more a homage to the artists themselves than a new piece of artwork.
The piece's assembly was overseen by Christo's nephew Vladimir Yavachev and cost roughly $16 million, completely paid for through the sale of the late artist's prints and drawings, as well charitable donations. The busy adjacent streets were closed off on the weekends for the duration of the installation, and thousands of curious pedestrians filled in the avenues during the first Saturday and Sunday to get a closer look.
The Arc de Triomphe stayed under wraps until just a couple days ago, on October 3rd. No tickets were required, and the artists' website even invited visitors to "approach and touch the artwork." For fans outside of Paris, the website also features a livestream YouTube video of tourists' interactions with the silver-swathed Arc.
The transitory nature of the piece is part of its appeal. "I don't have any artworks that exist. They all go away when they're finished," Christo once said, adding that: "Only the preparatory drawings and collages are left, giving my works an almost legendary character. I think it takes much greater courage to create things to be gone than to create things that will remain."