Orphosis: Origami-Like Backpack Expands and Contracts on Demand
One stylish backpack could take the place of all the different-sized bags you currently use, morphing on demand to the size you need. The Orphosis is a shape-shifting minimalist backpack inspired by origami, folding and unfolding so it's never too big or too small. The no-frills design is refreshingly simple but still offers everything you need in your "everyday carry" bag. Currently crowdfunding on Kickstarter, the Orphosis backpack starts out as a sleek 15-liter backpack when it's folded up, expanding to a 27-liter capacity in "Play" mode.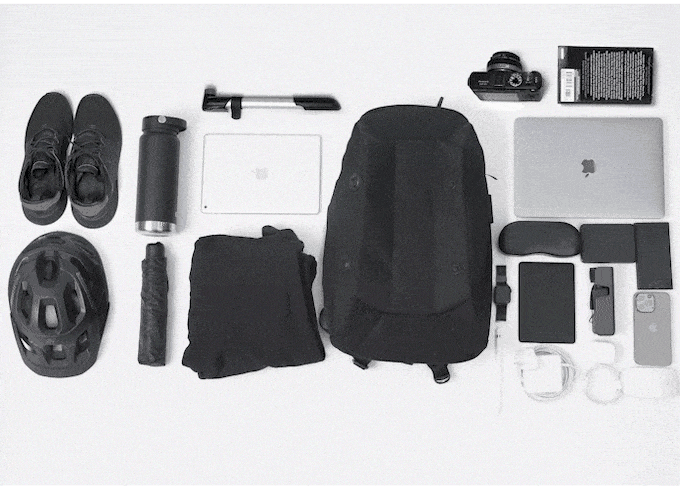 Continue reading below
Our Featured Videos
The Orphosis' ergonomic shape is created by strong folds and an angled bottom that balances the distribution of weight. The folds remain in place while you walk, hike, bend over, or toss the bag into the backseat of your car. The double-layer fabric is durable and water resistant, and the backpack features both padded shoulder and chest straps for the most comfortable carrying experience possible, even when you're packing it to its maximum capacity.
When folded, the Orphosis origami backpack measures 19.3 inches tall, 12.2 inches wide, and 4.7 inches deep. When expanded, the depth increases to 9.4 inches. Changing the capacity is as simple as folding in the sides and snapping them together.
The Orphosis doesn't sacrifice functionality for its minimalist looks. You can't tell from the outside, but it actually has all the special pockets you could ask for in a backpack. The security pocket on the side is the perfect place to tuck your wallet and phone, since you can reach in without taking the backpack off. The chest strap also tucks into its own pocket in one of the main backpack straps when you don't need it.
A deep side pocket with magnetic closure is capable of holding various water bottle sizes up to 32 ounces, or an umbrella. Inside, you'll find a pocket that fits laptops up to 16 inches long, a tablet pocket, pockets for other tech like charging cables and ear buds, and even an anti-RFID pocket for the security of your personal data. The whole backpack unzips like a clam shell for easy access to everything you carry.
The backpack's Kickstarter page explains that the design is "based on research and good understanding of the way people use backpacks. Orphosis was designed and prototyped in California by James Piatt, a well-rounded industrial designer in innovative product design solutions, materials, product engineering, and architecture. 'We like to think of Orphosis Backpack a piece of functional art, and we hope our designs inspire our users to also think creatively,' says Piatt."
The design team adds that the backpack is "socially responsible…and sustainable by design. Longer product lifetime is better for the environment. We have a top-notch and responsible supplier who has supported some successful global brands and well-known crowdfunding brands. Their high-quality testing and quality control system can meet our high function and quality requirements."
Want to snatch up an Orphosis minimalist backpack of your own? Check out the Kickstarter campaign to back the project. A pledge of $79 or more will get you a backpack at 40 percent off the expected retail price of $129.99.