Mombá Arquitetura's FM House Brings Vaporwave to the Modern Living Space
The dynamic and distinctive duo comprising Mombá Arquitetura continues to impress, pushing the envelope artistically, stylistically, and architecturally with each new project. While a futuristic bent runs through the bulk of the pair's impressive oeuvre, their new FM House in São Paulo, Brazil actually looks backwards for inspiration. Inspired by the dreamy retro vaporwave trend, the pair was inspired to bring a splash of surrealism to their ordinarily ultramodern aesthetic.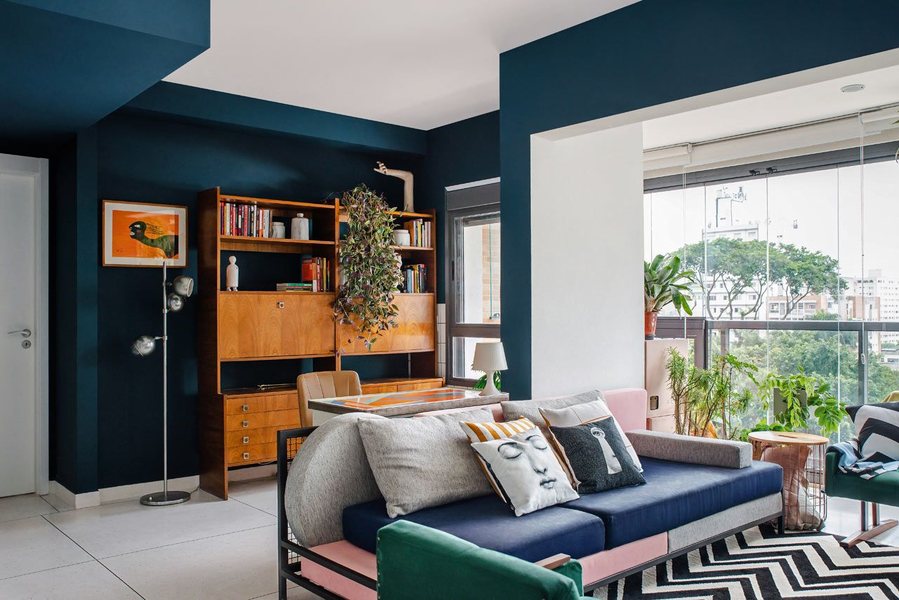 Continue reading below
Our Featured Videos
Vaporwave was formed in the early 2010s from a desire to recapture the distinctive style and lo-fi technologies of previous decades like the 80s and 90s. Today, the trend champions cyberpunk spin-offs and electronica excesses of all kinds — and all of these influences have been tastefully worked into Mombá Arquitetura's FM House.
A mashup of contemporary touches and throwback themes dominates the over 750-square-foot residence, where original features like while tile and granite floors co-exist with bright pops of color and futuristic furniture finds. Sharp angles are tempered by soft walls, and bold colors are given texture by plush textiles.
The kitchen highlights the space's desire to accommodate both vaporwave and contemporary styles, with its vivid blue cabinetry and bright white tile backsplash. Plant life softens the scene and complements the room's angular lines perfectly, while geometric shapes abound in every available nook and cranny. A mostly open plan creates the illusion of space in the house, while the middle wall sets a boundary between the kitchen and living area. A tucked away dining space completes the scene, itself hosting a similar mix of contemporary and vintage accents.
A blocky, angular sofa further creates a separation of space between the office and living area for a refined update of the increasingly popular mashup of home and office life making its way into modern living spaces. The couch's graphic patten immediately draws the eye, and makes the perfect complement to the bold black and white rug on the floor.
The bedroom is another study in contrasts, featuring a muted pink wall as the backdrop for even stronger patterns and bolder colors. Hip light fixtures and a tucked away plant are welcome accents in this cozy space that's as trendy as it is comfortable.
The perfect embodiment of the nostalgic vaporwave trend, Mombá Arquitetura's FM House is a study in contrasts. Like the trend itself, it relies heavily on iconoclastic pairings that are full of texture and depth. Bursting with technicolor ferocity and tempered by soft, homey touches, this Brazilian masterpiece is yet another example of the design duo's penchant for pushing the aesthetic envelope.