Modern Accents Meet Historic Stone in Dublin's Bolton Coach House
Back in the days when horse-drawn carriages were the main mode of transportation, it was common for many residences to have entire outbuildings dedicated to storing them and all their related equipment. In the city, these "carriage houses" or "coach homes" might be relatively small, but on country estates, where space was often needed to accommodate multiple carriages, they could be larger than the average contemporary single-family home.
Continue reading below
Our Featured Videos
Now, over a century later, many carriage houses have been converted into homes, and they often have significant historic value. In Dublin, on a 200-year-old estate called Bolton Hall, both the main house and carriage house are protected structures. So when Ferreira Architects was commissioned to helm a renovation, they had to adhere to strict rules about what could be updated, and about what must be restored.
To preserve all of the carriage house's original details while bringing in some modern flair, the architects worked alongside interior design firm Kingston Lafferty Design from the very beginning, involving them in fundamental decisions that would influence the overall look and feel. The renovation also involved reimagining the interior architecture and incorporating a new contemporary addition and exterior terraces.
The firm also developed the home's interior design, landscape design, and much of the furniture design, bringing together a cohesive palette of colors and materials that you might not expect to find in a rural setting.
"The new design combines and juxtaposes the old and new buildings as one interesting and exciting multi-level, unique space," they explain. "The existing coach house is brimming with character, charm, and original detail, so we opted to maximize this with the design. We deliberately created interesting spaces, nooks, and crannies, contrasting the old building with a juxtaposing minimal and streamlined extension design."
"We wanted to provide the user with the optimum exciting experience, with multiple routes and ways to use the space. We employed mild steel portals to link the different areas and a floating timber stair[case] to act as a strong feature connecting the stone walls. To maximize the beautiful exterior spaces, we designed two exterior terraces, with one linking the indoor to outdoor via a fully tiled cantilevered table and bi-folding window detail."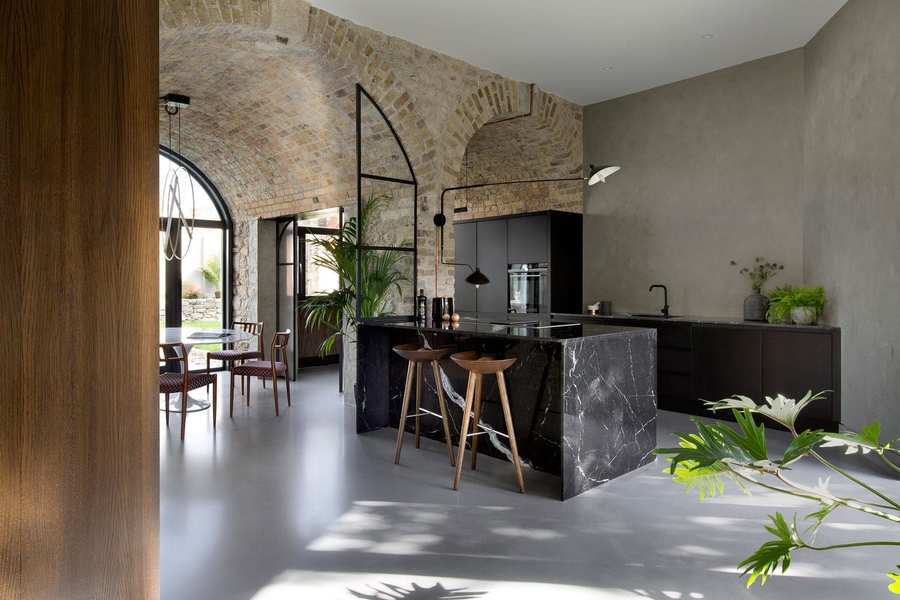 The vaulted brick ceilings and stonework of the original carriage house are clearly the dominating element, setting the tone and providing a whole lot of character. To balance its ruggedness, Kingston Lafferty brought in clean-lined, minimalist elements like smooth, pale wood floors, sharply defined doorways, and translucent panels, all of which have been married to the stone by way of textured concrete.
What makes this renovation stand out, however, is the elegant, feminine sensibility of the custom furnishings and fixtures, like a striking pink couch accented by red hanging lamps. A lot of designers would have leaned into the industrial nature of the building's history, giving it a bit more of a masculine energy, but instead of an overabundance of concrete and metal pipes, we find polished marble, patterned tile, and gleaming brass.
The juxtaposition of these elements is thrillingly effective and enhanced by the fluidity of the spatial layout, making it seem like there's always something interesting to discover around the next corner.