MFIT: Space-Inspired Gym Features a Spiraling Slide
The average gym tends to be a dank, sweaty, uninspiring space full of droning televisions and vaguely unpleasant odors. And if you don't already have an enduring passion for fitness, motivating yourself to go on a regular basis can be tough. It isn't exactly a playground, is it?
Thankfully, more and more gyms are starting to take ambiance into account, working in fun and stylish details that can make working out feel like less of a slog.
Continue reading below
Our Featured Videos
In Beijing, architecture and design firm STUDIO RAMOPRIMO have created a facility that looks more like a theme park than a gym. Located inside the Indigo East Hotel, MFIT SPACE 01 is a two-story, 6,500-square-foot fitness center that allows users to shape their own individual training paths during one-on-one classes, giving them the freedom to choose the exercises and equipment that feels right for them.
Aesthetically, the gym has a bit of a futuristic edge, taking inspiration from space exploration facilities for its metallic surfaces, geometric room dividers, and built-in LED strip lighting. Its primarily silver and white color scheme is accented with different shades in various rooms and spaces, including metallic pastels, soothing blues, and motivating monochromatic red. The latter is particularly striking in the locker room, with its striped ceiling lights.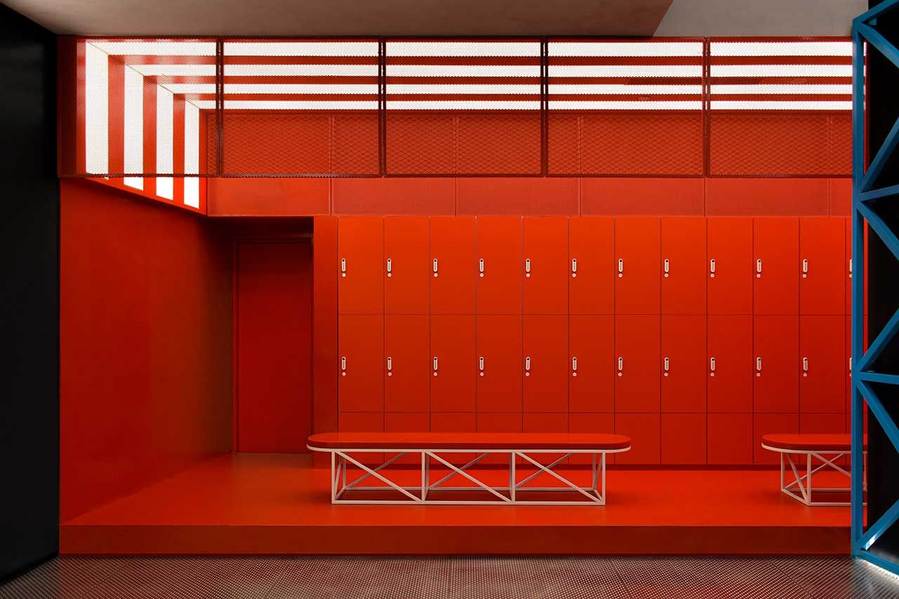 The fitness center's iron blue lattice structure adds more than just visual flair. It's also a permeable surface offering support for hanging ropes, hooks, and doing exercises. Elsewhere in the gym, a stark black room decorated with illuminated emoji-like symbols contains a water fountain, and the shower rooms are finished in black textured Bisazza mosaic tiles.
But the two features that really make MFIT SPACE 01 feel like a playground for adults are located within the double-height atrium: a climbing wall and a tubular stainless steel slide that wraps around a white spiral staircase. So if you're just way too tired to take the stairs by the time you're done working out, you can simply hook your bag over your shoulder and slide right down to the main level.
STUDIO RAMOPRIMO explains that their "design projects range from urban planning to architecture, interior design, and graphics. The main focus of the studio is the interaction between the social and built environments, offering at different scales vibrant design solutions for any contemporary urban living need. [The studio is also] involved in the INSTANT HUTONG project, investigating [the] contemporary process of rapid urbanization in China, relations between social and physical aspects of everyday environments, and ways for people to reinterpret the urban landscape."
The firm adds that their name "refers to the way they call in Venice some hidden lane, and it's the Italian translation of the Chinese term Tou Tiao, which indicates the first lane of a series of hutong alleys in old Beijing carrying the same progressive name. It marks the beginning of a newly born urban process."
Loving these chic gym designs? Check out the Waterbeat Society, an aquatic sports center decked out with lots of fun neon lights, and Paris Pilates, an LA fitness studio that's unapologetically feminine and glam.