Storybooks Spring to Life at the Fairyland Kids Café
Could you have experienced magic like this anywhere outside of Disneyland when you were a kid? Theme parks tend to be a rare treat, but they're facing some stiff competition in the form of this fairytale-inspired wonderland that doubles as a café. Designed by Wutopia Lab, the Fairyland Premium Kids Café opened to the public in Dalian, China in May 2019, and it's been taking everyone's breath away ever since.
Continue reading below
Our Featured Videos
As you approach, you'll see two circular entrances ringed by perforated metal screens, the word "FAIRYLAND" emblazoned above one of them. This mood-setting detail gives you an idea of what you'll find inside. This is no ordinary café. It's a place that parents, caregivers, and kids can enjoy together, and it really does feel like stepping into a whole new world.
For kids, Fairyland probably feels like heaven. That's kind of what it looks like, too. Undulating sheets of acrylic on the floors and ceiling mimic the look of an "ocean of clouds" in the central play area known as "Cloudy Town." This space also features tree houses, slides, a miniature carousel, and a pit full of translucent balls. Then, within the "Golden Castle," fireplaces and candles create a glowing atmosphere. A white gallery is tucked away for quiet time and privacy.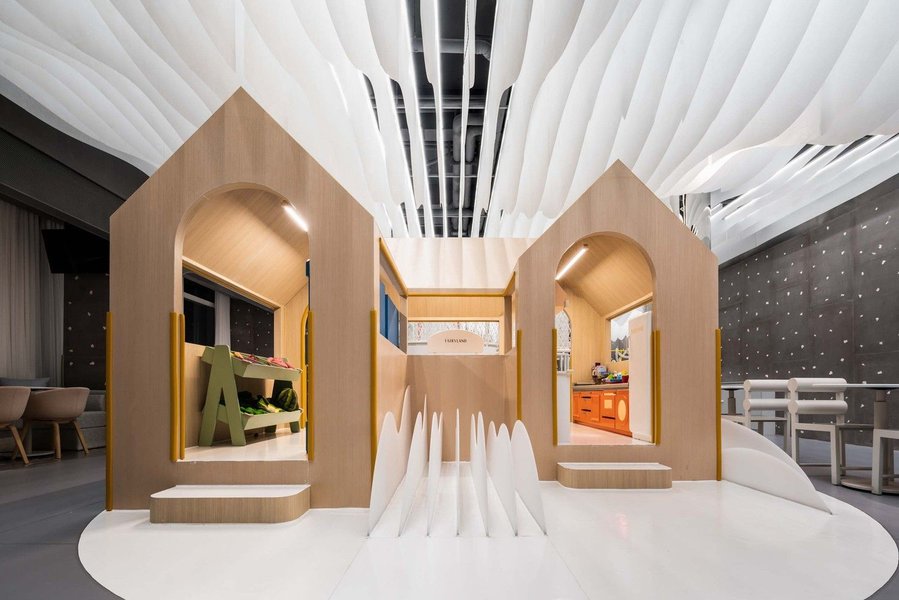 Adults aren't neglected, either. In addition to the small pitched-roof houses scattered around inside, there are also comfortable dining areas overlooking the play areas, complete with U-shaped couches. It's easy to imagine groups of moms gathering here to chat and connect while keeping an eye on the children.
One of the project's lead designers notes: "One morning my daughter Tangtang was drawing out her dreamy fairyland, and I really want[ed] to make that dream come true so more kids c[ould] come and join in this wonderful fairyland. The exterior facade of the restaurant is made of aluminum panels with punctures of various sizes on it to create [the] effect of ripples woven together. Behind these ripples, a world between reality and dreams is created for kids. The front lobby is a circular space surrounded by a forest of lights, which is composed of 1000 acrylic tubes that are able simulate the effect of sunlight shining through thick layers of leaves to provide a unique forest experience [using] the reflection of the mirrored wall."
"Kids, there will be no unwitnessed life [here], because we'll be here for you, and every one of you will be the shiny star because we made a stage for you. Red velvet curtains slowly reveal the gateway to old memories with neon lights, wood floors, beautiful wallpaper, and crystal chandeliers. The future and the past are now interweaved, and the stage is ready for you to dance. [Even the] restroom becomes the daydream for kids. Cotton candies become girls' favorite cloud lamps and mirrors, and boys can be astronauts traveling space."
Don't these pictures make you wish there were more spaces like this, where kids can experience a little bit of magic mixed in with the more mundane aspects of daily life?