Maya Lin to Install New "DNA Tree of Life" Sculpture at Pennsylvania Hospital
At the center of a new $1.5-billion hospital facility in West Philadelphia, a new sculpture by renowned artist Maya Lin will greet patients, exuding a sense of hope and calm. Tentatively titled "DNA Tree of Life," the installation at Penn Medicine's Pavilion hospital at the University of Pennsylvania stretches up through an atrium on the first two floors of the building, resembling the shape of DNA spreading out like the branches of a tree.
Continue reading below
Our Featured Videos
The design doesn't represent any ordinary tree shape, though. If it seems extraordinarily minimal and fluid, that's because it's based on the shape of the Schuylkill River, which flows 135 miles from Pottsville to Philadelphia, where it joins the Delaware River. To that end, the design is meant to represent life within the hospital and the city, and the connection between nature and medical science.
"My approach to this piece is to create something that is uplifting, that has a sense of wonder and beauty," Lin says. "I want to make you aware of your surroundings in the pavilion, in this beacon of scientific advancement, connecting you to the physical and natural world around you while symbolizing the very essence of life — DNA."
Supported by a hidden steel tree-shaped structure, the sculpture will be covered in hundreds of glass beads that will reflect the sunlight streaming in through adjacent windows. It will be installed before the pavilion opens in October 2021. In progress for several years now, construction on the complex was accelerated last year in order to open 150 patient rooms that could serve as potential surge space through the pandemic. When the full hospital opens, it will offer 47 operating rooms and 500 private patient rooms.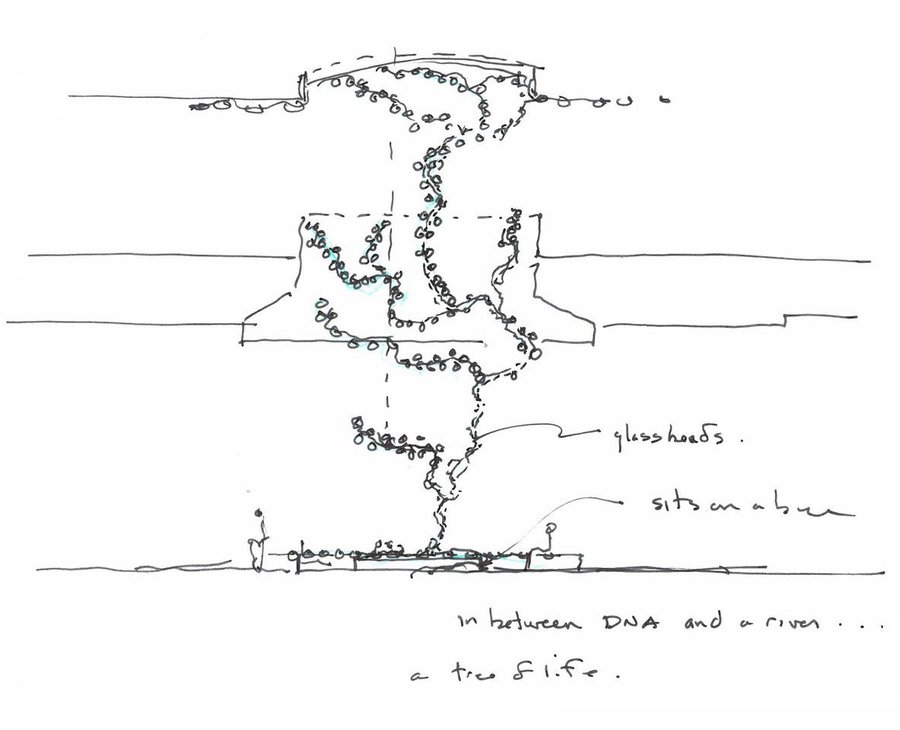 "Art and design can be a transformational element of a patient's experience. It was important to select pieces for HUP East that will convey a sense of peace and healing in this new landmark for exemplary care, as well as a welcoming, vibrant atmosphere for our patients, families, and staff," says Regina Cunningham, PhD, RN, Chief Executive Officer of the Hospital of the University of Pennsylvania.
"Maya Lin thoughtfully designed a sculpture that connects the fundamental elements of life and science to our health system and the Philadelphia community, and we look forward to its installation as we prepare to open the doors of our new patient pavilion."
Maya Lin surged into the public eye at 21 years old during her senior year at Yale University, when she won a nationwide competition to create a design for the Vietnam Veterans Memorial. Completed in 1982, her minimalist monument design was controversial at the time, but is now widely considered one of the most powerful memorials in the world. The polished V-shaped granite wall is inscribed with the names of more than 58,000 soldiers killed or missing in action.
Lin's later designs have included a monument to the civil rights movement in Montgomery, Alabama, a water-themed 1993 monument commemorating women at Yale, and a series of seven art installations along the Columbia River in Oregon for the bicentennial of the Lewis and Clark expedition (2000).