Health Center by Thomas Heatherwick Designed as Three Massive Planters
The incorporation of living greenery into architecture is a very welcome trend, provided it's done in a way that can be realistically maintained. In Leeds, England, a new project by Thomas Heatherwick Studio offers a new take on the theme, envisioning a health center as a series of three monumental planters.
Continue reading below
Our Featured Videos
Drop-in cancer care facilities called "Maggie's Centres" after their late founder, Margaret Keswick Jencks, are known for their unique and iconic architecture, often carried out by some of the biggest names in the business.
Jencks spent the last two years between her cancer diagnosis and her death imagining private, light-filled spaces that would cultivate a sense of hope. In 1996, Jencks and her architectural historian husband Charles Jencks opened the first center in Edinburgh. Since then, nearly 20 more have popped up as standalone structures on hospital grounds throughout the UK and in Hong Kong, designed by Frank Gehry, Zaha Hadid, and others.
Heatherwick's interpretation adds to the bouquet of beautiful, restorative Maggie's Centre outposts celebrating Maggie's vision for an emphasis on the joy of living, even in the face of death.
"The center needed to be a welcoming place for visitors that would offer a respite from the clinical environment of the hospital," says the firm. "It would include a library, counseling rooms, and informal seating areas. Set in the midst of medical buildings, the site was one of few green spaces left on the campus. The studio decided to preserve and accentuate this space by creating the structure of the the garden itself, raising up the planted surface."
"The center is expressed as a grouping of large-scale planters of varying sizes. The base of each planter encloses a distinct private space for visitors to meet or spend time by themselves, while the spaces between offer relaxed and approachable social spaces for group conversation and activities. The building will have 10,302 plants and 19 different species growing on it, encouraging users to convene and join in with the UK's obsession with gardening."
Heatherwick Studios' striking design has a refreshingly sculptural quality to it, especially compared to the relatively drab buildings elsewhere on the campus. The curving structures with their grass-topped fluted roofs peek out among a profusion of trees and shrubs, leaning in to form a protective enclosure that's simultaneously bright, cheerful, vivacious, and comforting.
Sustainable, "healthy" materials like wood and breathable porous lime plaster make up much of the partially glass-wrapped design, enhancing its ventilation. The architects worked with landscape designer Balston Aguis to augment the architecture with gardens inspired by Yorkshire woodlands, planted with 17,000 plants of native English species and 23,000 bulbs.
"Maggie's Leeds has been a very special project for me and my team," says Thomas Heatherwick. "We are convinced that there are kinder, more empathic ways to design places that can have powerful impacts on the way that we feel. This is particularly important in the design of healthcare environments, but it is so frequently overlooked."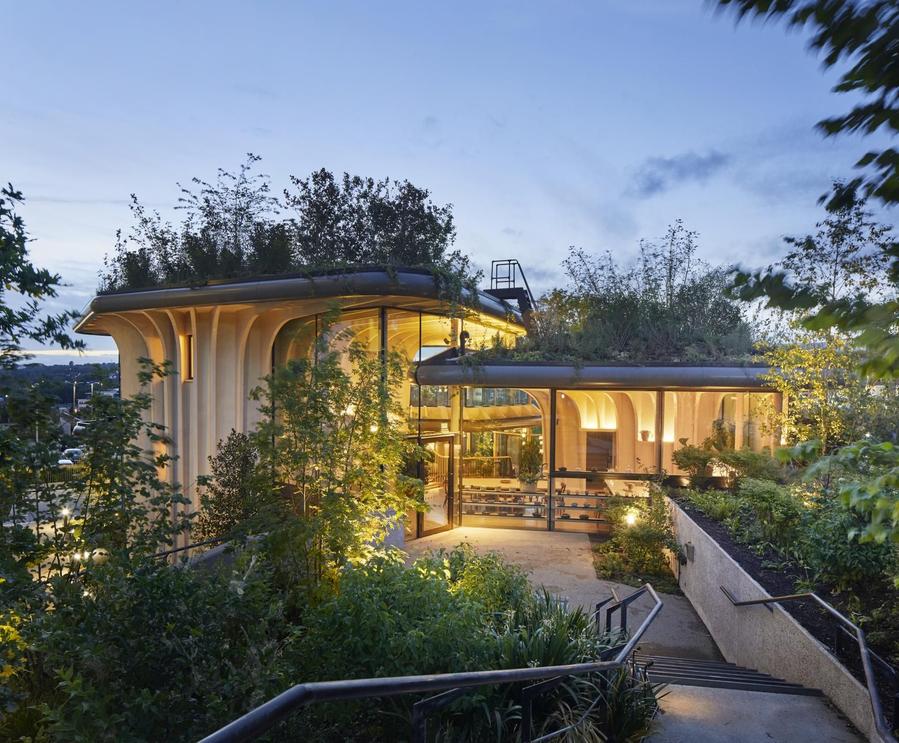 Given the fact that hospitals can be scary to many people, especially when they're grappling with a life-changing diagnosis, facilities like these are too few and far between. Here's hoping we see more patient-first health centers taking inspiration from projects like Maggie's Centres.