Look Out! Old Fire Towers Become Modern Mountain Homes
If location, location and location are what drive your visions of a dream tree house design or luxury hillside wood home then look no further: fire towers that once served vital protective services to natural forests are becoming increasingly used for new purposes including mountaintop homes with incredible views.
Continue reading below
Our Featured Videos
If you think about it, fire lookout towers occupy some of the most enviable real estate in the world – they are normally quite remote and isolated but also positioned to have the best vistas available for up to hundreds of miles around in all directions. Like used shipping containers, these structures are already built to withstand the elements and are thus easy to remodel for use as a part-time cabin home or full-time, year-round house. That is, if you aren't afraid of heights.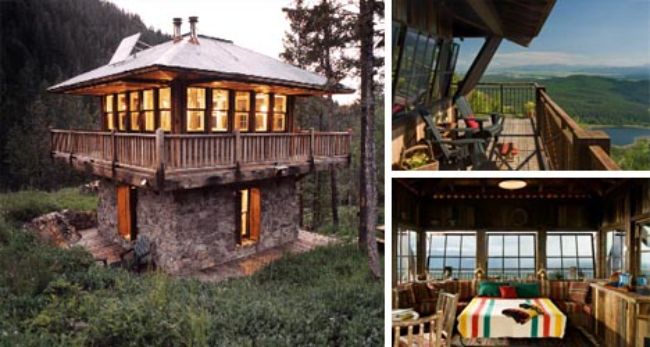 In some cases, people are taking the typology of the fire tower into account when building entirely new structures like the tower-inspired wood, stone and metal elevated home shown above – built from recycled materials and likewise capturing amazing views of the surrounding mountainside and distant hilltops from the 360-degree deck that surrounds the lofted house. This is a smart way to make use of a tried-and-true structure design when building your elevated dream house. Why reinvent the wheel when engineers have already done all the hard work?
Almost like modern castles, architectural antiques like decommissioned fire towers that can be converted into homes are few and far between, built for ever-more-outdated purposes in an era of modern weather satellites and worldwide global communications. While they may never enjoy quite the same nostalgic associations as ancient forts they will certainly be of continued fascination for generations to come. It is highly unfortunate that so many have been abandoned, vandalized or destroyed – but many others have been turned into homes, museums, vacation properties and nature centers.