Living Tree Converted into a Nest-Like Concert Space in Rural Sweden
When land art and architecture converge, the results can be illuminating. It's rare, in modern times, that architecture is built around nature with an eye toward both preserving and highlighting it. Sculptural projects that integrate human-made interventions without altering the landscape itself can inspire us to look at our built environments in a new way. What if, for instance, we built modest homes and other buildings around living trees, with the aim to do no harm? It may not be easy to pull off in the real world, but a new large-scale art installation in Sweden sure makes it seem worth trying.
Continue reading below
Our Featured Videos
Located in a field outside Stockholm, One Tree Four Seasons is a collaboration between Ulf Mejergren Architects (UMA) and Finnish artist Antti Laitinen. The project encircles a solitary alder tree set on a small hill with a giant nest-like structure, which will be periodically modified to represent the four seasons. The team uses only natural materials they can find in the immediate area to build the installation, making the results seem almost like a natural growth upon the tree.
The first part was completed earlier this year and unveiled in May, displaying the starkness of the leafless tree in the cold winter and early spring seasons. The tree was already surrounded by rocks, thanks to an old agricultural practice involving clearing obstacles from the adjacent fields. The team gathered dead branches and wove them together to form a circular nest that's open at the top, with a huge round window looking out. Curious passersby will no doubt see the structure and the opening and approach out of curiosity, perhaps climbing inside to discover that the floor is also woven.
In August, the creative team revealed Season II. This time, a new natural material was available for them to work with: hay cut and collected from the fields. Not only did they pack the hay into the woven branch structure to give it more solidity, they crafted it into a slightly curving upper wall that focuses a tight view on the canopy of the tree overhead.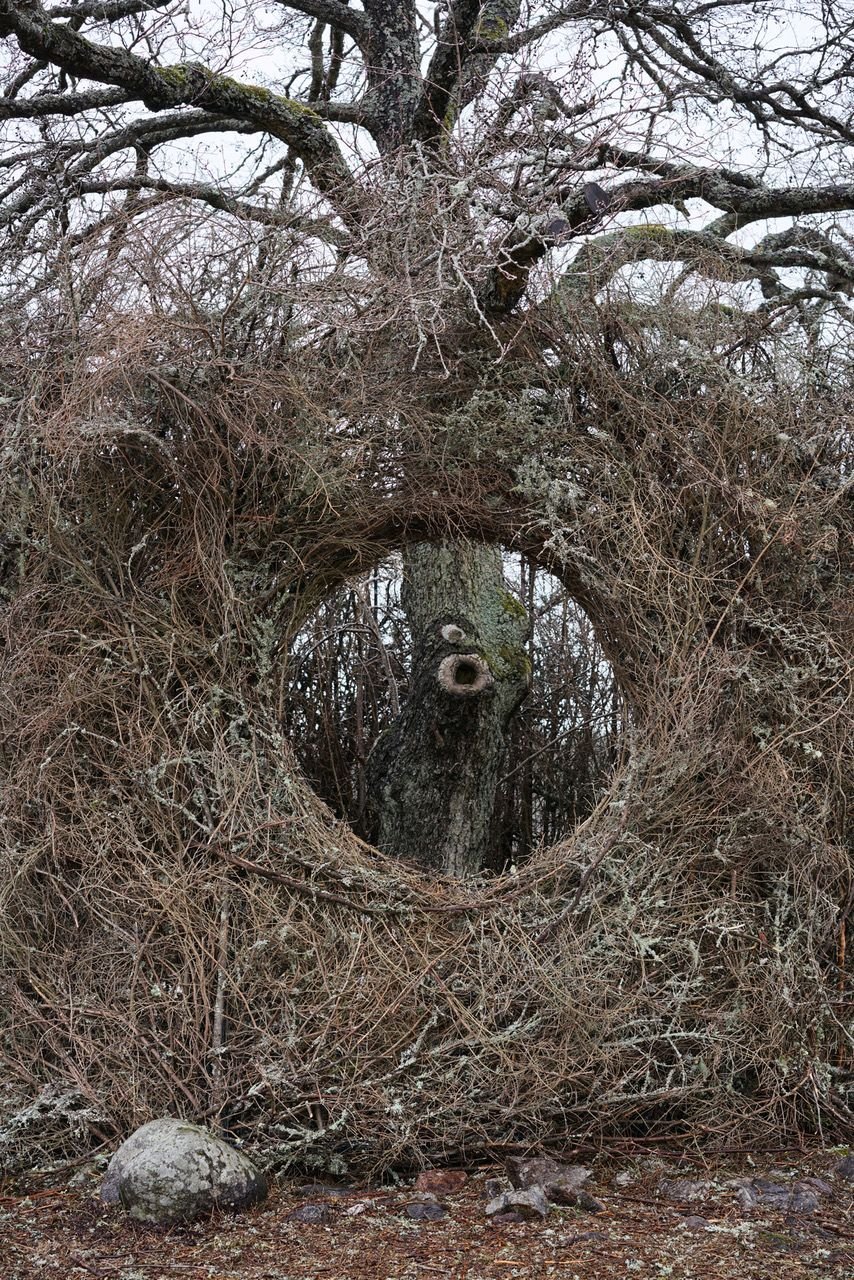 They also integrated a circular hay bench lining the perimeter. Stacked bales became temporary stairs outside the entrance. As such, this enormous nest became an organic concert space. Local string quartet Julikvartetten was invited to conduct a performance inside, playing not to an audience of humans but to the tree itself, and any wildlife that might be nearby. Season III will be underway shortly, and one imagines that it will include some fall leaves, or perhaps corn stalks or other agricultural byproducts from the scene.
The fact that the work looks like a nest calls to mind the architectural works of certain animals and insects, from termite mounds to beaver dams. Structures built by animals can be quite elaborate, blurring the lines between nature and art. Projects like One Tree Four Seasons remind us that we too are animals. Plus, there's a very particular sense of comfort that comes from building architecture that works with nature instead of against it.