Human-Sized Tree House Nests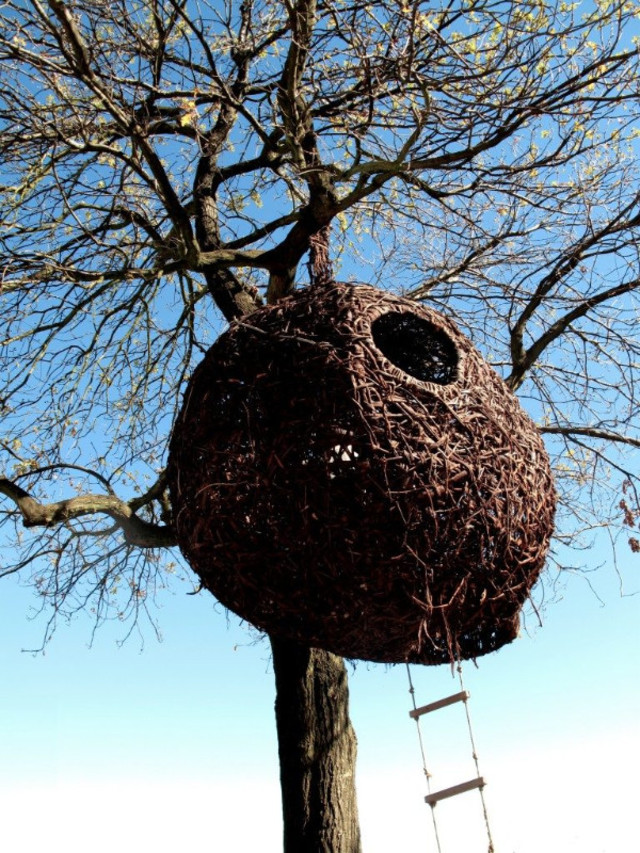 Who wouldn't run scared at the sight of such a thing? It looks like it had to have been constructed by a (flying) bird far larger than the biggest (flightless) birds on the planet. Any surprise it was developed by a design firm known as Animal Farm?
Continue reading below
Our Featured Videos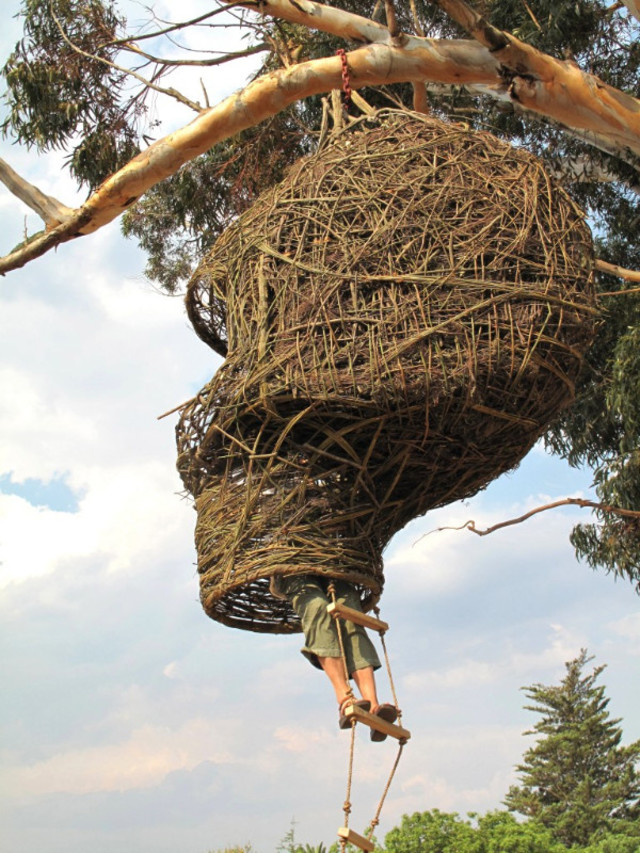 Patterned after the remarkable communal architecture of the infamous weaver, these tree houses are much bigger than anything found in nature.
Nested inside the organic exterior framed of branches and sticks, however, sits a hidden steel frame revealing this to be a work of human craft rather than the home of some extinct flying creature.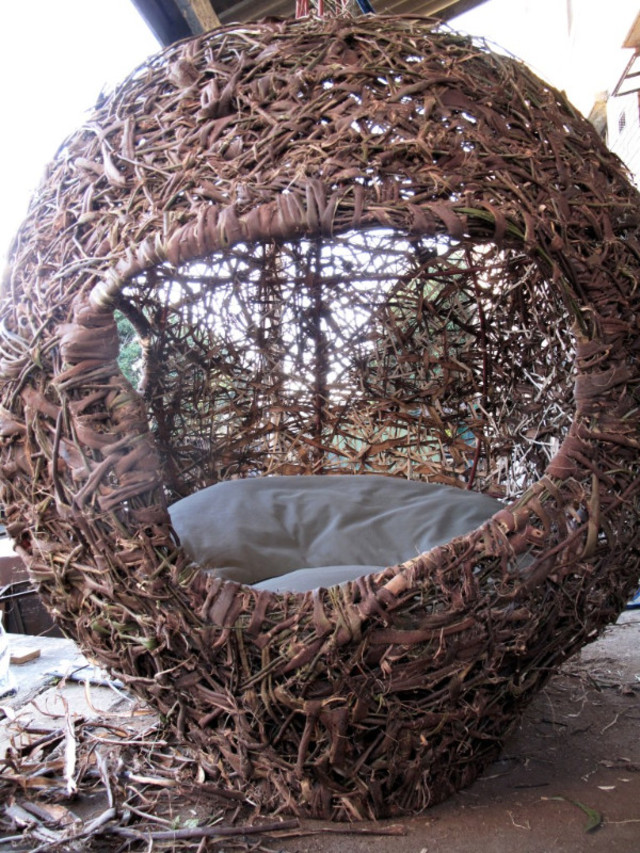 "First designed For Southern Guild 2009 collection. Nests are copying the genius of the Weaver Birds. The result is a human nest to be used outside hung in a tree or inside. It is an attempt at bio mimicry but my skills are no match for the delicate touch of a master. I have explored different materials from Port Jackson alien vegetation to Kubu cane to waste materials, looking for the most sustainable and effective solution. I collaborate with experts in the various weaving techniques to achieve what I dream. Sizes vary and nests can be ordered to suit your needs. They can accommodate from 1 to 4 people."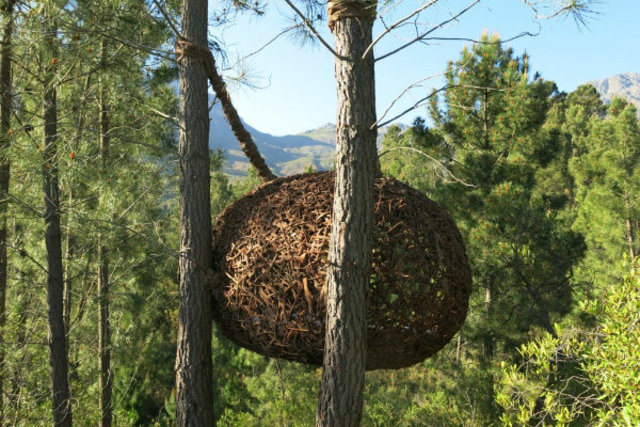 A rope ladder leads up through a porthole opening to a round lounge space surrounded by wood and padded with floor pillows from wall to curved wall. It is a very strange hybrid – a marriage of traditional-looking construction from some remote region, the naturalistic formations of a strange unknown creature and the modern mechanical capabilities of creative metalworkers.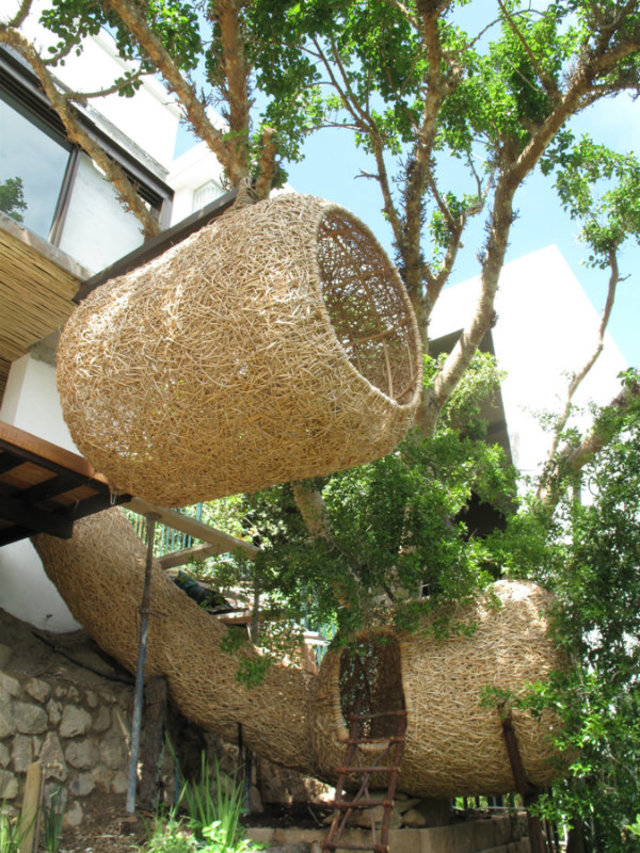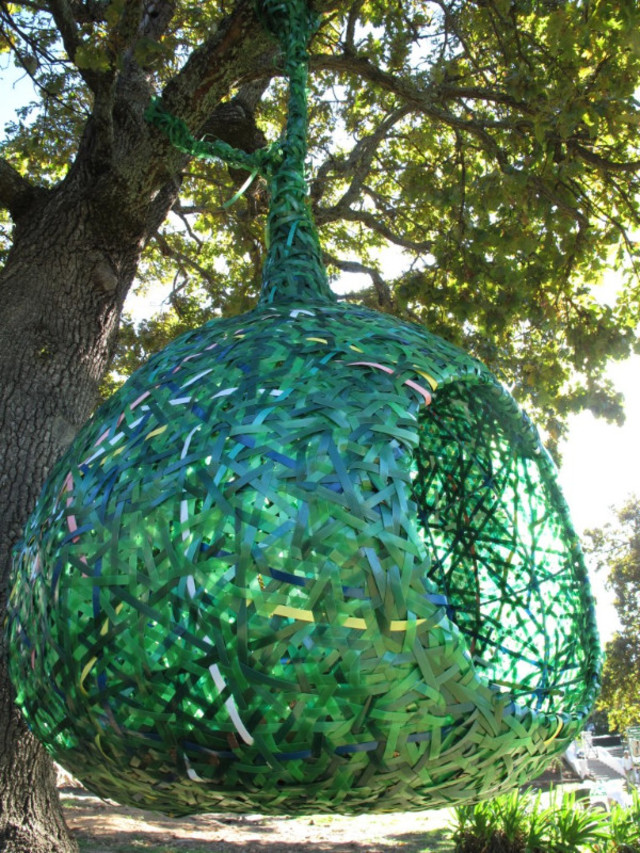 Other nests by Animal Farm include the "Kubu," made of kubu cane and wood, as well as mud & dauber nests and even one made of recycled packaging strapping.
These creations are the work of a man calling himself "Porky Hefer."
"Hefer spent 16 years in advertising, during which time he worked as a Creative Director in Cape Town and New York agencies, and became one of South Africa's most awarded creatives. Realizing that the higher he climbed, the less he personally created, in 2007 he left advertising to start up a creative consultancy, Animal Farm. Four years later he founded Porky Hefer Design."
"Hefer focuses on conceptual precepts, which manifest in three dimensional forms in a variety of executions, from public sculpture to product and furniture design. Intrigued by the reactions and energy a piece can generate, he embraces Africa and the skills that are readily available indigenously, rather than trying to emulate foreign processes. Hefer sees beauty in the functional, the ordinary and discarded. He regularly challenges our relationships with everyday objects, inspiring us to look again."