Hermès Pop-Up Gyms Let Guests Shop Fits While Getting Fit
In a playful (if somewhat gimmicky) manner, luxury fashion house Hermès has been pumping up its fitness line with a series of pop-up gyms around the globe, inviting visitors "to be an everyday athlete with elegance and agility."
Continue reading below
Our Featured Videos
Starting in Williamsburg, Brooklyn, the Paris-based makers of the famous Birkin bag set up shop in a vintage commercial warehouse, drenching the space in iconic orange and inviting guests to sign up for workout classes every hour from 11 am to 6 pm during the space's four-day run.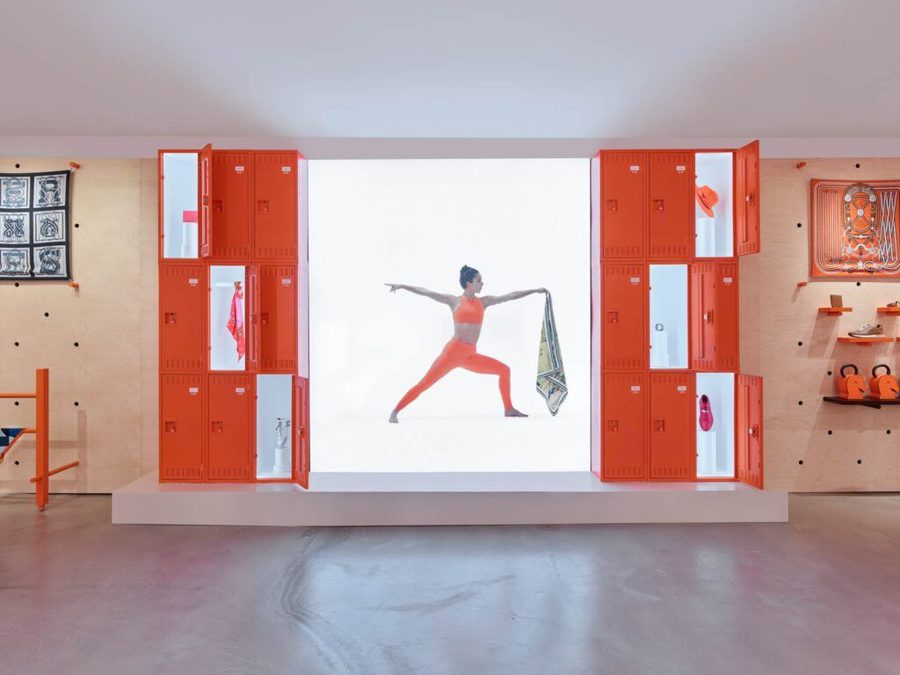 Of course, these sweat sessions were no ordinary sports fare. The Hermès website invited patrons to "practice stretching with belts, yoga with silk scarves, and voguing with hats!" Visitors were asked to choose one of three brand bracelets to wear during shadowboxing instruction. The instructors, dressed completely in Hermès' signature orange, encouraged participants to "think elegantly" as they jabbed, crossed, and kicked. A display of Hermès products was also reflected in the studio mirror for all to ogle during the workout.
In a class called "Mirror Mirror with Small Leather Goods," visitors were handed Kelly wallets with the brand's signature "H" gold buckle to clutch while they aerobically leaped and jumped in circles.
Billed as an "unconventional event" where "fitness meets fashion," the pop-up Hermèsfit gym flexed its muscles in places like Bangkok, Paris, Shanghai, Tokyo, and Taiwan. In July, it ended its first run at the famous Hollywood Athletic Club. Designed in 1924 by the same architects that created Grauman's Chinese Theatre and the Egyptian Theatre, this swanky locale formerly played host to the calisthenics of early stars like Charlie Chaplin, Clark Gable, and even Walt Disney.
For the Hollywood event, Hermès converted the space into an orange fantasy, with large graphic motifs in the style of ancient Greek athletes. Barbells in the shape of high-fashion shoes sat atop a weight bench, while a climbing wall worked double time as photo booth. For those less inclined to cardio, a juice bar and a giant circular ping pong table in bright orange were also available. Punching bags were wrapped in silk carré scarves, and athletic shoes and hats were strategically placed on walls to be touched, admired, and desired by patrons.
By night, the gym transformed into a dance club, with the boxing ring serving as a stage for performances by acts like the L.A. Dance Project, Neal Francis, Pearl and The Oysters, DJ Erez, and Spill Tab.
The limited Hermèsfit event is going Down Under next, with a booking in Sydney from October 14th to 16th at Hordern Pavilion in Moore Park.
For those unable to attend a live event, Maison Hermès has an entire line of goods to help you "choose your own choreography." Visitors can browse the collection on the Hermèsfit webpage, including things like the $1,225 Freestyle Sneakers, the $480 La Selle Imaginaire scarf, or the sporty $365 Glenan H bracelet.
Hermès has a long and illustrious history as a brand. Initially established in 1837 as a saddle and saddle bag purveyor, they've gone on to make a name for themselves in high-fashion leather goods, homeware, and lifestyle accessories. The company has also hosted many attention-grabbing events over the years, including a yearly exhibit at Milan Design Week.