Artist Recreates Iconic Hermès Birkin Bag With Vegetables
An organic version of its own famous Birkin handbag recently caught the attention of French luxury brand Hermès. Designer Ben Denzer conceptualized the coveted purse in fruits and vegetables, turning it into art worthy of the company's Instagram page. The caption teased, "Enjoy the detour as classic Hermès bags inspire art good enough to eat…"
Continue reading below
Our Featured Videos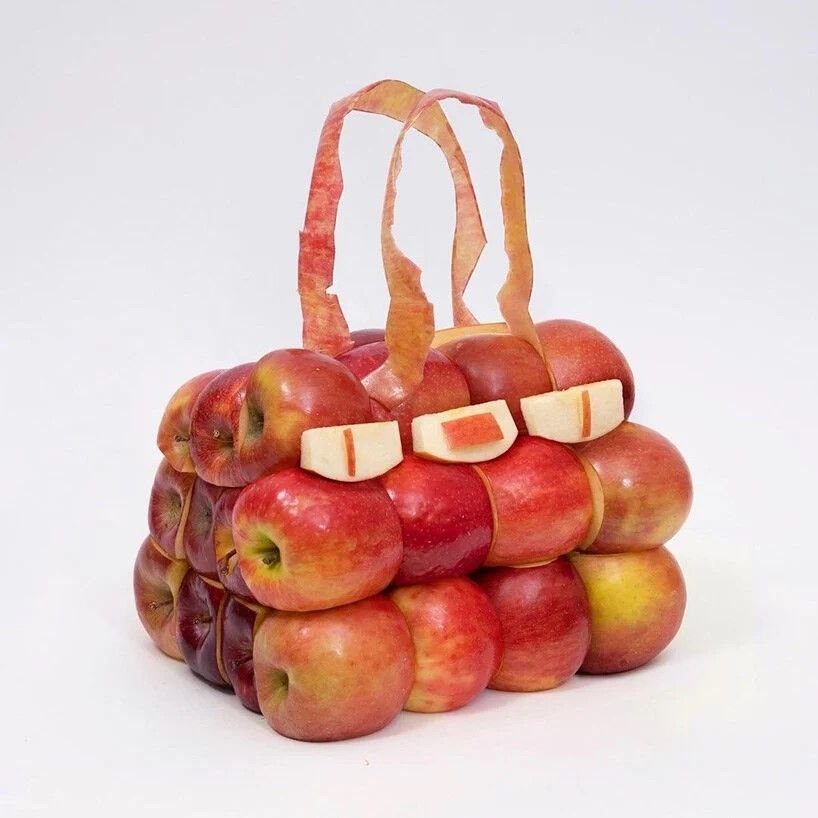 While many followers were confused by the posting, others praised the creative design with clever responses like "I'm an Hermèsbivore," and joking "I can afford this!" About the cabbage bag, one poster facetiously mused, "The soil they used was mined 25 miles below the earth…the water they used was Fuji water…it was grown in a hermetically sealed greenhouse with ionic air scrubbers and a space age UV lighting system…..cause nobody does extra like Hermès. LOL!!"
While these tasty bags are neither commissioned by Hermès nor available to the public for sale, they're still incredibly fun and inventive sculptures. Denzer's Instagram page shows not only the asparagus, cabbage, and cucumber versions that made it on the company's social media, but also arrangements in apple and banana. The American artist even included the iconic straps and brand tags in all of his creations, constructing them entirely out of vegetable peelings.
Behind-the-scenes photos show how he used skewers to bend, twist, and fold the biological matter into place. There are also a couple discarded attempts at the apple bag's handle. Of course, this isn't the first time Denzer has used food in his art. He has an entire website and Instagram page dedicated to his colorful pairings of books and ice cream creations. He's also bound books of condiments, cheese, and money before, and once even created an entire 20-slice book out of mortadella Italian sausage, using the fat as letters for the title.
Denzer describes himself as an "artist, designer, and publisher interested in how information is cataloged and preserved." After graduating from Princeton with a degree in Architecture and a certificate in Visual Arts, he got a job with Penguin Art Group as a book cover designer. Today, in addition to his creative endeavors, he runs the small-edition Catalog Press and teaches at several institutions. His award-winning work has been showcased around the world, including at the Met, the Guggenheim, the Museum of Fine Arts Houston, and the University of Oxford.
So while most of us can only aspire to own a Birkin handbag – which retails for anywhere from $12,000 to upwards of $50,000 – these green and playful re-imaginings let us visually relish it for free.
For its part, Hermès has also been experimenting in organic matter for its actual products. In March of this year, it announced a joint venture with California start-up MycoWorks to manufacture a textile made from mushrooms. The biotech material derived from fungi will be incorporated into a new version of the brand's classic "Victoria" travel bag. The mycelium fabric – itself a network of mushroom filaments – mimics leather and is supposedly as strong and durable as actual cow hide.