2 Cheap DIY Corner Desks with Shelves

Corner desks can be a real life saver in small spaces, and they tend to feel extra cozy, too, wrapping you in a nook and keeping everything you need within arm's reach. But you don't have to splash out a bunch of money to get the same functionality with just a little bit less polish.
They may not win awards for style or be quite as elegant as the store-bought versions pictured above, but the two ideas below sure are simple (and relatively cheap) to build as long as you have a plan and know what you want out of a corner-oriented work space. Shelving and a working surface should suffice, but even then there is more than one way to frame a do-it-yourself desk.
Consider these two DIY desk ideas a starting point to creating your own customized setup.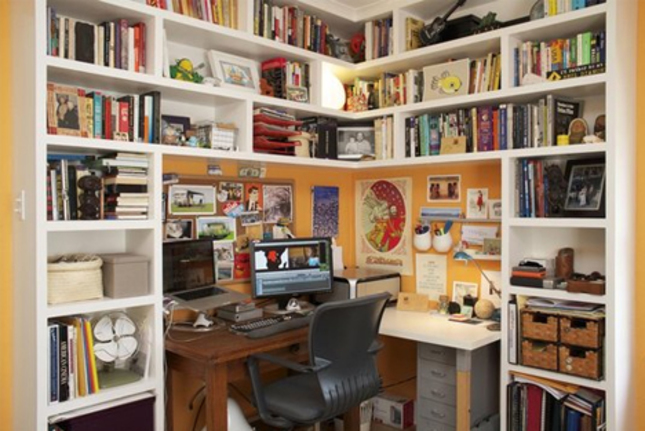 Designed by Cate of Los Angeles, this wrap-around system of Sears Kit Home shelves frames a cozy semi-enclosed desk while keeping all of your books, odds and ends readily at hand and making maximum use of a small space.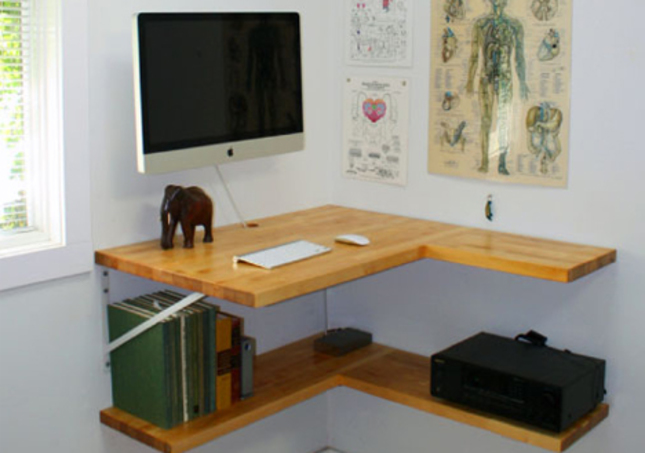 Continue reading below

Our Featured Videos


Standing desks can be great for our health, helping us avoid all of the diseases experts say we're risking when we sit too much. Corner desks, on the other hand, save a lot of space. This brilliant solution not only combines the two, it simplifies them – and does it for very little money. The result is visually clean and appealing despite using unconventional materials.
A graphic artist and patent illustrator by trade, Tom Geisler shows off raw functionality aesthetically-simple standing desk constructed from wooden IKEA butcher blocks. Hung from walls in one corner, the desk surfaces could of course be lowered as well for those who would rather sit. Now just imagine if they were mounted to the kind of wall brackets used for adjustable shelves, so you could raise and lower them at will.