Fairytale Clubhouse Rises from a Clearing in a Japanese Forest
At the edge of a forest in Tochigi, Japan, a 165-foot-long pedestrian bridge delivers you into a clearing with three strange structures popping out of the ground like giant mushrooms. Looking like something out of a fairytale, PokoPoko is a new contemporary extension of the Risonare Nasu Resort, set in a verdant farming region just a 75-minute bullet train ride from Tokyo. The clubhouse welcomes visitors as they arrive and connects two existing hotel buildings, acting as a central hub for family-friendly social activities.
Continue reading below
Our Featured Videos
Tokyo-based Klein Dytham Architecture was tasked with designing the three new cone-shaped buildings full of kid-centric features. With its name translating to "stick up" in Japanese, PokoPoko has a decidedly playful look about it, with each roof pointing in a slightly different direction. The architects wanted it to have a lighthearted feel that drew from organic shapes, including the contours of the nearby mountains.
Each one of the cone-shaped roofs is made of local timber, stretching up to a steel and glass skylight. The architects chose pine lumber skinned with plywood sheets for both strength and visual appeal, while the interior cladding has been dotted with textural knots.
Each cone has its own function. The middle cone hosts cooking activities using fresh ingredients grown on the premises and offers food-related workshops to keep both kids and parents entertained. Features include a giant wood-log pizza oven. The second cone contains a white netted structure allowing kids to climb all the way up to the skylight or dive into a ball pit at the base, enabling playtime even when it's rainy outside. The third cone is a relaxation zone where parents can get a drink, sit by the fire, or read a book while they keep an eye on their roughhousing children. A ring of glass at the base of each cone offers panoramic views of the woods outside.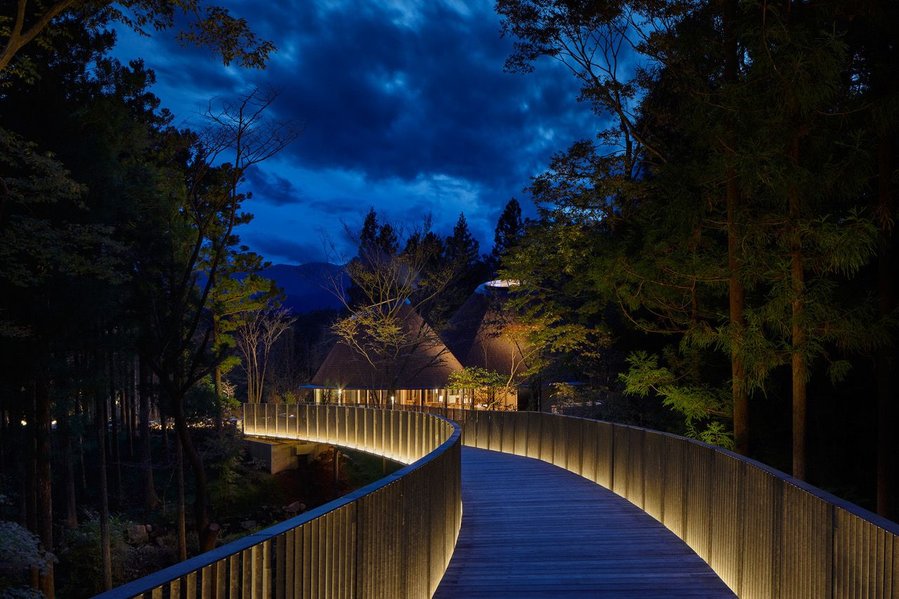 "PokoPoko can be both a lively and a peaceful place, seamlessly connecting to the forest outside, making one feel like having spent a day in nature even on a rainy day," the architects explain. "The project has been an instant success, and the hotel and clubhouse have been in demand as people look too to take timeout from Japan's cities and head to the countryside for staycations which are conducive to social distancing."
PokoPoko looks a lot like a larger version of Jikka, a picturesque retirement home by architect Issei Suma designed for a group of women in the rural prefecture of Shizuoka. With its teepee-like design and loads of intelligent accessible features, including a spiraling tub that a wheelchair user can roll right into, Jikka captured the imagination of the world when it made its internet debut in 2016. But, alas, being a private home, it was never going to be open to the public.
If you love that storybook feel and want to experience it for yourself, PokoPoko is the place to go. They'll be open to the public sometime later this summer, so keep an eye on the resort website to make reservations when they're available.